I have a 350 video clip (and constantly growing ) store on AVN Stars.  This was supposed to be a "hey go check out my AVN Stars clip store" kind of promotional post – and it will sort of be that still –  but damn guys, I have stuff I have to write that's more important.  I'm writing here at 3am because – I dunno, I'm stressed man.
So I guess the best way to genuinely write this is to tell you how I feel and why, so let's start with that.
I'd really like to get the fuck off of Onlyfans.  I fucking can't stand them.  That I'm totally 100% dependent on them to survive is absolutely harrowing to me.  I shit-you-not ok, I literally wake up and open my phone every afternoon expecting some shit fucking thing to have happened on that platform while I'd been sleeping.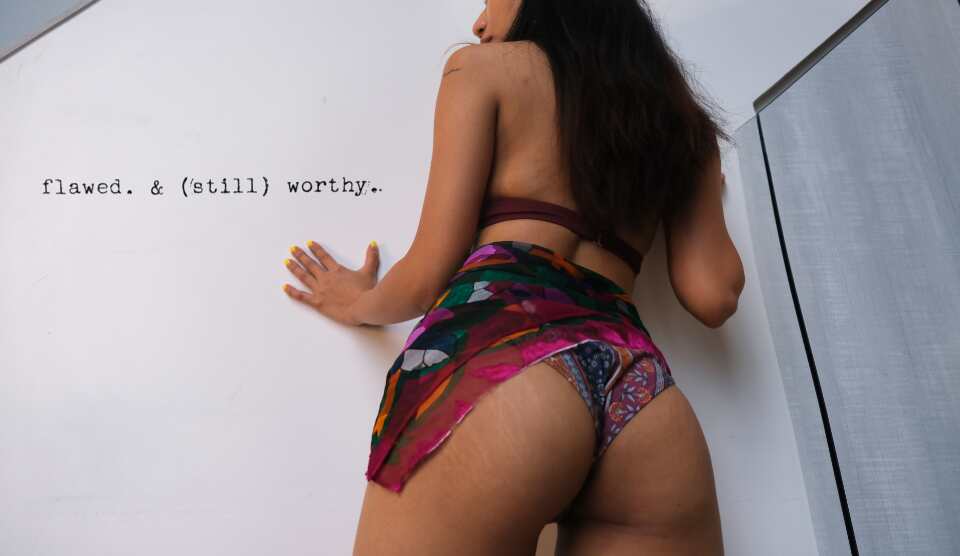 But I'm a clever bitch.  I've fucking zigzagged around all their moronic fucking censorship – both video content and written word like a savant.   It's gotten me from August 2020 until now, June 1st , 10 months of the most unhappy marriage you can imagine.   Living with Onlyfans must feel like living with a fat kid who's forced to eat broccoli all year.   It's fucking horrific.
To update those who don't know , Onlyfans absolutely abhors femdom content , even stuff as tame as mine.  Example , here's a copy/paste from today's unkind email from them:  A. Note that the content featuring footing cannot be placed at OnlyFans.
Due to the violation, the following video has been deactivated (no further action required):
Yup, can't post a slave kissing my pretty little toes.  It's "distressing and unpleasing" according to them,  yet sticking a Kumquat up the ass and prolapsing it out is A. OK , as is stuffing a 20 inch zucchini up the puss while having a guy  with a 22″ cock throat fuck balls deep down to the navel.   Also, A.OK with them.    They're based in UK , isn't that the country that outlawed Face Sitting?
How have I gotten around all that then over the past year?   After all, I do have 886 videos posted on my page there.
See, I'm not a schemer.  I try to show the schemers how pathetic their attempts to control things really are.
I internalize certain lines in movies, I make them my motto of how to live and it helps me justify my life of being ostracized.  I've pretty much internalized all of Heath Ledger's Joker lines.  Society makes rules to control people.
I on the other hand have spent my life finding the cracks in those rules and have constantly run around them.
Reckoned there must be rules against reading private messages, so though they can demolish anything put up on the main public blog  … my bet has been since their first clampdown on me that private messages are safe.
So I bought 2TB of cloud space and spent the entirety of February and March uploading every single video of mine and Wael's to our private cloud storage.
From there we started posting only 20 second preview clips on their main blog –  safe clips showing me sitting on a bed waiting for the slave to walk into the shot – and then linking the whole clip in 4k in group messages – so they can watch it on our cloud storage.
And that's how we've been rolling.   I got my slave , and Wael got hers to send in all the id necessary and all went well since that hiccup in February … until they sent me an email today saying they're removing 154 clips from my page of 900 clips.
Get this … they're removing clips where their facial recognition software cannot identify the face of my slave.  So all shots where he's wearing a mask or I've shot his dick only … that's a no-no now.   They want me to reveal my slave's face so his wife can divorce him.
LOL.    To which  I say ….
ie: fuck you.   Delete them, it doesn't affect me one bit.  Because the beauty of my system is that my subscribers get access to my entire video library on the cloud while subscribed and as such, they can watch any movie they want whenever they want.   Same goes for Mistress Wael's wildly popular onlyfans.  We know it works because of the view cloud view count on our videos – approaching 600 combined – they get viewed 100's of times a month without even having it loaded to onlyfans's shitty endless scrolling blog style platform.
All we do to ensure our subscribers stay loyally subscribed is we change the password on the 1st of every month, like we just did today.  It works perfectly.
What it also does, and I have to get my ass in gear to make this known on our Video Store page which is coming this week … is it allows those who are unable or not interested in putting Onlyfans on a credit card statement for the spouse to spot … to buy our video library via a $100 Amazon Gift Card for both our video content on the cloud,  or $50 individually.
So, to my current subscribers … I'm going to go ahead and let them delete whatever the fuck they want to delete.  Whatever.  I don't need to load any of my amazing videos to their platform , I  only need to link my videos to the cloud in private group message.   The ONLY thing that's going to change is … I'm now going to link absolutely any video that has my slave in it.  Thus, the only thing I'm putting on the main blog going forward is me shaking my ass, boobs and legs – solo.   That will completely circumvent their facial recognition roadblock , their censorship roadblock , and the only thing  I'll have to mind going forward is sidestepping their silly word rules like not being able to type the word  YEARS or BLOOD Pressure which is easily done.
That being said.
Now that AVN Stars has my entire video library of 350 clips once I get done loading this week's videos,  damn I'd love to migrate you all to AVN just so I can fucking good bye and good riddance to Onlyfans's moronic ruleset.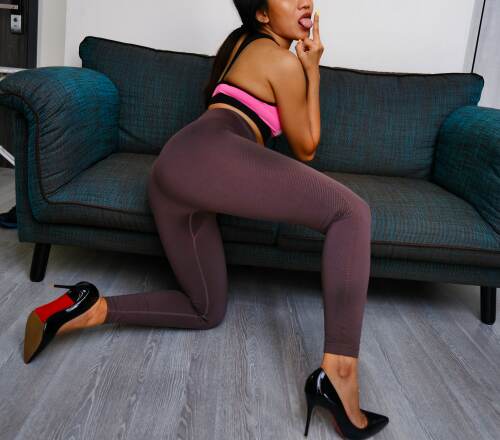 All right so let's introduce you to my AVN Stars clips store and my reasoning behind my subscription price.
Unless I do get all 150 of my current subscribers to agree to migrate to AVN , having to write my long story posts on AVN as well as Onlyfans all the while writing for jaa4u.com is a bit much and unnecessary.
So my intention is to use AVN Stars as a clips store only.  Accessible individually for $5 or $10 per clip depending on the length which is silly because ….
I've made the whole collection both viewable and downloadable to those who subscribe.  The $50 subscription fee therefore is meant to be a one time only payment.   Understand my reasoning behind that?
The way I see it, you pay the one shot ,  don't turn on auto-renew ,  and you have my entire library at your disposal.
What's the advantage to AVN you say?  Why not just pay the $50 by Amazon Gift Card to get permanent access to the root folder of my cloud library of videos?  Or pay $20/month for my Onlyfans blog and get the same cloud access?
Because you can download my content if subscribed through AVN.
Just that.
In trying to figure out what makes each site I'm hosting my bdsm videos on unique, that's the advantage I saw with AVN while I was loading all my stuff there.
Contrast that say with my IWantClips store which is where you would go if there was one specific video you wanted to pay for and own instead of the whole train and caboose that you get with AVN.
The only drawback that I can see is that in shooting every 3rd day , I'm continually uploading new content.  So to access next month's new videos on AVN that I've yet to shoot and load,  yes you'd have to pay another $50.
Or at that point maybe just negotiate with me and I'll give you a recurring discount.
But see,  if you want to always have access to anything new I'm shooting ,  or anything new Wael is shooting – especially her as she's shooting 3 videos every single day –  I think Onlyfans or Amazon Gift Card is your best option in that  case as both of those  options  will get you permanent access.
Mistress Wael's Clip Store  &   Video Library
Mistress Wael is on a mission.  That mission is to surpass me in the # of Female Domination clips in her library as compared to mine.  With her committing to her videos full time now after her onlyfans has taken off , she's already at 250 movies shot and with her adding 3 a day – it'll be sometime this month that she accomplishes that.   In a way she already has if measured by total video length as her videos tend to be 15-30 minutes long , each and every one of  them , whereas my target is always around clips that are 5 minutes long.
By July there will be a day where we each have 400 bdsm videos shot and loaded to the cloud.  That's 800 in total.  Nutty considering a year ago we had maybe 10 combined lol.
Anyways , just letting you know that:
a)  You can get permanent access to her video library by either a $50 Amazon Gift Card sent to [email protected] or by subscribing to her Onlyfans femdom blog.
b)  She is loading her Toilet Training library of videos to her Scatbook profile.  Today she'll be starting on her  Yezzclips and Scatshop profile and documentation.
c)   Planned for next week is her IWantClips store debut.
Remember though, her videos focus on Extreme Face Sitting  , Human Toilet Training from Beginner to Complete Toilet Feeding , Extra Long Tease & Denial , and Femdom Wrestling to name a few.   None of which are areas I dabble in so there's no cross over between us.
She'll be writing for you tomorrow and we'll be alternating 4 days a week going forward from today.
So that's my update.
The one takeaway I hope you got from this is  … if  you subscribe to either of us , understand that the :15 second clips you see on the onlyfans main blog are preview clips only and that the full videos will be linked to you in private group chat.    With me,  two out of every three days and with Mistress Wael every single evening.
Talk to you on Thursday!
xx
Video Order Form
Simply enter your email address, which package you want and with which method you prefer to pay. Mistress Wael will invoice you and grant you access to the folder thereafter.
This is  the  part  where i  have  to  say AVN Stars a few times  for seo.
AVN Stars is  kinda porn-y  know what I mean?  I'll  say  this for  onlyfans,  it's simple and kinda elegant  when  you enter  the url.
AVN Stars has that feel like you've  found a competititve porn site  …  and I'm  one  of the competitors  now  I  guess haha.
The  reason I  slaved  away at AVN Stars  for  a  month is because AVN Stars  only takes 20% of  clip sales whereas IWantClips takes  a whopping  40%.
So AVN Stars , despite  their porn-y look ,  I bit  the bullet  and went  with them  first.    So check my AVN Stars will ya.   AVN Stars, Ghostbusters  !!
It's late ok,  6am.  Hope this made you laugh if  indeed  you scrolled all the  way down  here.