You can see in the photo there are three styles of girls.
The girl who is too shy to suck the banana
The girl who will eat that banana and 1000 more
Then there is me.  The girl who will tease the fuck out of the banana 555
Unfortunately this customer thought me and Jaa were Type 2 girls ..
* What you like to try for session?
I would enjoy a session which entails stretching me anally.
A session as follows
I arrive at your room, you tell me to strip, you instruct me to shower and clean myself fully. When I come out you tell me to stand and you tie me to your devices in front of you you blind fold me and tease, real tease. Hands touch all my parts and excite me. I am told to expect the best but I just perform.
Your two doms make me feel like hands are everywhere, I feel a warm feeling and my cook is being sucked. I have to guess who…..
You unlock me and and you lock me to a bench you say now is all about control, you stroke my cock, and place a finger in my ass. I try to stop cumming but I cum. You chastise me and take the cum from my belly and push it in my mouth, and say I need punishment. You tell me to turnover. You lock me down.
You say how many fingers. And slide 1 in my ass, I say 2, you say wrong and push another on, in, you keep working my ass and stretching me over and over……eventually you manage to push your fist in my ass. At that point I cum.
You now say it is time for my next training, bith girls grab strapons a 6 inch strapon, a 8 inch strapon and a 10 inch strapon. Now then lets work our way through these………
I am fucked in the ass, as I am fucked I feel a warm mouth on my cock sucking me as my ass is violated. I cum and the Dom smacks my face and kisses me deep passing the cum into my mouth.
The doms say you have to work harder, I am told to lick the pussy and ass of the girl, she lays down my ass is proud…..and my ass is violated again as I please the Dom.
I cum two more times in the next hour in any way the doms want……..I am fully spent and happy as hell.
Kind regards,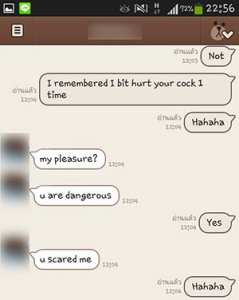 The warm feeling you feel about your cock being sucked is the vaccum cleaner we will be using for a pussy.  If you still have to guess who – then you visited Nana Disco too often 555
Besides that you forgot the number one rule about a mistress …
Do you really want to have your cock in your Mistress's mouth?  You trust me that much to put your brain in my mouth?  That is like if you put your head in the Croc

odile mouth.
The last 2 men who trusted me with a blowjob never ever asked me again.  I wonder why? I also wonder why i liked the movie Jaws so much … especially this scene makes me horny to think about blowjobs …
"You say now is all about control" – baby if i have to say that i not really in control am I?  Same like yesterday blog Power is Power  — Control is Control.  Means i have it by natural or i don't have it at all.  Ok example na — yesterday my client wanted me not to hurt him but tie him and control him.  Even he said he didn't feel i can do that because i am small body girl.
I tied him to the bed first both hand and both feet.  Then i started from his feet and tickled him up to his leg and down to his feet again and again about 20 times.  He was crying when i stop to play with his cock.  Two minute break of me playing with him he wants to cum so i tickle him in his thigh close to his cock until his cock is soft again.  Then i play 2 more minutes.
Next time i do his tummy and his ribs until he cries because it is the most sensitive part for him.  He stop cry immediately after i do two hands on his balls and his dick to make him close to cum again.  Then i sit on his face with my panty still on my body and start tickle him and play with his dick same time.  What do you think he think about more?  My pussy on his mouth?  His rib tickle from my finger?  Or my hand on his dick?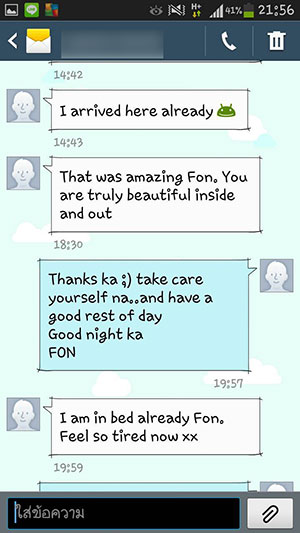 Actually i never had somebody laugh into my pussy before.  I think it can make me cum and i will do a session like this again soon to see if i can.  Why i cannot cum this time is i laugh too much with him.  Two hours we laugh together so much we both have the tear in our eyes.  I cannot help it.  If i see a man laugh i will laugh.  If i see a man cry … ?
So in your life did you ever try to cum when you are laughing and have blue balls hurt you so much?  I think you should try.
Not one time in the session did i say to him "now is the time for control" i just did it from the first second to the last second of the session.  Control is control.
I don't need a cage or a dungeon or a whip to have control.  I just have it.
Four times the guy wants to cum.  His value for the session depend to how many orgasm he can have.  You know with Tease & Denial the one orgasm is the most amazing orgasm in your life.  If you want two shot three shot or four shot there is soi 24, soi 22, soi 33, and soi cowboy.
Fully spent and happy — my customer was very happy i know that from his sms after the session.
I guess i teased the fuck out of the banana again. 555
Pasaya xx
power is power !!!!!!!