For years I've wanted to have an additional video blog to compliment my jaa4u femdom blog , one where I could really show to you not only the quality of my sessions but my personality as well.  How much do I love showcasing my femdom skills on OnlyFans?   Well, I'm closing in on 300 femdom videos now , 1,100 photos ,  450 posts and 100 blog stories all inside of 60 days!  Truly my onlyfans.com/mistressjaa blog is my second home , a place where I can talk to my subscribers all night , write femdom experiences off the top of my head , and give detailed analysis on each video so you can see exactly what I'm thinking during each filmed session.  My onlyfans femdom videos showcase everything from just how seductive my Tease & Denial sessions are to what it's like to be a 24/7 live in slave.
You can tell from the popularity of my Twitter feed having doubled from 4,000 to 8,000 followers since August and the Tease & Denial clips getting 25,000 views a day that the quality is top notch.  Why wouldn't it be?  I'm the very best at what I do , seductive bdsm and femdom sessions with an intelligent approach that sets me above and beyond the crowd of Mistress's out there.
With 500 femdom stories here on my jaa4u femdom blog, an OnlyFans photo and video blog , and a forum to chat with people , I feel that it's totally up to you now just how deep you want to get to know me.  I'm here for you ; now it's up to you to take the next step , but I warn you … I'm addictive.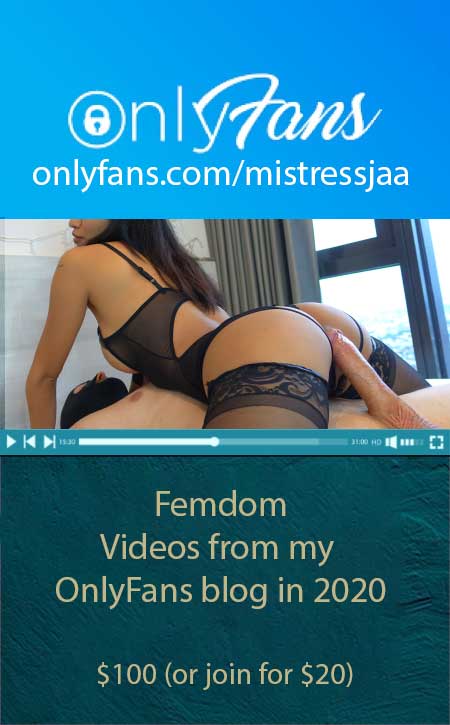 I'm aware that some of my followers need to hide their fetish interests from their wives and girlfriends and can't join by credit card.
Therefore , I have an option for you to pay for the onlyfans femdom videos which are in a folder that I can link to you and you can pay for that via usa Amazon Gift Card.
I've also gone ahead and separated all the old content that was shot before 2020 and put that in one big folder separate from the OnlyFans folder and that too is purchasable via an Amazon Gift Card.
Just so you are aware, the OnlyFans videos feature me predominantly to the tune of about 99% me,  1% Mistress Wael.   Whereas the old video collection folder is mostly her early work from 2015-2019 and not much of me at all.
I've been doing this for years and years on a level that few other dominas have ever come close to. In the end, its great fun, the most fun I've ever had actually. You're welcome to come join me and see what I'm all about.
Get in on the ground floor because at an increase of 2,000 Twitter followers per month its going to be a matter of weeks not months before I surpass everybody in Asia and set my sights on joining the world's best and most popular dominatrix's.
xx
Video Order Form
Simply enter your email address, which package you want and with which method you prefer to pay. Mistress Wael will invoice you and grant you access to the folder thereafter.