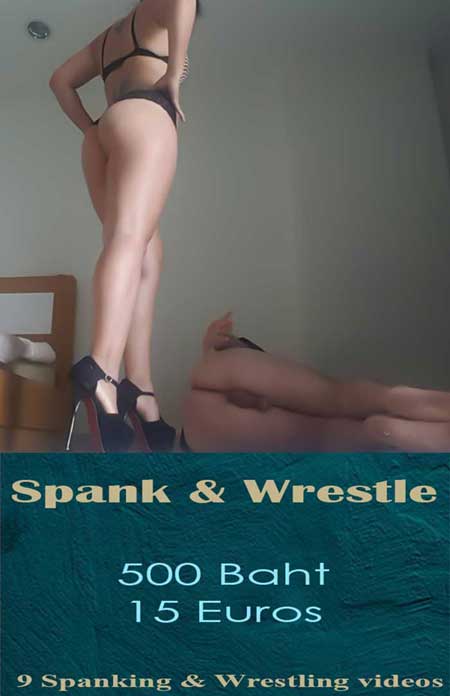 Spanking for sissies the video package should be called.   In the ten years we've been around doing sessions , I can count on one hand only the number of sadistic slaves we've had come and ask to be tortured with a hard skin bruising spanking.  These videos are spankings that your mother would shake her head at and say "that's not a spanking."
Our philosophy regarding femdom & bdsm has always been :  Keep it sexy , Keep it  seductive,  Keep their cock's hard.
So as this video library grows , you're going to find yourself watching the content with a smile , saying to yourself "fuck, I wish that was me."   How many FemDom Mistress's can make their slaves actually wish they could be part of a bdsm spanking session?
Just us.
The wrestling stuff here is an afterthought at the moment.  Mistress Wael is the resident sexy wrestling & Jiu Jitsu expert but you'll have to ask her for access to her Custom Wrestling Videos.
Or you'll have to order a Custom Video for yourself.
She needs to be able to go to her wrestling classes with anonymity , that's why.  The wrestling videos in the package are older funny stuff.