Friday night I fed your party , Saturday I said I'm sorry , Sunday came and I fed you it again

. (sorry Billy Joel)
Toilet Slave Training !!  My beginner toilet slave (s) love me because I was a Chef before I was a Mistress.  So I know a little bit more than other Mistresses when it comes to feeding people 🙂
Mind you … the food I serve for myself is very different than the food I serve you.
I cook almost every day to remind me of my love for food.
Did you know that I almost never eat Thai food?  I'm hooked on foreign food.  At the hotel I used to work at I was first in charge of making Chinese soup which I still make every Monday if I'm not busy.
But more than my love for Chinese soup is my love for Pasta.  I'm very jealous that your head mistress is in Italy eating pasta every day.
It takes me all day but I believe I make the best Tomato Bolognese Sauce in my country.
This week I had many craving for food.  I work out a lot now so I am hungry every day.  This month I focus a lot on healthy food with protein …
Oh wait.  One of the foods I made doesn't belong.  Can you tell which one?
Apples & My Poo is a special delicacy.
It's part of my Toilet Slave training.  That's why I prepare such a meal for all toilet slave (s).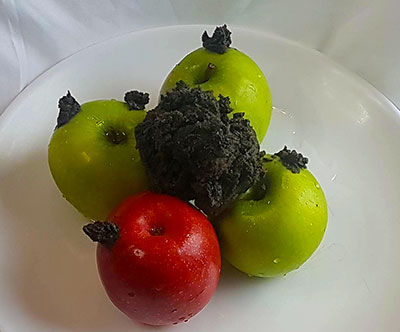 To eat my poo … first you have to not be disgusted with my poo.
So you will have to hand wash your apples to clean my poo off.
This takes about a week before the toilet slave can do it and not complain.
To bite an apple that smells like poo takes courage.
And takes getting used to.
I adjust you to the feel and the smell in the same week.
But not the taste.
Not yet.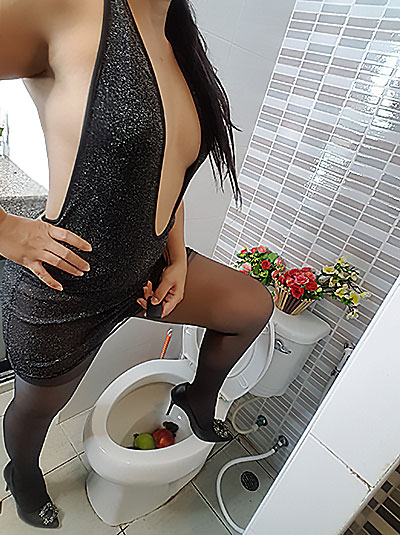 For the first taste of my poo I like to play a game you know very well already.  Bobbing for apples.
First day is easy.  You will bob for apples in my toilet in the clean water.
Then you will bob for apples after I peed on them.
Finally you will bob for apples after I went poo.
I have to eat a lof of chicken and potato so my poo is hard and floats with the apples.
I do it like this because I only train beginners.
The "professionals" who can eat everything already … I get no excitement from that.
Reason is … every fetish I do has to be for me to enjoy … not for you to enjoy.
I love to hear you complain.  I love to hear you gag.  I love to feel you resist.
But most of all I love to pet your hair and make you feel good when you feel most humiliated and you cry already on your knee in front of me.
If I am not laughing at you in the session probably I am not having all the fun I like to have.  That is very important for me.
You will see in every video of me I love to laugh when you do something humiliating for me.
The slave who swears to me he cannot do "it" … and cries after I finally made him do it … that is the slave I love to have serve me.
Or this slave who choked on the water because he try to resist me kick his face into the toilet … beautiful slave 🙂
To fall for such a little thing … a bite of an apple 🙁 #toilettraining , #toiletslave , #scatslave , #femdom , #bdsm , #mistress , #domina , #dominatriix

Mistress Wael pic.twitter.com/oXGS1g9Ydw

— ThaiGoddessJaa (@FemDom_Bangkok) July 27, 2019
Tomorrow I will promote him to have his asshole waxed close with 20 candles in his butt.
Then we will see how hard it is for him to poo out the wax lol.
If he can I have a new food for him to eat out of my toilet.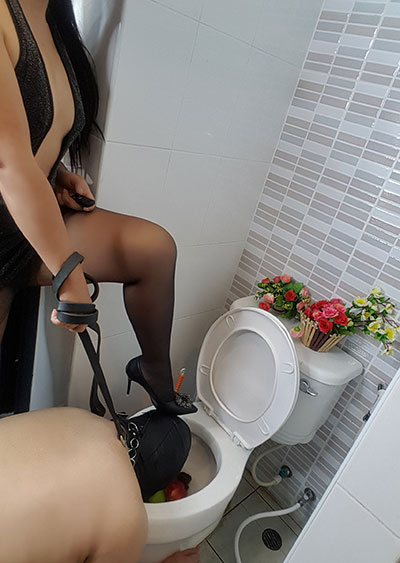 Probably the one thing you don't know about me yet is I am more lifestyle Mistress than you think.
My sessions say 1 hour and 2 hour yes of course.  I have to put that.
But if I find the perfect slave !!!  I will make you mine.  You will be lucky if I let you go home.
When she comes home from Italy we have a idea to buy a house in Bangkok.
Then it will be no problem to buy a cage and keep you in it if I like you.
Like a pet.
I love to collect pets.
She likes to have the young men for her sessions.
I like older men.
They obey better.  And I can take care of them better.
If I am very lucky … one day I will find an older slave to take care of full time.  That is my dream.
Don't worry if you are scare to be a Mistress slave full time.
It's ok.
I will feed you well.
Hope you like apples 🙂
Mistress Wael