Eat my shit , because fuck it … if you can't beat 'em , join 'em , isn't that how the saying goes?
After struggling to make it to the 1st of each month and not get kicked out of my condo for not being able to pay the rent … and doing so by quite literally surviving on 10 cent Mama soup and $1 rice and eggs after its been reduced to clear after midnight I must say I've turned a jealous eye towards Mistress Wael lately.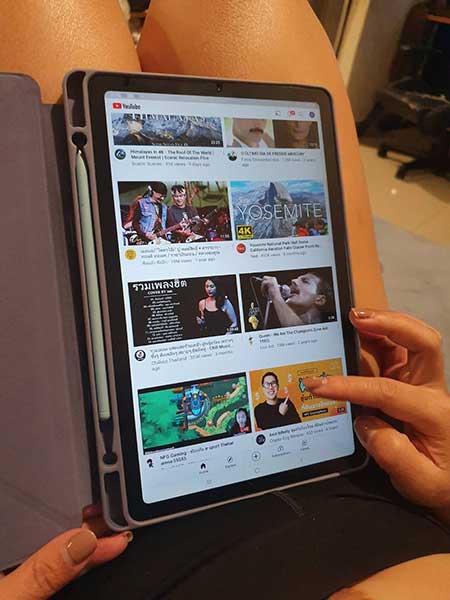 Just today she came to drop off a few of my dildos she had borrowed while I was away , arriving on her newly purchased $2000 motorcycle before puttering off to her 5 star gym.  She has her 5pm booking with her personal trainer who she's booked for the month for a cool $750 which is $250 more than the personal trainier I used to pay for … you know, back in the day when I was having two sessions a day , every day.   *Checks the calendar , yup March 11th, 2020 was the last time I had two sessions in one day.
In her bag is her newly purchased Samsung tablet which sits beside her brand new gym outfit.
And that's just all the stuff she's bought this week , never mind last week or the week before that.  The girl is making serious bank is what I'm trying to say.
All because she is the de facto , uncontested , #1 Scat feeding Mistress in … not just Asia , but the whole fucking planet.
Her videos are as legendary as they are expensive.
And so , even though I've long since had a policy where I only feed my most loyal of slaves my shit , and even then only after many months of constant servitude , I'm now throwing my ass into the shit feeding fetish as well.
Yes , you can book me to eat the shit out of my ass.  However, I have a set of strict rules and policies for doing so.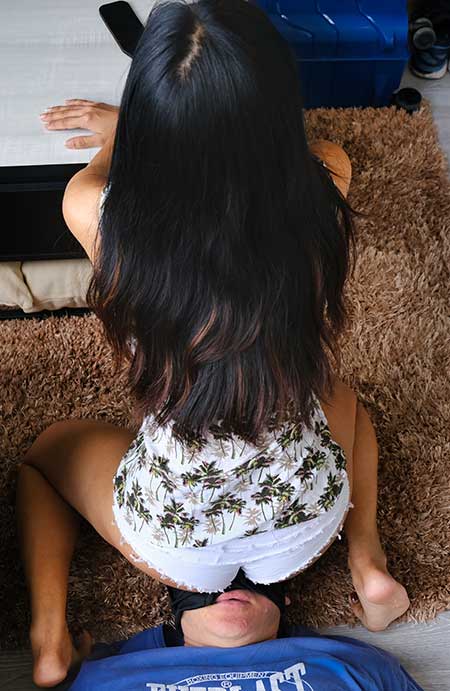 I have , unquestionably the hottest ass and body of any Mistress in Asia.  It's not even particularly close – the gap between me and whomever is #2 in my country is laughably large.
Eating from my ass should come at an absolute premium.  It's like eating the finest Persian caviar from the richest restaurant in Monte Carlo.   As such , you're going to pay for the privilege of eating my shit the same you'd pay for said caviar.
We're talking $20,000 baht for the shit feeding session.  No more, no less and here are the rules that come with the session.
One, the session lasts as long as it takes to feed you.  Given that I'm a healthy girl who eats but once a day – after midnight when the rice and eggs go on sale , I shit but once a day and whenever that might be , I honestly have no idea.
So if it takes 24 hours to feed you , that's how long the session will be.  Don't rejoice just yet though, there's more.
Two , while waiting to be fed you'll be chained to the toilet in my bathroom and fuck if I hear even one noise out of your soon to be shit filled mouth your hole will be gagged with my dirty panties and sealed with duct tape covering your lips.
No fucking noise.  Not a peep.
I'll go about my business totally ignoring you … you are a toilet after all , and when was the last time you heard your toilet bowl make a sound?  Never, exactly.
Three, when its time to use you … there will be no spillage.  I'm copying Mistress Wael's technique on this one as she too doesn't permit any spillage whatsoever.
You'll be fed slowly and expected to swallow immediately.
If there is any mess leftover , you're licking it up , your sanitizing my floor and scrubbing it until it's once again shiny.
Mistress Wael has her 5 levels of toilet training , from beginner to expert.
If you are anything less than an expert , go see her for your training.  Once able to quickly and fully consume … only then will you be permitted to see me.
Those are my terms and conditions, they are non-negotiable.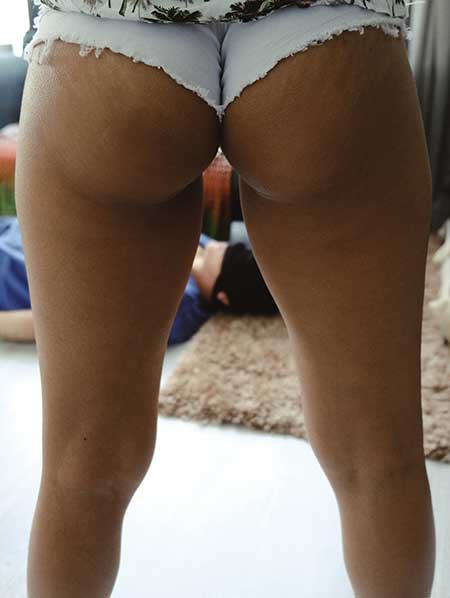 Looking through my gmail inbox I constantly see emails saying the same thing over and over addressed to Mistress Wael:
"I've never seen anyone make scat feeding videos like you Mistress Wael , and trust me – I've seen 1000's , nobody but nobody makes videos so sexy yet so panic inducing as you do."
I'm looking forward to getting emails addressed to me saying:
"I've never eaten shit from such a gorgeous Mistress and trust me, I know every Mistress who feeds shit , nobody's ass or body is as close to as gorgeous as yours, it was a pleasure to eat from the most elite of asses in the world."
It'll be my pleasure to feed you boys.
I look forward to placing my asshole over your mouth.  Now be a good little toilet and fill out the form below.
Mistress Jaa
Book A Session
Looking to book a session?  You can either email us :
Mistress Jaa : [email protected]
Mistress Wael : [email protected]
Or fill out the form below.  Don't forget to check out my Loyalfans femdom blog , or Mistress Wael's Loyalfans blog its a great way to get to know more about us through our photos , videos and daily stories.
ignore this part, it's for page ranking " eat my shit " as the keyword
so eat my shit has to appear many times.  eat my shit should be the name of my new restaurant.
Eat my Shit would have no waiters as per a typical restaurant.
eat my shit would instead have female "servers" like me.
eat my shit would not have tables like a normal restaurant, instead, eat my shit would have toilets in lieu of tables
eat my shit would have eat my shit subliminal signs all throughout the place.  you'd be subliminally encouraged to eat my shit
or your servers shit.  i'd have each server say eat my shit just before sitting down to feed you.
eat my shit would have a menu option to be fed multiple times .. by different servers.  That alone would distinguish eat my shit from other restaurants not named eat my shit.
ok do you think that's enough clever usage of the phrase eat my shit ?  will eat my shit rank as high as the other stories?  or will eat my shit languish on page 2?
only time will tell.  until then, eat my shit.