Fart, Mouth Farting, Distance Farts , Distraction Farts, and Pussy Eating Farts  … it's all a Science.
Let me explain.
Fart Preparation
Depend what kind of session I want to do with my slave … if I have a plan for a fart I have to know before what kind of fart I want.
Which means I have to plan my food in the morning when I wake up 8 hours before our session.
Did you notice when you session at my condo I have a lot of raisons by the TV?
Because Raisons & Salted Beans or Chick Peas give me very long dry farts.
For me that is the most important fart.  Why?
Because I'm not 30 years old now.  Before when I was 30 I could push out a loud fart any time with any food and I know 100% it will be dry.
After mid 30's not so much.  50/50 chance really that if I push too hard I will poop my panties.  Happens when get older.
So I need food I can guarantee to win a fart game with my slave.  If he farts … I have to have 3 to fight back.  Raisons & Beans win me the fight every time.
But what if I want a long wet fart?
Beans in Tomato Sauce with chilli flakes !!
The perfect fart for facesitting.   I think facesitting farts have to have flavour.  They have to be more exciting for you.
Lucky for you I was a chef for 5 years and I make the world's best tomato base sauce 🙂  It guarantee  my fart is delicious … for me not for you 🙂
The worst fart for you is my Atomic Level 10 Bell Fart ®
Do you know the hell food I have to eat for you just so you can smell my Mistress Wael Oh Ya Babe #1 fart?
Boiled Eggs & Walnuts.
Dry as fuck.
Smellier than fuck.
Guaranteed to make you say "fuck."
I use it mostly for Distraction Execution.  See below.
Also … this is the fart I use for Toilet Training to make the customer think twice if he really wants what is in my ass behind my fart.
Fart Execution Techniques
I have 3 ways I use my fart.
The most popular is for my …
Fart Distraction Technique.
Often I will make you sit in my recline computer chair if we session in my condo.
I will tie you to the chair so you cannot use your hands.
And I will maybe shave my pussy beside you with  my leg on your shoulder.
Or wash my pussy again beside you with my leg over your shoulder.
And maybe if you are obey me perfect I will ask you to kiss under my leg close to my pussy.
But you are not allow to look at my pussy at all !!!!
You are Daniel.
I am  Mr.Miyagi.  (Mistress Miyagi??)
"Look eye"   "Always Look Eye"
Because if you look away from my eye … you get Atomic 10 Bell Fart to punish you.
If you look away again … 1 more …  and now you have 20 bells.
I have many bells for you 🙂
FaceSitting Fart Technique
FaceSitting is not FaceSitting with no fear.  Or discomfortable.
If no fear it is just fun right?
And to be a Mistress is not about to give you only fun.
You have to work for fun.
So one thing I always do … fart when I think you have too much fun.
Not always punishment.  Sometimes you listen to everything I say to you perfect  … and still I fart.   Up to me.
Because often I will say you to kiss my pussy but not lick, not suck , only kiss & hold.
And if he can kiss & hold  … to make it harder … farts coming.
So it is like training to touch my pussy how I like you to touch her.
Toilet Training Technique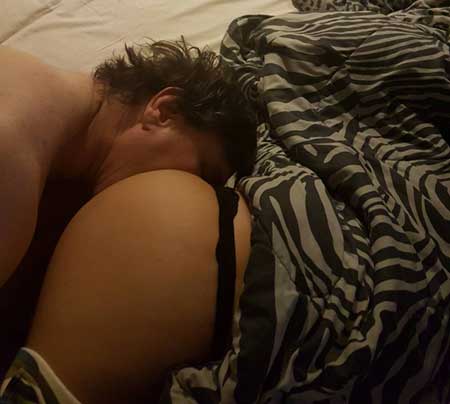 I like to only do Toilet Training for beginner.  Somebody who have fantasy to try it but never do it yet.
Why?
Because the other style guy is somebody who do it often and not really fun for me.
I love to hear the guy struggle.
I love to hear the guy cry or beg me to stop.
And the thing I love the most with Toilet Training … is to make the guy change his mind.
So my Walnut & Boiled Egg Fart when the guy is under me … makes about 50% of the guys who come for a Toilet Training Session change their mind.
That is fine.  I poo anyways.  And make him wipe my ass for me … and try not to throw up with the walnut egg poop smell in the bathroom.  Good for training the nose.
Because for Toilet Training … before you can train your mouth  … you have first to train your nose.
Walnut & Egg Farts do that for you.
And there you go.
The science behind my fart fetish.
Am I a bit crazy for thinking so much about the perfect fart for my slave?
Yes maybe but …
My slaves are perfect … they deserve perfect farts , you agree?  🙂
Mistress Wael