Remember that a person's name is, to that person, the sweetest and most important sound in any language. "The average person is more interested in their own name than in all the other names in the world put together." People love their names so much that they will often donate large amounts of money just to have a building named after themselves. We can make people feel extremely valued and important by remembering their name. (How to Wind Friends and Influence People by Dale Carnegie)
Oh, people love their names so much they'll donate much more than money to hear it spoken.
Here's a little fact that I've learned from years of discussions with submissive guys over dinner :  most of them were subjected to name calling in school.  I met one guy who told me he never heard his name from the age of 10 to the age of 18.  At school they called him Spock due to his bowl like haircut , at hockey they called him Goon , and his dad called him Shithead.  Last week I had dinner with a gentleman who was called Retard at rugby for 10 years , even though he has the hands of a giant and the thickness of two men.
Yet even with his gargantuan size he sat across the table from me at Above Eleven and used the napkin to wipe away a tear from his eye as he told me the story of his tormented life in school just because he was goofy looking and socially awkward because of it.
An hour later he was doing pushups in my living room with me on his back and both my feet wrapped around his face and my big toe on either foot in the corner of his mouth like a tongue tie on a racehorse.   As much as he loved being used by me like that , and as much as he begged to be treated in an even more humiliating manner , I always called him by his name.  In fact, I call everybody by their name for the sound of it truly is the sweetest sound in the universe.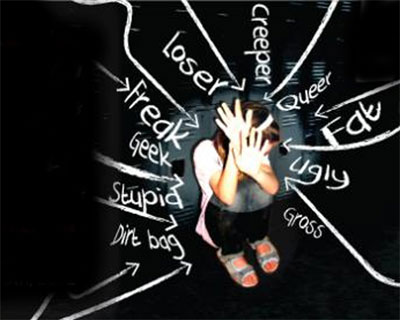 I just thought you'd find it interesting that every time I'm asked what my "taboo" is – the limit of what I won't do ; my answer is simply that I usually won't strip somebody of their name in a session.  I'll spank them silly , hell I'll even cane a guys ass and back until their is no white skin left.  I'll piss for 2 straight minutes down a guys throat without a second thought even as he pounds my bathroom tiles with his wildly thrashing feet.  I'll set a guys dick on fire with fiery heat producing massage oil as I stroke it and laugh for two hours , and I've even done tickle torture with tease where the guy passed out from hyperventilating – and when he regained consciousness I continued on until he passed out again thirty minutes later.
There is no taboo in what I do , I've done it all.  But the sessions I'm most uncomfortable with is when he's demanded to be stripped of his name.  I turned two such sessions down this past weekend after a mid-week affair that had me calling a guy cuntface in public at his request.
I tried unsuccessfully trying to get to the core of why he wanted to be  addressed like that.  When he came out from the washroom at the restaurant we were at with the word 'cuntface' (with the N written in reverse) self written across his forehead with black magic marker – I had one of those exquisitely rare moments where I got up and walked away from the session.  That's only the second time I've called off a session in 4 years.
You are born submissive.
That cannot be changed.  Just as an alpha-wolf IS an alpha-wolf, he doesn't "become" the alpha it just naturally comes out in his personality.  The Omega wolf, the most submissive of the pack is similarly born with that trait as well.
What defines you gentlemen as submissive's , wanting so very much to submit to a woman , is your experiences growing up.  How you interpret and internalize those experiences defines which path you will take in your femdom journey.
For example, one story recounted to me by a young kid – and by young I mean relative to me as I'm still quite young myself having not turned 30 yet – was again over dinner where he told me his earliest memories of wanting to be submissive came in his dreams when he was still 8 or 9 years old.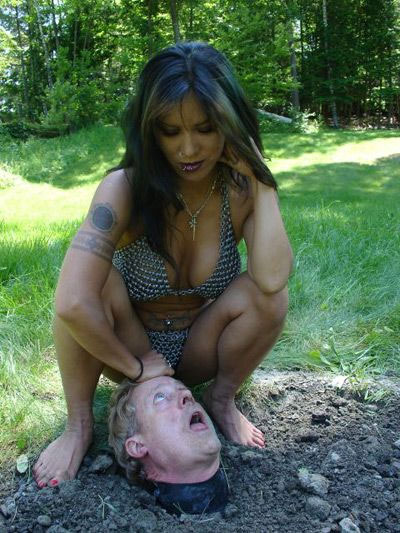 One day behind his school they were putting in tall lampposts from the recess area along the walkway to the teacher's parking lot and it was one of the first times in his life he saw concrete in its liquid form as the workers poured the paste into a pit that was to house the base of the lamppost.  Sometime after seeing that he began having a recurring dream where the prettiest two girls in his class – Suzie and Mirrella – would order him into that pit and he'd be encased there while they did all sorts of things to him like wiping their feet on his face, spitting down into his mouth , and straddling over his head.
His first actual real experience with femdom however didn't occur until he was about 13 by his recollection.  While playing with two girls who lived across the street from him, one of them spat down at him from the balcony above him and by sheer accident he looked up as the spit hit him in the eye and ran down his face.  When he wiped it off he said he purposefully didn't move hoping she would do it again , and when she in fact ordered him to open his mouth and look up he said that was the first time he remembered having such a hard boner that his dick began to convulse on its own inside his pants trying to ejaculate from the excitement.
When her spit landed directly in the back of his throat he couldn't stop gagging and his present day memory is hearing the two girls shrieking in laughter as he ran home coughing and suppressing a gag reaction.
For weeks he avoided being seen by those two girls , and even though to him they were not at all pretty , that incident was the only thing he tossed off to that summer.  In fact get this , that memory is still so vividly strong that even now he jacks off to the memory of that day … giving you an idea of just how strong a femdom experience is as opposed to a normal sexual experience.
Can you remember fucking your first girlfriend on any occasion in such detail as he explained that experience to me?  No you cannot.
When he saw the girl who spit in his mouth at school that September she started calling him "spitboy" every time they crossed paths in the hallway.
I asked him right then "what is your present recollection of Suzie and Mirella , do you remember then fondly?"
"Yes very" he replied.  The connotation of being "tortured" by those two even though it was only in a dream was a good one and that's because (in my opinion) it was a fantasy in which he wasn't looked down upon by the girls.
Whereas when I asked him to tell me the names of the two girls who spit on him , he can't recollect as his mind has since blocked out their names.  Interesting eh?  He can remember the names of the two girls from 9 years old via a fictional event , yet his mind actively has blocked the names of the two girls who resorted to name calling after a quite real event.
I couldn't wait to get to the session that evening because I had a theory that needed proving and it did.  He would let me face sit him for an hour and his dick would be hard as a rock without me touching it.  Yet in the second hour when I cuddled up to him and told him to open his mouth so I could drop a ball of spit slowly onto his tongue … his dick went flacid and his head jerked back in retreat from my request.
For the rest of the session , no matter how much I cupped his balls or played with his cock, he couldn't regain a stiff hard on whatsoever.
This is what I mean when I say that the experiences you have over your lifetime define your path of submissiveness.
Just like you, this guy was born submissive.  Eight years old is young enough to not have an idea of sexuality , yet not so young to already know what path the eventual sexuality will take.  I have heard over a hundred stories that clearly show me why somebody likes spanking, or ballbusting , or an innocent tease.
But the guys who are messed up the most in trying to interpret their submissive nature are the ones who were subjected to name calling.  One's name is so very important.
Like even for me, you probably don't know this but I absolutely cannot stand being called Mistress Jaa.  I hate it.  I despise the name.  Because it's not me.  But I have to keep that name since the original Jaa named the website after herself, a property which I've since inherited.   I tried using my real name at the start because that seemed the most honest way to introduce myself in my blog and got caught in a hell storm of libel and slanderous attacks thereafter.  When I tried to change the name it caused great confusion so I've recently just said fuck it and gone with Jaa – then quickly getting you to address me properly once we're talking with email.
Since I know personally how much it grates on my nerves being addressed as Jaa , and I know how many stories I've heard over dinner of you guys being called names in your younger years , I thus derive great pleasure from coming home from a long sweaty run, taking off my shoes and socks at the door and discarding them on your body – serving as my doormat as I address you by name and say while looking down at you " ____ , you're the best damn foot cleaner in the city , be a dear and clean my feet for an hour will you?"
And you'll do it.  Because people love their name so much , they'll devote any part of their body to hear it.
xx