I fucked "Dave".
Or , more exactly, "Dave" fucked me.
As per usual though, how it went down is not quite how you are envisioning it went down.
To say that "Dave" fucked me connotes visions of seeing me with my hands spread out clinging to any crack in the wall as "Dave" cups my tiny perky breasts firmly with both hands and beast fucks me from behind with forceful deep strokes that make my knees shake.  Beads of sweat roll off my matted hair and drip down my forehead as I endure his merciless pounding well past the half hour mark.  Well don't clap for "Dave" just yet, I know you have him as a HERO in your minds, but do you really think letting a guy bang me is going to play out like that?  Have you even read a story in my blog?
First though, let's get rid of the quotes "" around Dave as I've had more than a handful of emails question whether "Dave" is real or not.  As I've done for those of you who have inquired , you can ask to see me in a photo with him and I'll oblige all you cuckold wanna-be's.  I know you need to put a face to the better man, it helps when you beat off at night thinking about somebody other than you pounding my ever so tight pink pussy right?
"So, (long pause) you might be the only Thai girl who invites guys back to her condo to NOT have sex" was the rather funny line that Dave came up with as I was shoo-shooing him out the door from our rather uneventful second date.  (the first was more eventful) We watched Netflix movies all evening , I think Billy Madison was the first one and Happy Gilmore was the second – as chosen by him not me, I'm not really an Adam Sandler fan – cuz , well , I've moved on from the 90's and he obviously hasn't.  Fuck, he began searching for The Mask to solidify his adoration for an era long since departed before I said enough is enough.  My taste in movies is far better than his, I crave deep, well written, well acted flicks with meaning stacked upon meaning, like Sharknado !
Another recent email suggested I stop trying to act intelligent by referencing Shakespeare in my twitter posts.  I told him truly intelligent people understand the brilliance behind the movie Sharknado and suggested he give it a watch before emailing me a second time.  Haven't heard from him again.  🙂  Sharknado gets rid of so many unwanted clients for me, it's awesome.
"You can fuck me, it's just not gonna happen in my condo and it's not gonna happen how you think it's gonna happen."
He put his hand on the door to stop me from closing it and asked in a very rushed voice "well where can it happen?"
"Angkor Wat" was my smart ass reply.  Why Angkor Wat?  I truly have no fucking idea.  But since that's where we ended up this past weekend I cursed myself endlessly for not blurting out a place with more pizzazz than that.  Why not in the toilet adjacent to La Bastille or behind a rock on Machu Pichu , at least then I would have gotten bang for the buck (get it? … 'bang' for the buck, clever huh?)
"Angkor Wat?" I heard him say beyond my condo door , which was then closed and finally separating us from that wasted evening.
Then I got texted while I was in the shower a few minutes later, "how much is that going to cost?"
"Same as it says on the website, 10k + expenses"  and then added a moment later "+ a condom I guess."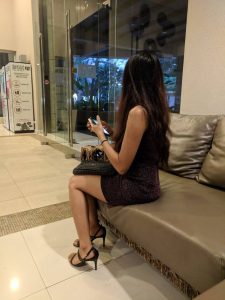 Now I'm not sure what the punishment would be for getting caught doing the nasty on one of the most sacred places in the world, but I'd guess it'd be either having your arms torn off by two horses running in opposite directions or being covered in tar and lit aflame.  I don't at all find it surprising that none of those punishments are a stiff enough deterrent to stop a guy from trying to get pussy.
Men disappoint me.  Most often I can lead one by the nose as I've been doing with Dave the past week and they happily get led to whatever trough of oats I have awaiting them.
But  a) I'm really fucking bored lately since returning from Europe and b) I just love fucking with men's minds , so a trip to Cambodia? .. why not, sure, let's go.
I keep hoping that the men I go out with will improve , that one day one of them will connect the dots and act like I want them to act.  Sadly, they're all on a quest for pussy and beyond that there's not much more to them.  Then the few who are deeper than seeking out their next fuck … they have privacy issues – as in – trying to invade mine, or they're totally clueless to the space a girl needs and they drive me insane with how clingy they are.
I see dating as "you're over there" and "i'm way over here" and between us are three impassible traps.  The sex trap, the privacy trap and the insecurity trap, and it's virtually impossible for any man to traverse all three dangers safely.
I'm gonna go off the story plot line for a second , cuz – it's my blog and I can do whatever I fucking please.
I want to get married.
I really want to find a great guy who wants to marry me.
I desperately want to find a great guy who wants to marry me.
I'm single and quite frankly, I'm bored of it.
But the only guys looking for commitment are the lonely over 50 years old type of guys.  I'm not gonna ever bang a guy over 50, I'm way too fucking hot to settle for that.
The other guys who constantly email me are the ones who are married and had mind blowing sessions with me , so I'm their eternal diversion from the shitty life they are forever mired in.
So I am left with the "I wanna fuck a really hot Thai girl" crowd , and I don't need sex.  Once or twice a year I grab a really hot super model passing through town and fuck his brains out , I'll secretly record it and send a clip of it out to all the guys who tried so hard to fuck me saying "don't you wish that was you?"
Why do I do that?  Because when I know that each guy is going to ultimately disappoint me by falling into one of the three traps laid out before him , the only thing left to do is fuck with him a bit like he's an amusing toy I picked up.  That's pretty much how I had Dave summed up going into last Friday.  I knew beyond a shadow of a doubt that he would say yes to taking me all the way to Angkor Wat , not because it'd be a fun thing to do , not because we'd have interesting conversations along the way , and definitely not because he wanted to improve his cultural understanding of Cambodia's past with me.  Nope, it was a continuation of a first Tinder date, and he was going to get his cock into my cunt even if it meant forking out about a hundred thousand baht to do so.
Oh he didn't know it was going to be a hundred thousand , but one thing that being a mistress has taught me is that a man's wallet often has no credit limit when trying to bang the thing that's most unbangable to him.  My job, and i excel at it, is to make my ass and my pussy the most coveted thing in a man's mind.
Dave thought he was going to get the thing I made him covet the most.  Unfortunately for him , he's going to get the next video clip I send out.  But that's spoiling the story a bit , so let's get back to that shall we.
It wasn't until we actually were at Angkor Wat on Saturday morning that he actually made his move on me.  Get this, we got into Siam Reap late, around 9pm and after we ate some unappetising street food there was nothing to do but go back to the hotel room.  Now you'd think most guys would put the moves on in the bedroom right?  Not him.  He went straight to bed – double bed room in case you were wondering.  Little did he know I was in the bed beside him looking at his half naked body scratching my pussy.  He's hot by the way.  Wouldn't have gone on the trip if he wasn't.  If you're not as hot as Dave , don't worry, so long as you can hammer a six inch spike through a board with your penis – you have a chance with me as well.
Hey, a girl's gotta have her standards.
I'm not infallible.  I had a moment of weakness on the bed there, had he opened his eyes and walked over to my bed he could of had me right there , I was dripping wet.
But no.  He began looking for place to make his move at about 9am – at the ruin with the tree embedded in it.
I felt like Charlie when Tom Cruise – Maverick walked in on her in the lady's bathroom.  Remember I said that you had it in your mind that he'd be banging me from my bedroom wall as I clutched at anything to hold on to?  Well in his mind I would have been gripping onto the limbs of that tree, he seriously had every intention of whipping out his dick right there and then.
Almost word for word from that clip transpired , except I said something like "do you want to just go for it against this tree here" and he replied with "standing up is fine by me" , then me with "did you bring the condom" , and when he went into his wallet to pull it out I walked away in disbelief.  Guys really are fucking dumb.
We spent the day looking at this, that and the other thing before flying back in the evening.  He wanted to apologise pretty much every time he opened his mouth all that day, another feeble thing men do.  Why do men do mentally feeble things and then think apologising for it endlessly somehow atones for their idiocy?
Anyways, we were back here in the city around 9 and on my street by 10:30pm Sunday evening.
"I'm going to invite that guy over there back to my condo" I said casually while eating a late night bagel at Starbucks and rolling my eyes towards a cute guy with a goatee who had been eyeballing me from when we walked in.
"…and send me home?"
"well you can watch if you want."
I wanted so much to reach down and give his cock a squeeze after I said that to see if he was indeed a closet cuckold but it would have given off the wrong signal so I kept my hands to myself.
"I'm not good enough huh?" he said with a hint of dejection.
"Nope, you failed the intelligence test this morning.  Doesn't mean you can't bang me though, it's just not how you think you're going to bang me."
Set a piece of cheese in a trap and the mouse will come running no matter how great the danger.  Guys usually don't know what to do or say when a girl is so forward about sex talk.  They're used to the cat and mouse game and not at all used to the mouse turning out to be a kangaroo.
The cheese led him all the way back to my condo , quite late, near 11pm.
It was funny though, he was walking … yes walking … in such a way that he didn't at all trust what was happening.  Imagine how you would walk if you went for an acting audition and they told you to walk like you expect somebody to jump out of a dark place and scare the fucking shit out of you.  That's how he was visibly walking.
I don't blame him I guess, over the two dates I had totally confused him.  That's saying a lot since hot guys like Dave usually get their way with women and often within a few hours, I had kept him guessing until damn near the end of the fourth.
But here he was sitting not on my sofa this time, but electing to lean against the arm rest of it.  Judging by how defensive he was acting I had my senses tingling that he was going to react adversely to the joke I had planned for him.
Still, stubborn as I am, I wanted to play it out and see what his reaction would be.
So I returned from my bedroom having put on my skin tight black dress , the one that always gets an instant hard on when guys see me in it for the first time.  Then upon the sofa behind where he had himself propped up against I tossed three things I had brought with me , the metal chastity I keep in my room, a significant portion of white rope and my purple strap on harness – black dildo attached.
"the fuck?" he said, obviously maddened by connecting the dots.
"Yes, the fuck." I said holding the chastity up to his groin area.
"The only way you're going to fuck me is with your hands tied behind your back while your cock is locked up and you're wearing this strap on."
"Are you a mistress or something?"
Egads, he figured it out.  Deny.  Deny.  Deny.
"or something.  I'm kinky."
"you're …. you know … you're …." he shook his head and rubbed his blue tshirt in hands smiling like he had been beaten in a poker hand.
So to press the issue I walked up to him and pulled his zipper down slowly so he could hear the ziiiiip sound all the way down.  "Say no if you want" I whispered as I undid the black belt holding up his jeans.  Once I had it undone I slid it out from the belt holes on his blue jeans and dangled it in front of him.  "I might use this later" I said with a laugh.
He didn't stop me.  Nor did he say no.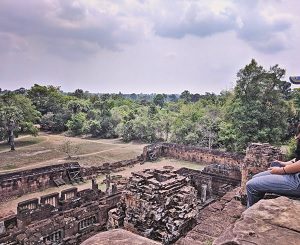 I tugged his jeans down to his thighs taking his underwear down too – accidentally, and his rock hard cock was standing at full mast right in front of me.
"That … thing … gets locked up , sorry."
Now this is where I thought he'd call it off.  Sliding a cage on a man's cock is the ultimate act of emasculation , and for some guys … its like being walked down death row towards the noose …they'll make their last stand and fight right there and then.  So in some ways, the final seconds before it gets slipped on is the moment of truth.  Dave, I'm happy to say, embraced his hidden submissive emasculated side like a pro.  He bit his lip and said nothing.
But he did manage to say "this is fucking ridiculous" when i dropped the strap on harness at his feet to step into.
Laughter is a great tool.  Not only does it break tension but it can preemptively suppress it altogether.  I just misspelled every fucking word in that sentence.  And I just misspelled "misspelled" as well.  One might say that I laughed that strap on into position around Dave's waist, sounds silly but it works.  Whenever I need a guy to do something crazy for me I laugh him into doing it.  You'd be surprised how much that works.
I tied his hands behind his back and then walked in front of him , putting my hands on the coffee table so that the fabric of my dress lifted slightly to reveal the round bottom of my ass and perhaps give him a glimpse of the small rounded lips of my pussy.
In case you're wondering, yes I was wet.
I've said many times before that it's the act of humiliating a guy that gets me off.  I do enjoy it so.
As I looked back at him, it was absolutely comical to see his cock almost bending a good 30 degrees at his balls , meaning his hard on was bloody hard.  If only Mistress Wael had been sleeping over at my place, I would have used her to massage his balls for a good 10 minutes while I paraded my ass in front of him.  The guy no doubt would have shot his load all over his chastity had I been able to do that.
"Oh wait, I forgot something."
I turned around to face him and pulled a blindfold out from my tiny cleavage.  Hey it is cleavage ok , I don't care how small of a bump it is , if I can hide something in the valley it counts as cleavage in my books.
"Fuck really?  Like, what am I supposed to get out of this?" the beginner slave said in protest.
"You're providing a service."
"Hardly, people providing a service get paid, this is the exact total opposite of providing a service because I've paid a fortune since I've met you."
"Oh shut up and fuck me" I said as I slipped the blindfold over his eyes.
"This is fucking bizzar…" but neither did he finish that sentence as I let out (a fake) moan as I slid the dildo inside my pussy to the point where he could feel his ass touching his chastity, nor did he speak again as I moaned softly again and again.
Honestly, banging a dildo does nothing for me.  I could bang it for hours and wouldn't get an inch off the launch pad.  But I loved looking over my shoulder at him standing ever still, ever silent with a slack jaw and soaking up every moan like it was a whisper floating on the breeze over a silent ocean.
Also, I suck at faking an orgasm verbally.  I guess it was anti climactic for him too cuz he said "that's it?" for his first words after I "came."
"Done" I said , taking the blindfold off him.  Then after I untied him I looked down at his dick "you can go home in that if you want."
Normally I wouldn't give a slave an option, it'd be an order, but he was neither a slave nor a boyfriend, just a dude I was about to give the pink slip to.
He reached out to caress my shoulder and I flicked his hand off much the same way one would flick a mosquito from one's nose.  "I said we're done."
"That's it?  Like that?  You're going to kick me out again aren't you?"
"Yes."
"What the fuck is up with you?"
I don't engage in fights with men.  It's a worthless endevour.  I can find a guy in a fraction of the time it'll take any guy to find a girl, so simply dismissing men on the spot makes a whole lot more sense logically, no?
"We're done.  Door. Go.  Fly fly fly.
Yes I copied Dr. Lector's line from Silence of the Lambs , I borrow lines that stick in my head if the timing for such presents itself.
I retreated to my bedroom, put my headphones on and laid down on my bed.  It wasn't until a good 15 minutes later that I actually took a peak to see if he had left.   These things don't work perfectly so there's always this voice in my head asking me "did he go do you think?" and those 15 minutes on the bed seemed like a good long hour.
Sure enough he had gone.  I checked for a note or something but found nothing.
Now as I write this, it is Monday afternoon and nothing from him yet.  I think last night was the last time he'll contact me, we'll see.  I for sure have no intent of saying anything to him so the ball is in his court.  But I fully expect this little game is done.
I know, I'm fucking crazy right?
Ya maybe.
Like I said though, I'm fucking bored.  Bored to the point where if I don't have a session there's a good chance I'll be in my condo crying.   I fucking cried watching Armageddon the other day.  I chalked that one up to being on my period though.  Nobody in their right mind cries at Armageddon.
I have no excuse though for crying at the end of Bruce Almighty.  So there's that.
Maybe Jennifer Aniston is just that good of an actress that she can bring me to tears.
Or maybe it's that I'm 30 and still single , yet I can tease a man (or humiliate him) better than anyone else.
Maybe I'm destined to being single forever, I'll end up being one of those rich crazy mistresses who lives in a 20 million dollar mansion and has an endless list of men that come visit her.  That can't be all that bad can it?
At the front gate I'll have Mistress Jaa engraved in a sign, with my real name in "" quotes down below.
Because maybe the real girl beneath the mistress won't exist by then.
"xx"
[formcrafts id='10805′ name='Book A Session' align='left'][/formcrafts]
[formcrafts id='20566′ name='Session With Wael' align='left'][/formcrafts]