Expressed perfectly, through the seduction of a man's mind.



I'm more than a Thai BDSM FemDom Mistress, I am your Goddess of Pleasure
With me, you'll use your safe word when you surpass the limit of your pleasure, not the limit of your pain.  My style is far different than any other BDSM or FemDom Mistress, for I prefer to control a man's desires, dominate his mind, play with his emotions, and through seduction – coerce you to do things for me that you never thought you'd want to do.
I present to you my website which is designed to engage your mind and hopefully help you to explore your fantasies in whatever realm of femdom you may enjoy.  I am not only the most beautiful Thai Mistress but also one of the most photogenic in all of South East Asia and Internationally as well, testimonials to which are documented many times over in my blog.  Of course, my photos and videos are available upon request after we've engaged in meaningful discourse but I would hope that you might be enchanted by my personality rather than my looks at first.
This is the place to explore your submissive fantasies as I know you have always wanted to submit to a truly stunning Thai Mistress so now is your chance to do so.  Femdom to me is form of art with me as the artist and you as my canvas with which to work my imagination upon.
With my private luxury condo filled with every toy imaginable, here is a full list of the things we can try, the ones I enjoy the most have a searchable category in my blog so you can read what others with your same fetish have experienced already, or if you prefer to get to know me start by reading up on My Personality and My Opinion expressed throughout my blog stories.  Would you like to get the inside scoop on living in Thailand?  If so head over to find my 'no bullshit , tell it like it is' category So You Wanna Live Here? 
About Your Mistress's
Goddess Jaa2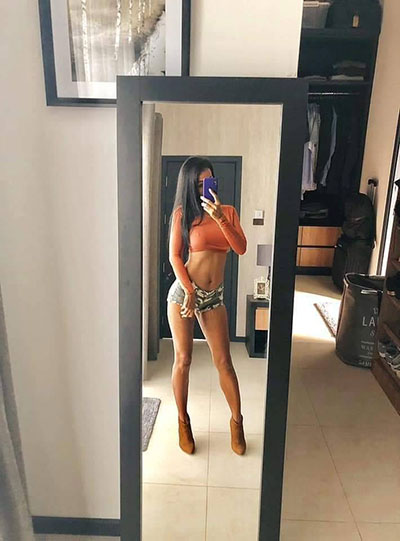 I'm a sexy young Femdom Thai Mistress with a mind that's wired to be as kinky as it is business minded.  I'm well educated, and while that's all fine and good, I wasn't finding working in Thailand all that appealing so I sort of drifted along having all this suppressed creative desire waiting to explode.
I never knew i wasn't being the girl i was meant to be until i met the original Mistress Jaa and we started hanging out in 2013.  She had run this website solo since 2010 but she saw how i liked to make the guys who wanted to be my boyfriend beg at my feet and offered to teach me everything she knew about domination.  For two years thereafter, we were not only the hottest Thai Mistress duo, but it was quite clear that we were close to being the sexiest naturally dominant team in the world.
In our time working together I learned that I absolutely love to tease and seduce men.  I feel I was born to live this lifestyle.  I'm enamored to the degree of which i can make men fall hopelessly in love with me and then derive pleasure from seeing them beg and plead at my foot.  This is my Femdom lifestyle, i am dominant with all the men i meet unless they can solve the very complicated maze that leads to my other life.  Many many men try to find 'who I really am' but die trying.  How about you?
It bothers me to no end that I have to go by the name Jaa.  But for the sake of privacy I can't use my real name in public, and since the original Mistress Jaa named this Femdom website after herself it makes sense that I'll just continue using her name with the subtle distinction being that I've chosen Goddess over Mistress as there is nothing a man wouldn't do for a goddess of beauty , and that's how I see myself.
You can find the crumbs to my true personality on my Twitter and of course through my blog, while those brave enough to have a session with me get to see the face that I hide so well  … and that my dear boy is where your journey to find your one true Femdom goddess ends.
Mistress 'Angel' Wael
Thai Mistress Wael has the most pleasingly torturous Tease & Denial session in Bangkok, an unbelievable Femdom experience. My conundrum is that she won't even let me call her Mistress, for every time I do she corrects me and says "Angel" with a stare of innocence that passes right through my soul.  How can a girl this talented and kinky be so sweet and pure?  Yet, that is how I must properly present her to you, I'd say she is the purest form of a diamond one could find.
"If you're afraid of getting a rotten apple, don't go to the barrel.  Get it off the tree."  That's what I've done by choosing Thai Mistress Wael as my understudy.  I maintain that you cannot teach someone to be a mistress, it is a lifestyle that evolves from a set of personality traits one must have developed over time.  You'll see what I mean when you witness the blend of English and Thai she mixes in to her sessions.  The dominant personality within peaking out through her veil of sweetness while she has your reddened dick in her hand begging for a release makes men delirious.  Unless you believe in the nutritional value of your semen for your hair, i'd advise bringing a bottle of shampoo for the after session shower.  Yes that's right, her session comes with a flying projectile warning.
Thai Mistress Wael is 36 years old and though she comes from Chiang Rai she now lives alone in Bangkok.  I'm creeping up on 32 years of age, and while I seem to be a very good choice for the younger 20-30 year old demographic, Mistress Wael is a very good fit for our older gentlemen looking for a session.  Outside of her Thai Mistress life she is a very caring and loving girl and I'm proud to have met her and given her this opportunity.
Ladyboy Mistress Arita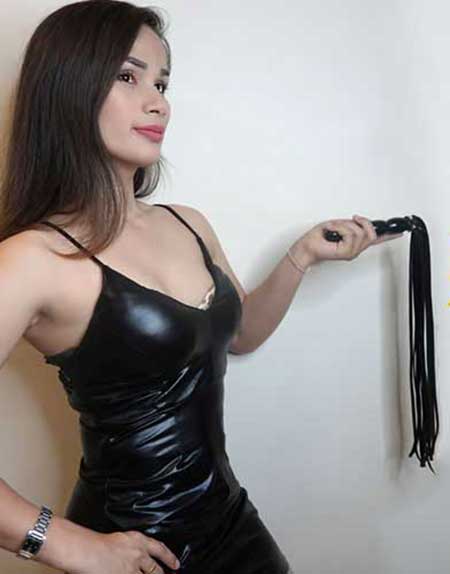 Mistress Arita is a stunning hot Ladyboy and loves Forced Bi sessions which she shares with either me or Mistress Wael.  She's new, and as of January 2020 , this is only her 3rd month as a Mistress in training and has but a handful of sessions under her belt.  She's from a small village about 4 hours north of Bangkok and takes the bus into the city for her sessions so I tend to plan her sessions carefully so they're well clumped together.
She's by far the youngest of the three Mistress's , and as such comes with bountiful innocence … which I'm trying to drive out of her 😛
No doubt her biggest mistake is she gets far too horny for her sessions , which is great for you , but for me it's kind of like taming a wild horse , can't get the damn thing to stop bucking it's ass up and down!
In due time I'll have her thinking like a Jedi with the mindset of a Mistress , but it's going to take time.
Until then, she's available to be booked in a double mistress Forced Bi session with either myself or Mistress Wael – or all three if you're a young stallion yourself.
The forced bi sessions are quite hot , but I warn you – they're a "struggle" to get through 🙂 … you can read about them in our forced bi category on the blog. and be sure to check on her gallery as it grows.