Expressed perfectly, through the seduction of a man's mind.
I'm more than a Thai Mistress, I am your Goddess.
The five stages of grief; denial, anger, bargaining, depression and acceptance – you'll experience them all in your Tease & Denial session. Do you recall the last time
your dick was this excited
? That much fun comes at a cost :
Only 30% of the men who have tried the session have lasted until the end of the 2 hour session. Are you part of the 70% or are you one of the few?
If you didn't know that Ball Busting can be sexy, then you haven't tried it with me. What are you waiting for? Scared of a sexy kick?
[
Have you ever wanted to know what it would be like to be kept on the edge of an orgasm for hours , being forced to surrender total control of your mind and body to the most beautiful mistress in Asia?  I believe bdsm toys are just tools to help you fully submit to me, but that the real domination involves playing with your mind as well as your body.  You see, the dungeon I want to play in is locked inside your mind and only I have the key that unlocks your fantasies.
This is your fantasy.  You have always wanted to submit to a Thai Mistress Goddess so now is your chance to do so.  I will use any combination of these pleasures with my own sexy style to allow you to submit to me.  So which fantasy do you want to try with your sexy Bangkok dominatrix? Here are some things I  do during sessions starting with the one that I am famous for …
Ass Worship
As your personal Thai Mistress Goddess, I will make you kiss and worship my ass for hours. but I also know a lot of men love it when i use my dirty ass smell  to tease and torture you. So for sure i could see you after i've showered and my ass is clean, but if you ask me what i prefer hahaha … I like my ass to not taste like soap and I like my underwear very dirty from 2-3 days wearing that so i can put that in your mouth and let you lick something when i am teasing your cock. Your choice, we'll find out in email what way you like it clean or dirty.
Foot / Boot / Shoe Worship
Foot Worship sessions are your Thai Mistress 's specialty.  The power i get from making you lick and suck your Thai Mistress 's dirty, salty, sweaty feet after i go running can almost make me orgasm.  Or maybe i'll introduce your tongue to my sharp spiked shoes specially chosen for foot worship torture.  Then again i may just clean my high heel shoes in your mouth after coming home from shopping.  This is what i love to do the most with all my submissive babes.
Face Sitting
If you've done well serving my feet and ass to my satisfaction then the next step is to make you survive my perfect ass sitting session as your Thai Mistress sits on your face teasing you until you are ready to explode.  If you've made it this far then you're in for a terribly agonizing and tortuous tease that will test the limits of your endurance.  If you can follow your Thai Mistress 's orders quietly without a word of begging you just may get a chance to worship what's underneath my panties , and then you're in real trouble.
Spanking / Whipping
I will do both light and heavy spanking depending on my mood.  Your sexy Thai Mistress will put you over her knee to do some sensual spanking, or take no mercy and give you a heavy spanking bound to the bed. I don't just stop at spanking, I have many whips and paddles to flog you with. I might even get the cane out and give you such a whipping you'll beg your Thai Mistress for mercy.
Bondage Sessions
While I do use bondage, i can tie you lightly or i can tie you so that you can't move and maybe that's exactly how I want you because it's entirely up to me what we do next. It's possible that I might tease you, spank you or whip you. or then again I could just sit on your face knowing there's nothing you can do about it.  It's so much fun to watch you desperate and helpless. I have handcuffs, rope, ball page, cling film wrap, everything I need to keep you in your place.
Role Play
Use your imagination or let me use mine.  As your Thai Mistress , Goddess Pasaya can be whatever you want me to be.  Airline Hostess?  Interrogation Officer?  How about a hot school teacher that spanks her naughty students?  Or have you always wanted that sexy nurse to control you when you were most vulnerable?  I love to dress up and play out scenarios we dream up in email.  Give me your dream and i'll make it reality.
Sissy Training
I've turned many men into my sissy girlfriend , dressing you up like a maid and making you serve me alone , or making you into a real slut by having you serve both your Thai Mistress and my sexy Ladyboy friend.  Together, we will teach you the things you have to do as a sissy slutty girl.   Or how about being a true slut and serve me, Mistress Wael, my ladyboy friend and a few more of our friends as we take turns using every hole in your new woman's body.
Here's a full list of things we can try…
Adult Baby Minding
Anal Play
Ass Worship
Ballbusting
BDSM
Body Worship
Bondage
Branding
Breath Control
Caning
CBT
CFNM
Chastity
Cross Dressing
Domination
Face Sitting
Fetish
Fisting
Foot Worship
Hardsports
Humiliation
Key Holding
Needle Play
Period Play
Piercing
Queening
Rimming
Role Play & Fantasy
Sissification
Smothering
Spanking
Strap On
Sub Games
Tease & Denial
Tie & Tease
Toilet Training
Tickling
Trampling
Torture
TV Dressing
Uniforms
Watersports
Whipping
Don't be shy slave, tell this sexy bangkok domina exactly what you want for our session and I'll make your fantasy reality 😉 Maybe you have something sexy in mind you like me to wear? Nurse uniform? Office girl? School girl? Sexy tight dress? Dominatrix all in rubber? I love to tease you with what you want most then use it to control you! lol
My BDSM Femdom Blog
A great session begins with trusting your mistress to know you, understand you and take care of some of your most secret fantasies.  How can you even begin to open up the most private parts of your mind to me if you don't know me?  My blog is there for you to get to know me before you meet me.   My thoughts about my sessions, my life, and my feelings about Femdom in general are all written from my heart and it is my hope that it will give you insight into my personality.
About Your Mistress's
Me ; Goddess Jaa2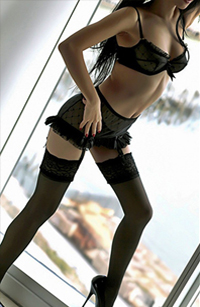 I'm a sexy young Thai Mistress with a mind that's wired to be as kinky as it is business minded.  I'm well educated, and while that's all fine and good, I wasn't finding working in Thailand all that appealing so I sort of drifted along having all this suppressed creative desire waiting to explode.
I never knew i wasn't being the girl i was meant to be until i met the original Mistress Jaa and we started hanging out in 2013.  She had run this website solo since 2010 but she saw how i liked to make the guys who wanted to be my boyfriend beg at my feet and offered to teach me everything she knew about domination.  For two years thereafter, we were not only the hottest Thai Mistress duo, but it was quite clear that we were close to being the sexiest naturally dominant team in the world.
In our time working together I learned that I absolutely love to tease and seduce men.  I feel I was born to live this lifestyle.  I'm enamored to the degree of which i can make men fall hopelessly in love with me and then derive pleasure from seeing them beg and plead at my foot.  This is my lifestyle, i am dominant with all the men i meet unless they can solve the very complicated maze that leads to my other life.  Many many men try to find 'who I really am' but die trying.  How about you?
Mistress Jaa and I share another common interest, we both love the movie The Princess Bride.  When she was ready to retire in December of 2015 she asked me if I would like to become the next Dread Pirate Roberts and take over her website.   Inconceivable!  I accepted, and so here we are – you the submissive and me, your Goddess.  To which I have these words for you as you cuddle up on the bed at my feet; "good night my slave.  Good work.  Sleep well.  I'll most likely leave you in the morning."
Mistress 'Angel' Wael
Thai Mistress Wael has the most pleasingly torturous Tease & Denial session in Bangkok.  My conundrum is that she won't even let me call her Mistress, for every time I do she corrects me and says "Angel" with a stare of innocence that passes right through my soul.  How can a girl this talented and kinky be so sweet and pure?  Yet, that is how I must properly present her to you, I'd say she is the purest form of a diamond one could find.
"If you're afraid of getting a rotten apple, don't go to the barrel.  Get it off the tree."  That's what I've done by choosing Thai Mistress Wael as my understudy.  I maintain that you cannot teach someone to be a mistress, it is a lifestyle that evolves from a set of personality traits one must have developed over time.  You'll see what I mean when you witness the blend of English and Thai she mixes in to her sessions.  The dominant personality within peaking out through her veil of sweetness while she has your reddened dick in her hand begging for a release makes men delirious.  Unless you believe in the nutritional value of your semen for your hair, i'd advise bringing a bottle of shampoo for the after session shower.  Yes that's right, her session comes with a flying projectile warning.
Wael is 36 years old and though she comes from Chiang Rai she now lives alone in Bangkok.  I'm creeping up on 30 years of age, and while I seem to be a very good choice for the younger 20-30 year old demographic, Mistress Wael is a very good fit for our older gentlemen looking for a session.  Outside of her Mistress life she is a very caring and loving girl and I'm proud to have met her and given her this opportunity.
 Mistress Jaa1
This website in case you are wondering, was named by my beautiful friend Mistress Jaa , the original Thai Mistress who specialized in Tease & Denial BDSM holding her sessions in Bangkok.  She started in 2010 and retired from her role as head mistress for this website 5 years later in 2014.
It was her playful fun style that changed people's view of what bdsm could be but as my mentor I can tell you that nobody ever understood the male mind more than her.
She was, still is and forever will be not only the most beautiful Thai mistress , but also the most intelligent, and more importantly the kindest women and best friend one could ever hope to meet.