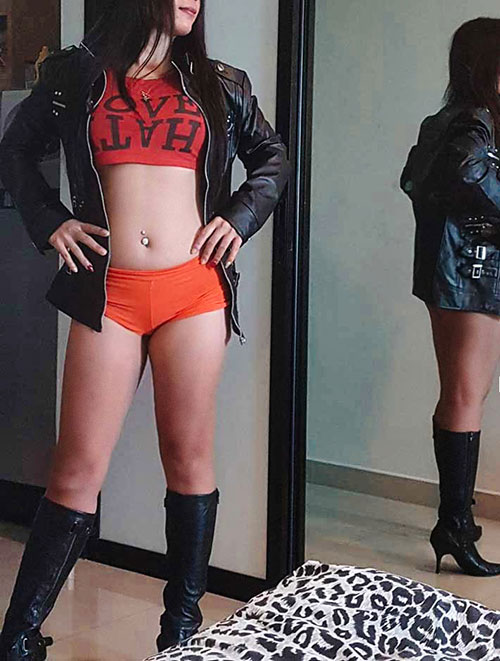 Mistress Wael
Tease & Denial Goddess | Femdom & BDSM Mistress
"You cannot learn a thing … you think you know."    You'll see me often post that line on my Twitter to serve as a reminder as to why you should get me to push your limits.
Because that is something I tell everybody who emails me asking for a session :  Forget what you know.  Because nobody does Female Domination and BDSM like me.   One or two hours with me is both : the most fun – and the most frustration you will ever have in your life – simultaneously 🙂
You see, I believe I was born to help people.  When I started a decade ago , Mistress Jaa liked to call me 'Angel Wael' just because of how much I care about the guys who come to see me.  I'm more than an Angel now though.  Come May of 2024 I'll be your head mistress , and I know I'm ready for it because I am very good at what I do.  Maybe even the best.
I live alone, and that's fine.  I support my family all by myself and I have two daughters I never see because I've long since chosen to live in Bangkok and support them from afar, that's fine too.   I'm fine with it because I have you, the slaves that I tease, torment and laugh with.   I love each of my sessions because they make you excited, happy and from that I have a lot of extremely loyal male friends who are submissive to me now and will be forever.
Enjoy my gallery.  There's many more photos on my pCloud gallery, and of course you can see all my photos and my more tame bdsm videos on my Loyalfans femdom blog.
If Human Toilet Training is your thing you can subscribe and follow my daily thoughts, adventures and videos on my Scatbook Toilet Slavery blog.
I'm always active on our Twitter , sending out snippets of what I do.
As well, you can buy any of my extreme toilet slavery videos on my Yezzclips or Femscat stores.