Sometimes the proof is in the pudding as they say.
I offer … and deliver … magical nights.  Evenings that will forever change your world and give you an ever lasting memory.  It's somehow , for some reason , the gift I was born with.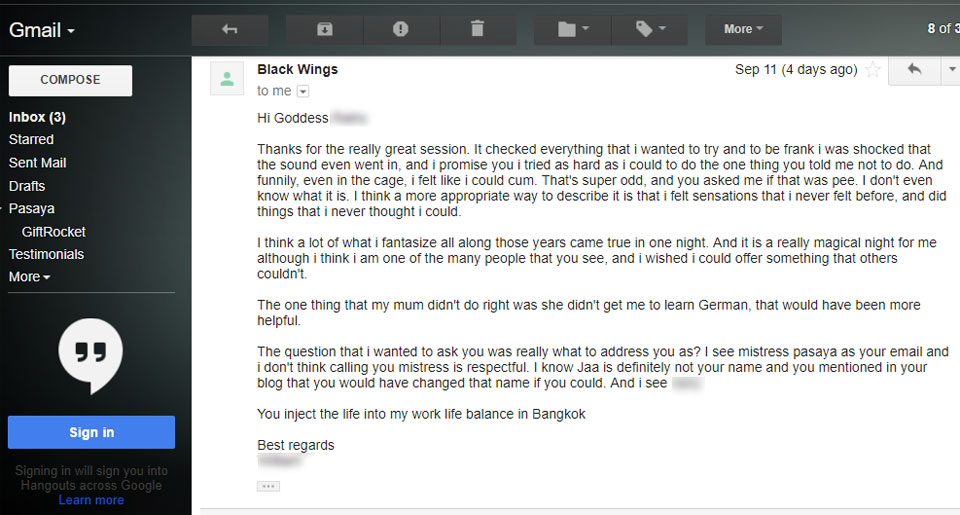 As for his last question.
I don't need to be called Mistress in the session or in email.  You can do it if it pleases you, I don't mind.  But I know who I am.  I know what I am.  I don't need you to affirm that to me.
The url of the website has Jaa's name in it.
I tried once to use the name Pasaya but it created confusion.   I also at the time wanted to use the name Khaleesa which if you have a keen eye have noticed that's the name I used long ago to create my Twitter.  Day's of confusion back when I started many years ago.
This viral Tease & Denial gif is indeed me and Jaa in one of our most famous Tease sessions. pic.twitter.com/kUkpCFFGvt

— ThaiGoddessJaa (@FemDom_Khaleesa) June 14, 2017
Then I just said fuck it and went with the name Jaa on the website until we meet and then you just call me by my real name.
It all doesn't matter really.  What matters is that I bring men to their knees.  I'm someone you can never forget once you meet me.  Regardless of what name you know me by.
xx