When it comes to effective edging , the eyes have it.
I'm edging you ,  and  you've been  on the brink of eruption for  minutes, or was it  hours?  You truly don't  remember and you know  why?
Because  your  cock and  my hand stroking it have for  the  longest  time  become something secondary , like  the  crashing  waves of  an ocean obscurred by a dense fog.
Instead,  your focus is my eyes.
I want  you  to feel as if I have inside me a soul that is just too big for me.    It's filled me to the brim until  there was no more space , so its flowing through  my eyes  instead.
That might be too much  for you  …  to be so  close to  orgasm and to have to hold my gaze  with  your  own.
Fifteen seconds of locking eyes  like  that and you feel as I rock my hips up  and down yours that we are connected, rolling  over waves of  lust in one syncronous movement.
And so what do men do in  that  instance?    They give in to their cock right?
Men throw back  their head,  tense their muscles,  close  their eyes  and groan just  as  loudly as they do wildly.
You've been training yourself all your life to enjoy self  gratification.   You can get so deep into your fantasies  when  playing with your cock can't  you?
Not in this case though,  not with me.
With my left hand I'll often reach forward and pinch the guy's chin ,  holding it firmly so he cannot look away.
I may even grab his hair and tug it tight with  a  yank  as  I lean even  closer and gaze right  into  your  pupils  while  my  thumb presses hard under  your  cock  head as  the edging continues.
At that point I'm not just  inside  your mind,  i'm inside your heart and soul as well.
The edging feeling is ever present,  but its no  longer the focus of your desires.
Guys in this moment  will  say many things.  "please."  ,  "you're amazing" ,  "oh  my god mistress"  , and  they'll even blurt out an  "i love you" from  time to  time.    Especially the married men, they  always  say  I  love  you  when  I'm edging them.
Now.  That being said.  I  have a  conundrum of sorts.
I've been training this submissive pet for eight months now  and  in  that  time he's rarely  been allowed to touch me.
He's  served mostly  as furniture,  as  a  house maid  ,  my massage man,  errand  runner,  toe licker,  boot cleaner  and so  on.   Like the words  on  the  steps photo above suggests,  to serve me is a progression.
I'm  not  talking 2 hour perfunctory session ,  i'm talking about applying to be one of my full  time  or  semi  full  time slaves.
So  while  doing all these seemingly trivial tasks my house pet has never ascended past worshiping  my  legs  and I was just about to introduce him to the pleasures of  worshiping my ass to  reward him for his perfect ironing and sewing skills as of late.
However, due to the need to have a submissive man and his cock readily available for my 3 a day OnlyFans video films ,  and  the  fact  that there's literally no foreigners left in Bangkok anymore ,  I've had to use him for actions that he just hasn't progressed to  in  my timeline  of  servitude tasks.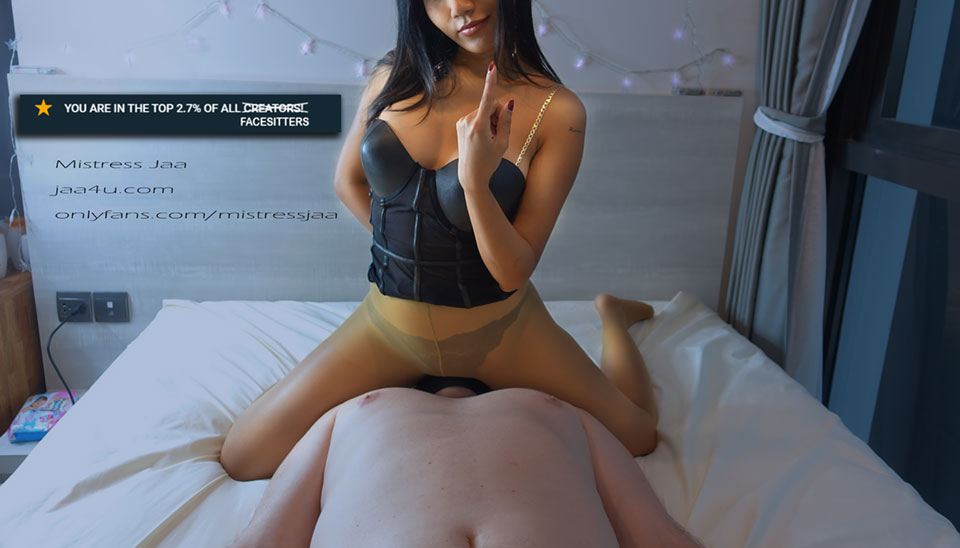 The other day  I'm shooting an edging video with Wael and the pet-in-traiing ,  the sample  of which is pinned to  the  top of my Twitter feed , for my OnlyFans blog ,  and I'm doing so with the thought in  mind  to show you for  this  story  how  important  the eyes are in an edging session.
To do so ,  I have to  play for the  camera which Wael is holding off to my right.
Which meant that instead of edging  ,  chin grabbing, and  staring  into  the eyes of my submissive pet in training,  I'm doing that instead for  the camera lens.
So  guess what  the fucker does?    He cums.
I should  have  known ,  after all I hadn't touched his cock for 3/4  of a year  ,  purposely making  him horny around the house and ignoring his hard-ons all this time.  I greatly underestimated what his reaction would be to the feel of  my  hands on his cock.
I wasn't even thinking about it  for  fuck sakes.   So distracted by the camera was I that I wasn't tuned into his moans  –  always an  early indicator of an approaching orgasm.
Now to  make  sure his  moans  'n groans  were muffled sufficiently in  the  video I  had  him  sucking on my soiled panties –  which further dismantled my early warning orgasm system.
What's worse is, I laughed.
Again,  it's the simulation of a real session so I'm drifting in and  out of character –  something which my OnlyFans subscribers see and get  to laugh at when i post 'behind the scenes' videos ,  so because its a simulation – I'm not fullly focused on my slave's progression in his training.
No doubt,  had this been a  real  session , any guy who cums without warning me would be immediately force fed his cum , have his face slapped  and his  balls  spanked.    Not to  mention he'd  be locked back up in chastity for another half year.
And therein  is the conundrum.
How do I punish this guy for his moment of self-gratification.   "I'm sorry" doesn't cut it,  I have a  zero-tolerance policy with men and their bullshit.
Yet,  I have to fucking shoot every 3rd day , and  some of the fetishes are hot.  Like yesterday's facesitting shoot.   50 photos and many many video takes of my facesitting skills  means my ass and pussy are on his face for the better part of four hours.
Yes my OnlyFans blog is saturated with hot photos and videos , and I suppose the upside of that is my subscribers are happy.
But I feel like I'm rewarding a slave  who we've invested many hours in for his abolute failure when being edged.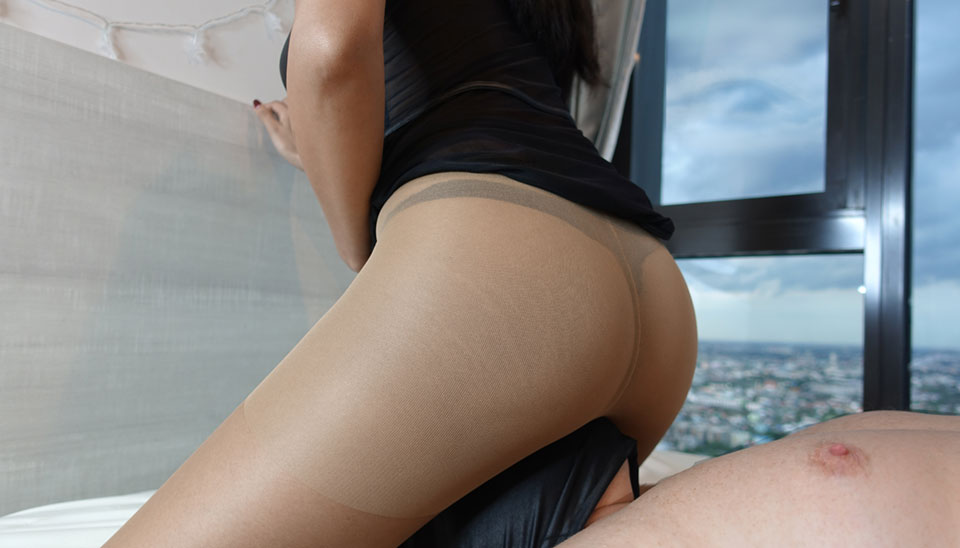 Only thing I can come up with is a grade school punishment that only the most vain of my school teachers would use.   Sending a kid to the corner of the classroom and having them stare into  the wall for two hours always seemed a petty thing to do.
But in this case it works.  He's our corner slave now –  he  just sits there from dawn til dusk or until we dismiss him and send it home.
No edging.   No edging at all for him  –  for now.
He's  our fart depository.   Only that.   He gets to play with his dick all day and cum on the floor between his legs  and we'll spit our chewed food onto his mess when feeding time rolls around.
Still ,  it's not enough.
I'm putting his written confesion of wrongdoing into escrow  ,  and come  the end  of covid whenever that may be ,  he will begin serving his time in chastity.
Fuck I might just keep him locked up perpetually come that time and cuckold him.   Make him pay right there and  then from  his corner everytime a guy fucks me in front of him.
I'd  fuck the guy close enough to my pet that I could grab and hold his chin and look into his eye the whole time …  then when I'm cumming I'll lean over and whisper into his ear and say "it  could have been you"  …
"had you just held your orgasm that first time I edged you."
Anyways.   Grrr.   I had to get that off my chest.  I  take slave training very seriously.
You want to see my Tease & Denial edging video right?
I  can't show it publicly on this blog as it shows my face ,  but its available on my Loyalfans blog  along  with  150 other videos.
However,  some of you have to be mindful  of what shows  up on your credit card statement  thanks to you choosing to marry someone else rather than me.  (again, grrr)
So for the link to the edging video Wael can send it to you for $5 Amazon Gift Card (  email:  [email protected] )  ,  or  you can get access to this months OnlyFans videos for $20 as that's the same as the subscriber fee so seems fair … again, Amazon Gift Card will do the trick.
When you watch me edging , I want  you to  match my gaze with your own ,  play with your cock,  and for fuck sakes unless you want to  be a corner boy fart dispenser yourself  …don't cum without asking me for permission.
xx
Book A Session
Looking to book a session?  You can either email us :
Mistress Jaa : [email protected]
Mistress Wael : [email protected]
Or fill out the form below.  Don't forget to check out my Loyalfans femdom blog , or Mistress Wael's Loyalfans blog its a great way to get to know more about us through our photos , videos and daily stories.