I was going to get this blog post rolling by telling you all about what happened to Hans , but the way Mistress Wael wrote it is better (and funnier) than anything I could possibly describe for you.  It's sitting in the queue right now to be posted tomorrow as we're alternating and today it's my turn to publish current events in our Femdom worlds.  So the next thing I was going to write about then was last nights face and body trampling session but I see Mistress Wael has written about that on her Onlyfans blog already.   All these ideas for material got immediately trumped by the set of unfortunate circumstances that happened on the way to dinner with my first real Tinder date in years, so let's go over the details of last night's 1 in a billion bizarre evening.
I have a humble request of all my readers.  That request comes as follows:
If , by chance, you happen to come across me out in Bangkok one evening , for the love of all things cute and furry in the universe – do not ever come up to me and address me as Mistress Jaa.  Not unless "on the spot castration" is a new fetish you want to spontaneously explore with me.
It didn't even cross my mind that such an encounter could happen , what with Covid making the streets of Bangkok a ghost town for the past 2.5 years.
But sure enough , whilst I was with a hot date even – my first one since I was in my early 30's (I'm 35 now) I managed to get recognized and verbally acknowledged not once, not twice but three times yesterday … with each encounter acting like a magnetic repulsion between me and my Tinder date until we might as well have been standing on opposite poles of the world.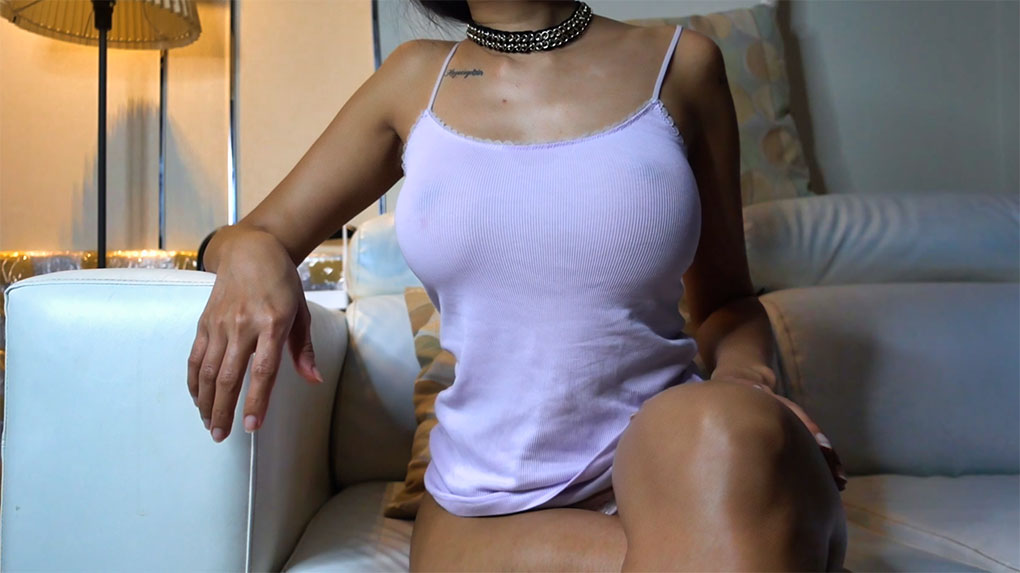 This wasn't even a Tinder date random guy that I was using for a 5 star dinner, I quite possibly had plans of tying him up and raping him later that night.  Yes rape.  I'm specifically using that word because after 2.5 years of having 1/2 of the words in the English language unavailable to me as they're all censored by Loyalfans and Onlyfans , I'm going to flaunt that on my website I can say whatever the fuck I want.  So, I was going to rape the motherfucker like he was my very own bitch ass fuck tool.  Damn that felt good to type.  Fuck censorship.
I was meeting him at Phrom Phong right after my session ended and needing a pick-me-up I whisked him upstairs to the Starbucks on the top floor of the old Emporium.
Standing in line , unbeknownst to me was Steve.  No not that Steve, the well mannered one that lives in USA now , I'm referring to the crazy one who's body is entirely made up of recessive submissive genes.
I realized it was crazy Steve the very second he had made his purchase and was turning around to leave the lineup.  I tried to avert my eyes and sink behind my date but alas, I only put 1 lousy point into the deception trait when I was born.
The dude sees me , and  I shit you not – walks over to me , thinking I'm alone because like I said I had dipped back behind my date and had made separation , and promptly gets down on one knee and says "Mistress Jaa, marry me and let me serve you, I adore you, I worship you , I…."
I think he caught the look in my eye.  I've given that look to exactly three guys in my life … an ex-boyfriend who had found it necessary to cheat on me in an open relationship … my Grade 7 teacher just after I had cracked his skull open with the same stick he was intending to spank me with , and now this dude.
"Did … did" and Gary , my date looks over his shoulder to make sure nutty Steve was out of earshot as he was scurrying away , "he just call you Mistress, as in like, a bdsm Mistress?"
Ah fuck , here we go.  Let's just pour vinegar on the steak to make sure its truly ruined eh?
"I dated him once, I don't want to talk about it."
"but …"
"I said, I'm not talking about it" and almost made him the 4th guy to get my deepest death stare.
That would have been the end of that , if not for just 10 minutes later while we're on the Skytrain and the doors open at Asoke station when who should walk onto the train but another slave who promptly says "Oh my goodness Goddess, you look even more beautiful than you did in our session."
Ah fuck, I could see my chances of getting laid that night floating out the doors of the train.
"You can say something and the date ends now with 0 chance of feeling what it's like to get fucked by me , or you can shut your mouth and have better odds."
Thing is, I said it in a really fucking mean way because I was absolutely beside myself at how this could happen twice in the span of 10 minutes.
My date said nothing but now there was a distinguishable space between us , kind of like HE had friend zoned me all of a sudden !!
But wait, the coup de grâce had yet to come.
We got off at Chit Lom and began making our way up past Central World – when weaving its way through the foot traffic on the sidewalk was a motorcycle taxi … with a very plump foreigner wearing glasses and a pink sweater vest , one of my longest regulars going back to 2013 my first year in the business.
He , with remarkable cat like vision at the ripe age of 70 sees me as the motorbike weaves by us pedestrians and yells out the word Mistress followed by my real name and a happy constant wave as he disappeared into the crowd of people up ahead.
My jaw just hit the sidewalk when he said that.  Like, what were the odds?
However, you want to know what was on my mind at that very moment?  It wasn't running mathematical equations of probability in my mind.  No, the thing that had become my primary thought was just how off the rails was this Tinder date about to get.
Then I heard it.
"That's your ex-boyfriend too I guess eh?" and he said it with a fucking smirk.
What's the appropriate comeback to that line?  Norm Macdonald is dead so I can't call him up anymore to ask , so I shot back with "ya I'm into grandfather figures."
Thing is  , right from that moment when he absolutely figured out I was a Mistress , he instantly thought it was ok – on a date – to come out of the closet that for all his life he had been hiding his submissive side and was super turned on that I was a Mistress.
That's NOT the thing a girl wants to hear from a hot guy on a first date , trust me.
Nothing wrong with being submissive.  Nothing wrong with having fantasies.  Nothing wrong with seeing a Mistress to help satiate those urges.
But this guy had Thor's face with the cute manly stubble around the chin that I love so much , he was pretty tall , decent muscles , well dressed and for once didn't stink like 80% of men I meet.
I hadn't done it with a guy since way before covid and I had visions of perhaps some pretty hot sex later that night.  I had definitely green lighted him with a ticket to my bedroom.
That is , until he asked me if I could dress him up like a girl.  To me, that's like turning Thor into some sort of Thorella – ish Wonder Woman.  Hey, I'd fuck Wonder Woman , don't get me wrong.  But when you feel like steak , you don't order salad you know what I mean?
So I turned to him right there on the sidewalk and confronted him with this ultimatum.
"Look" I said, "I have intentions of taking you back to my condo, tying you to the heavy steel chair in my living room , removing your clothes and having my way with you.  So you can have that , or you can have what's behind door #2.  Meaning, you can come back to my condo, I'll dress you up as my sissy , lace up my strap on , and I'll have my way with your ass instead.  But if you want that, I'm charging you the 7k baht that I charge all my sissies and I'm buying anything and everything I want on the menu of this place I'm taking you to.
So here I am the day after , about to go downstairs and run on the treadmill for 2.5 hours , trying to burn off the 3,000 baht steak , the 1,000 bottle of wine and the double helping of TiraMisu cake which added another 600 baht to the bill.
Oh and , I'll be scratching pussy after my 10pm session in a few hours as I still haven't had sex since 2019.
Also, out of pure fucking frustration , Thor-ella is now locked up in chastity until I call him again.  The guy had cologne on his beautiful cut 9" cock , and any guy who takes care to make sure his cock smells as good as his body must turn possession of said cock over to me.
Seriously.
I was banging the fuck out of his ass – let's call it angry sex because I was so sexually frustrated and irritated that suddenly I was 'working' again in the middle of a date – and usually I'm combating the smell with all my might trying not to throw up on the slave's ass.
But last night I was getting this whiff of Armani Red coming from what I thought was his asshole.
Curiosity killed the cat and so I pulled out , got on my hands and knees and began sniffing around his ass and testicle region.  S/he raised his/her ass like I was going to lick his balls or something which got his nuts slapped and thus collapsing him to the bed in pain.
It was with him in the fetal position writhing in pain that I was able to get close enough to his shaven cock to find that indeed he had dosed the whole area in cologne.
It was a faint trace too , so he had obviously sprayed that area before our date.   Now I was even more pissed off.
"You specifically made sure your cock and balls smelled good for our date huh?  Were you expecting something?  Huh?  Answer me truthfully!  … and I threw the pillow at him as I put my knee on his pantyhose at the waist while angrily pumping his cock and simultaneously slapping it.
I was acting much the same way I was acting in my Good Mistress | Bad Mistress video when I went off the deep end in part 3.
I don't know why it is , but it's absolutely true that men seem to love it when a girl is both threatening to bring him to a quick and violent orgasm with harsh aggressive strokes and physically assaulting him at the same time.
Maybe its why my rough interrogation sessions are so popular.
When I coerced an orgasm out of Thorella I stuck his cum up his nose and demanded to know "does that smell like cologne too , does it , fucking tell me right now."
"Fucking asshole, don't move.  Stay there."
I reached over for my chastity which has been sitting with my cuffs and restraints in the bedside table's drawer and after I locked his cock up I put the key in my mouth threatening to swallow it.
"Holy shit, don't swallow it , please.  Oh my god" he gasped.
I took the key out of my mouth and dangled it in the air.  "What are you doing Sunday night?" I asked.
"I don't know" he replied.
"Getting raped is the answer you're looking for.  Say it."
"I'm getting raped" he obediently replied and down below his cock which had just erupted less than 120 seconds beforehand started to get hard again.
"I want to hear you beg to get raped."
"Please rape me Sunday night" he gasped with wide saucer like eyes.
"8pm … Sunday … be on time , now get the fuck out of my condo."
And that my dear slave army is why I scratched pussy last night, will be scratching pussy tonight , and probably every single night this week until Sunday.
Because I want to fuck him?  No.  Well yes and no.  Mostly yes ok , however I'm a Mistress so the answer must be no.  Slave's are slaves and lovers are lovers.  Slaves get used or cucked, period.
So I have a ladyboy planned for him Sunday night.  He'll get used all right , just not by me 🙂
Mistress Jaa
Book A Session
Looking to book a session?   Fill out the form or send one of us an email and in it be very descriptive about what you would like for a session, where you're from, what your name is, and when you would like to meet.
If you decide to fill out the form, double check that you've typed in your email address properly cuz guess what?  If you fuck that up, I can't get back to you, end of story.  It's shocking how many guys can't spell their own email address.
Mistress Wael is available from 1pm until 10pm every day, while I am available at either 7pm or 10pm Monday – Thursday and 4pm on Friday's.
1 hour sessions are 5k baht while 2 hours are 7k.
Human Toilet Training with Mistress Wael is 15k and with me it's 20k.
With Mistress Wael sessions are outcalls at your hotel, house or condo and with me they are held here at my condo.
Check out our Fees & Bookings page for all the information you need to know for booking your session with us.
Mistress Jaa : [email protected]
Mistress Wael : [email protected]