Pussy sucking included … we've been having some pretty bizarre sessions this month , thanks to Mistress Wael and her secondary – covert – kinky career of not just being a Dominatrix but also as purveyor of Sexual Fantasies.  Her ever expanding "little black digital book" of girls and ladyboys that we can call upon has led to some of you guys to explore the darkest corners of your minds.
Now before I go on about what happened let me be straight forward with you in saying that there are kinks in the system , the extras that she's recruiting at their core – are rotten.  Right now they are nothing more than sexy bar girls looking to make a buck on the side which means that their philosophy of "fuck 'n go in less than 20 minutes" doesn't mesh with our 2 and 4 hour sessions.
We've found that just mentioning the words "2 hours" makes them disappear for good.   So we have to coerce them to get them in the door and then control them like sexual robots , keeping them so busy that they don't have time to even look at their watch.  Even then, squeezing an hour out of them is sometimes a miracle.  How you boys find using a service like that – where they can't wait to escape out the door – is beyond me.
However when it works, it tends to work unbelievably well as it did last night.  That being said , Mistress Wael is plotting a … um , err,  "solution" to the problem.  /cringe
See Wael subscribes to the Jim Malone – he of The Untouchables theory of recruitment :
Let me tell you – Chicago ain't the only town that stinks like a whorehouse at low tide.  Luckily her daughters are going to University next year which for us is like having not one but two spy's inside Russia's KGB.
Let's just hope they turn out to be competent spy's and not of the Chevy Chase variety :
So while one day we truly may have a stable of hot innocent 20 year old university chicks to parade out for these sexual experiments , right now we gotta work with what we got.  It's like asking Michaelangelo to finger paint the Sistine Chapel , but hey – we're just pleased we finally have sessions to have fun with after 2 years of tumbleweeds.  So , finger paint away I say !
This experiment was born from a casual comment in a slave's email that he professed to be a "pro pussy licker" and that alone should grant him access to my pussy the next time I saw him.  See in his first session with me I only allowed him to put his nose between my ass cheeks and attempt to keep it there as I walked around cleaning the condo.  That he succeeded – albeit with badly bruised knees – meant to him that he would instantly graduate to sticking his nose in my pussy.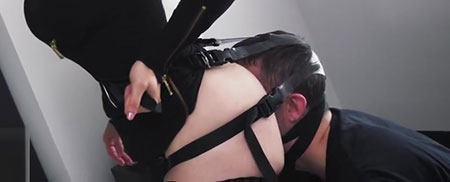 It was actually Mistress Wael's session , it was my idea to hold it at my condo since he was into humiliation and I tend to help her out in such sessions.  The idea was to have him follow me around while I started the process of packing up my condo for my move next month … his nose strapped to my ass with Wael's "ass-strap" harness and her encouraging him from time to time by bending over and either playing with his dick to keep him hard , or , to give his ass plug a little twist.  Truth be told , Mistress Wael had seen him previously and had raved about how hot he was.  A younger , less muscular Henry Cavill – he of The Witcher series on Netflix – a man who could remove my panties with a single glance, I'm sure of it.
Gotta admit, my pussy was twitching a little bit during the session and I was acutely aware that he had mentioned pussy licking , what with my pussy haven't been sucked since December 2020.   But I never let a slave get all he wants , I offer him a carrot on a stick and dangle it in front of his nose to let him chase for a while.  That's my method.
"Would you be willing to put your pussy licking claims to the test , at the risk of severe humiliation and punishment if indeed you are wrong about how good you are at it?" I asked him at the end of our session.
"I'll pass any test you can throw at me, let me prove it right now" was his immediate reply.
I shot a coy look over at Wael as we had discussed our carrot stick plan well in advance of his arrival , all we needed to do was lure him into our trap.  <– I'm going to leave that in there as it's true , even though it is kind of stupid to reveal our secrets to guys who are reading this and might want to book us.  My blog , since it started a decade a go , has always been about letting you inside our minds as we do these sessions.  Just know that ya – we do set fun little traps sometimes.  Its up to you to sidestep them, no?
"I propose you rebook us for a special session where you'll be licking not one but 4 girls to orgasm – if you can – within a pre-agreed upon time limit.  One that will have dire consequences if you fail the challenge."
"Go on" he whispered but had uncrossed his legs and arms revealing body language that he was indeed interested.   All I had to do was make that worm on the hook appear might juicy.
Mistress Wael showed him the photo of the two girls we use , well two of the four girls we have in our stable.  "Can you make both of them cum?" she asked.
He held up her phone admiring the photo of the two girls one atop the other kissing like one was appraising fine art work and then shot out his one word answer "easily."
"Can you make me cum?" Wael asked.  "Easy" he said glancing down below her waist.
"And how about me?" I asked while putting my legs up on the sofa and spreading them while pulling my pink panties to the side, "can you make me cum?"
"Easiest" he mocked, with a wry smile.
"Then here's where it will happen" I said jumping to my feet and walking over to the kitchen counter , slapping my hand down on the counter top where I envisioned he'd be tied to soon enough.
I explained that – if he agreed – he'd be tied to the kitchen counter standing up and bent over with his legs spread eagled and tied with no rope slack to the sofa over here and the closet door.  Not ideal but with a ton of rope – which Wael has – it would work to keep him from moving.
His hands would be tied behind his back for just how you dudes hate us girls using our hands when sucking cock , we similarly think its cheating if you intend to cause sensation with your probing fingers.  Mistress Wael also proposed to just run a km of rope around his back and all the way around the counter over and over and over again so that he couldn't back away from the counter at all even if he tried.  This ended up in her having to haul her carry on suitcase to my condo to accommodate all the rope that would be needed and as a side story – caused me to tell the security chick downstairs to fuck off and mind her own business when asking if Wael was moving in with me.  She – is the reason I'm moving out of here next month , nosey ass broke as fuck security chick.
"How long do you need to make a girl cum?" I asked.  "Be exact in your answer" I then warned.
"2 minutes , but 5 minutes tops" he bragged.
"So , simple math means that you'd be able to make 4 girls come consecutively in 20 minutes or less, correct?"
He n0dded his head in agreement.
Four girls then will sit on this counter right here – and I hopped up and spread my legs to show him the position I had in mind – one after the other with you tied in place before them.
"Why not the sofa?" he interrupted.
"Because that's far too comfortable.  I want the odds in my favor for one , and secondly , we – and I mean all of us girls – fully intend to whip you for the remainder of your session once you fail and to do so we need ample space to swing the whip."
"This is getting hotter by the moment" he cooed.
"Ah, it gets hotter" I said,  and here's where I made him an offer I knew he couldn't refuse.  "If by chance you do happen to make all of us cum in less than 20 minutes" … and at this point I climbed under the counter as there's a very large gap right at the place where I intended to tie him … "all of us will get down here" … and I began to caress his cock from below … "and one by one we will suck you off as our punishment , IF we lose."
To seal the deal I gave him one lick from under the head of his cock to the tip.
"How much will this cost me?" he inquired excitedly and I could see the math gears grinding in his head sputtering out smoke as they moved into action.
10k baht for the 2 hour session with me and Wael.  3k for each of the two girls,  so 16,000 in total for a fantasy you will never forget.   I felt like I was selling the cake before it was even baked but was sure he'd buy it anyways.  We've kind of found out that though such special sessions are expensive , certain slaves have no budget limits when it comes to triggering one of their inner most fantasies.
What I'm saying is, though 90% of the submissive slaves who come to see us book us for 2 hours of femdom – mostly asking for sensual tease & denial … the 10% who are looking for something they can't find anywhere else aren't shy about tossing money out for their special needs and desires.
It's why to be honest , the reason that I charge 20,000 for slaves to get under my ass and worship my ass by eating my shit is in the words of The Joker :
Note at the top of this story it is indeed called The Pussy Sucking Trap.   A trap I say because I echo the sentiments of Captain James T Kirk in Star Trek 2 : "I don't believe in the no-win scenario."
Sure , Mr. Good Looking as our slave very well might be the world's best pussy sucker , I do have to take that in to consideration.   After all , I haven't had my pussy licked in just over two years and it might very well be that if he sucks her 'just so' I might explode all over his face in a matter of moments … and then be faced with having to suck him for the next 90 minutes since the bar girls will have been long gone when the 2nd hour cometh.
Remember : I don't suck cock.  At all.  Ever.  Never have.  Never will.   So this might seem like a risky proposition for me , right?   You forget one minor detail.
No matter how much a man might want to resist cumming , any girl's skillful hands can milk out an orgasm any time she wants, and more importantly … as many times as she wants.
It's not the same for us girls.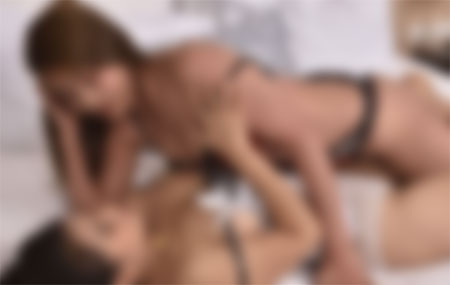 So the girl on the bottom of Wael's photo , to me she looked kind of hot in the photo.  My intention was , since I could command her to do anything , to get her to suck me and bring me to orgasm just before the session began.   It's one of the reason's I was waiting with baited breath for his answer as to whether or not he'd accept the session.  As much as I wanted this guy to wrap his lips around my clit … I wanted her lips even more and it was her face I wanted to soak.  In case you haven't read up on how I cum – I tend to squirt a lot , like violently when I climax.
"Done!" he finally said after pondering the scenario offered for what seemed like an eternity.   My pussy quivered ever so slightly the moment he fell into our little trap.  Nah not really, I just put that in for literary effect.  Made your dick twitch though didn't it?   🙂
Shall I write about the hassles of negotiating with bar girls?  I shit you not, its like talking to Jim Carrey and Jeff Daniels from Dumb & Dumber only it's not a movie, these chicks – all of them – are really that dumb.  That's not even a good analogy.  They're more like a train on a model railroad track , one that goes around in a short circle over and over – and that's the only life that train knows.
Try to explain to them that they can make 3,000 for letting 1 guy lick her pussy for 5 minutes and they come back with "short time or long time?"   to which I reply "no, there's no sex, it's not about short time or long time" and they'll retort with "I only do one shot not two shot" to which I'll reach over and knock on their skull like I'm knocking on a door saying "hello hello?  anyone there?  hello?"
I quite literally could sit here and write about all the 'fun' conversations Wael and I have had with bar girls and girls working in certain places and have enough tales that would comprise an interesting short story.  It's been mind boggling and I see why nobody has endeavored to take on this type of fantasy service.  We definitely , yes most definitely need to work with naïve university girls and mold them to our way of thinking.
Anyways, fast forward to the session and we had to replace one of the girls because her bar wouldn't give her a day off but luckily the cute girl from the photo showed up and indeed was just as cute as she looked in the photo.  I took her by the hand when she arrived and pulled her into my bedroom where I made her kneel beside the bed while I opened my legs for her.   Fuck I forgot just how much better girls are at sucking a clit than men are.  It's been oh , what – 5 years since I had that really hot chick in Spain lick me beside the pool at her condo.  No 6 , fuck 6 years its been because I was 28 almost 29 when we were fucking around.  Holy shit time flies.
Sadly, she didn't bring me to a squirting orgasm, just a normal one but fuck it felt good.
When we emerge from the bedroom the other girl and my slave had arrived so it was time to get down to business.  We ordered the boy to strip down naked while Mistress Wael went to work with her mile long rope work securing him rather professionally to my kitchen counter.  Should have taken a photo of it for you.  That part of the room looked like spider man himself had spun a web of rope everywhere to secure the boy in place.  But in the end there he was bent over with his face resting on the kitchen counter, his arms tied behind his head and his feet spread eagled.
Told the first girl , the one who had licked me to get into position.  Mistress Wael stood behind her offering her chest and hands as support to lean back against as she spread her legs for our slave.  I leaned my phone against the tap of the sink facing toward him so he could see the stopwatch timer set for 20 minutes.
"Ready?" I asked.  He nodded , totally distracted by her (rather ugly) pussy wavering an inch from his mouth.  Seriously, the thing looked like it had been put through a meat grinder – twice.  Didn't seem to dissuade him at all though for once I said the word 'begin' he went to work … with his tongue – and I instantly knew that he'd fail the challenge right there and then.
Hey did I ever tell you that I have this recurring dream where I'm the queen of some sort of utopia for girls where men are our sexual slaves – unable to speak because they've all had their tongues removed.  Not for the purpose of removing speech mind you but rather that by doing so we instantly made them perfect pussy suckers.  It's a hot fantasy , would love to push this femdom lifestyle so far one day to attempt some smaller version of that dream to come true one day.
Anyways, it took him 7 minutes to bring her to a small climax.  Immediately thereafter I asked the second girl to slide in and he went to work on her pussy as well … she with an enormous oversized clit.  Seriously, the more I see other girls' pussy's the more I'm convinced that Wael and I have THE cutest pussy's in the city.  Secret being to never use them I guess lol.
Eight minutes later she too had a tiny orgasm which she expressed to us by holding her fingers together like measuring the size of an Asian dudes dick size.
Next was Mistress Wael.  Anyone who has had a session with Mistress Wael knows how she loves delving into the extreme and demanding side of bdsm right?   She snapped her fingers and ordered the small girl to go behind him and with two hands push his face into her pussy while she locked him in her Jiu Jitsu leg triangle and tried to strangle him as he attempted to lick.  The guy was far more concerned with trying to gasp for a hint of air than making her cum.  My jaw was dropping at just how close she was taking him to the point of passing out and even the bar girl was getting fearful wanting to let go of his head from behind but Wael wouldn't let her.
"Suck or die, I don't care" Wael demanded.  By the 2nd minute the guy was working feverishly to make her cum because with each subsequent failed attempt she'd give him an even shorter gasp of air.  I was actually quite scared when she got close to orgasm because as we are aught to do – we lean back to close our eyes and enjoy the moment.  When she did so I was seriously concerned for the slave as the color of his face was changing from red to dark cherry red and I truly thought he was going to pass out.  Actually the scariest thing was his breathing.  His neck was making gurgling sounds – is the best way I can describe it.  From her leg lock around his armpit and through his neck I assume.  I've never heard someone's breath gurgle before , its quite hard to put into words what it sounds like.
Anyways, the funny thing was that out of sheer panic and fear he made her cum the quickest , late into the 3rd minute.  For those of you counting along on your fingers at home … that left exactly 2 minutes for him to make me cum.
"I need a moment" he gasped , still trying to recover from her wrestling lock on his neck and no doubt 18 straight minutes of feverishly licking one pussy after the other.
"No such luck" I said as I climbed on the counter in front of him and offered him what very few other slaves have ever seen … the pinkness of my pussy staring him in the face.  "You have 120 seconds  , I suggest you get to work" I encouraged him.
Now either he knew he had no chance to finish me in less than two minutes and just gave up , or … he was truly in awe of how my pussy looks and/or tastes because he began by sniffing her only.   He then nibbled on both sides of my lips and kissed all around her stopping every few moments to pull back and admire her.  Not at all what I expected.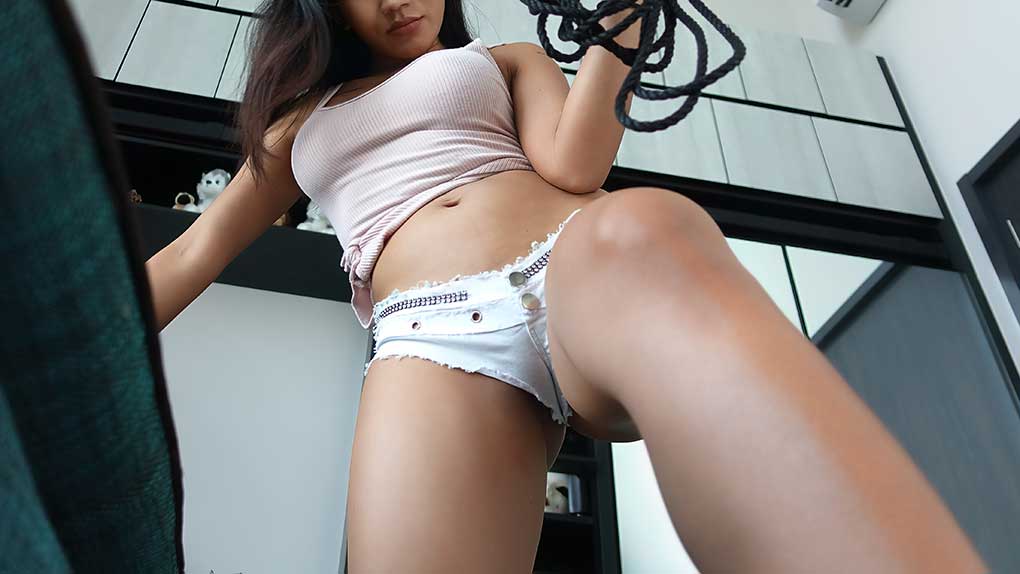 "It's so fucking perfect" he muttered.   Then finally sinking his lips onto my clit and moaning as he did like he was tasting steak for the first time in his life or something.  Thing is , by the time he finally got to putting his lips on her and sucking the alarm on my stopwatch went off.  Its been a very long time since I felt a man's chin stubble down there and I kind of wanted to extend his time … but rules are rules so I snapped back into Mistress mode and hopped off the counter.
On the counter I laid out all the spanking tools that I have.  The lovely and elegant long purple bull whip , followed by the Japanese wooden paddle , and then the Indonesian Bamboo twitch followed by the metal spanking rod who's sole purpose is to slice through the tender skin of an unfortunate slave's ass.
I did this in front of him , from my side of the kitchen counter , laying out each one in front of his eyes for him to see.
In truth, I was doing so as a distraction and it worked.  His body was lax , he was even trying to work out the kinks in his neck from having had to keep his chin up to access each of the four pussy's for the past 20 minutes.  So he didn't at all see nor expect the toe of Mistress Wael's boot as it crashed into his balls from behind.  There was a sound his mouth made that I think only someone who's experiencing the highest amount of shock and pain can make.  It was like a blurting sound cut short as his chin fell and hit the counter and dragged itself back over the edge before crashing to the floor.
If you want a visual of how it looked, think of the scene from Jaws when the shark had the Air tanks thrown into its mouth and it slid back off the boat and back down into the water.  Holy shit she got him good.  Remember, there was no way for him to support his face as his hands were tied securely behind his back so his chin first hit the counter , then his forehead and then his chin again as it crashed onto my wooden floor.
At that moment , I think that was a little too real for the bar girls as they waved their hands like they'd seen enough and asked to be paid so they could leave.
"Where's the money?" I said leaning down to whisper in his ear.   He didn't speak.  His fingers tried to point to his pocket but they couldn't move much as Wael had secured them very tightly.  I went into his pocket and took out his wallet , paid the girls their 6k and walked them to the door.
Once we were alone I felt very much like Darth Vader in the scene where he's about to interrogate Princess Leia with the mind probe saying "and now your Highness we will discuss the location of the rebel base."   Except umm, I'm barely over 5 feet tall so I'd kind of look like Dark Helmet walking back into the room :
It's not the size, it's the fear.  Or is the motion of the ocean?  I forget the saying.  Ah yes, "size matters not" that's what I'm trying to say.
There are a few times where absolutely no words are needed in a session , they'd only serve to lessen the tension of the moment.  This was one of those moments.  Our boy had gone from eating four pussies in succession to tasting his own blood in his mouth sprawled out on the floor helplessly bound in place.
So instead we stood there waiting for him to collect his senses which took a good long 5 minutes or so before he was able to speak.
"Didn't see that coming" he finally said.
"Wael is stealthy"  I replied while biting into a green apple , savoring the sourness.
With my hand I gestured at Wael to pick her spanking weapon of choice and she went the Japanese wooden one which is ungodly painful when used with force.
I put on my strap on purple harness and began wedging in the normal sized black smooth dildo into place.
"Doggy position , now!" I commanded while moving into place in front of him, my dildo bouncing inches from his still bleeding mouth.
"The session ends when you can endure exactly 5 minutes of Mistress Wael's spanking … with my dildo in your mouth … and in absolute silence."
With that I cupped him by the back of his head and guided my dildo deep into his throat just as Wael's tool smacked his ass violently for the first time.
He whimpered.
"Fail" I said, start again.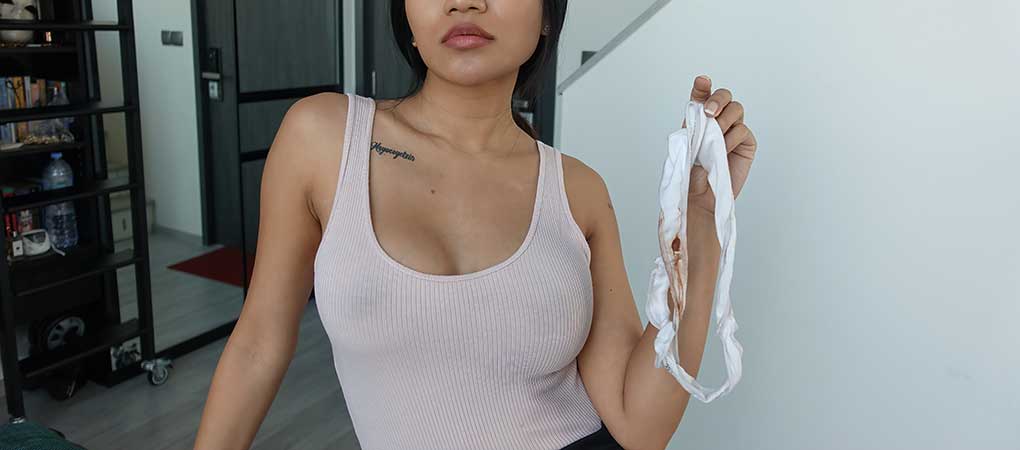 Again I thrust into his throat and this time Wael hit his ass with even more force causing him to scream into the dildo like it was an embedded microphone.
"Fail" I reminded him.  "There's still 90 minutes left in the session so I strongly suggest you get your shit together and take your punishment in silence like I told you to do."
This time I grabbed him by his hair and began fucking his mouth in cadence with Wael's strokes from behind.  He got to the 5th stroke before he made a crying sound.  I paused , saying nothing this time , and after a brief interlude began fucking his mouth again while Wael poured down her punishing strokes from behind.
This time he was silent, but he collapsed to the floor.  Unfortunately as he did so Wael's stroke which was supposed to hit his ass missed the target and instead came crashing down on several of his fingers which were still secured behind his back.  He yelped in pain.
"Safe word , what's the safe word?" he asked many times repeatedly.
"Oh sweetie" I said as I kneeled down beside him stroking his hair , "there's no safe word, you simply never asked for one beforehand."
Mistress Jaa
Book A Session
Looking to book a session?   Fill out the form or send one of us an email and in it be very descriptive about what you would like for a session, where you're from, what your name is, and when you would like to meet.
If you decide to fill out the form, double check that you've typed in your email address properly cuz guess what?  If you fuck that up, I can't get back to you, end of story.  It's shocking how many guys can't spell their own email address.
Mistress Wael is available from 1pm until 10pm every day, while I am available at either 7pm or 10pm Monday – Thursday and 4pm on Friday's.
1 hour sessions are 5k baht while 2 hours are 7k.
Human Toilet Training with Mistress Wael is 15k and with me it's 20k.
With Mistress Wael sessions are outcalls at your hotel, house or condo and with me they are held here at my condo.
Check out our Fees & Bookings page for all the information you need to know for booking your session with us.
Mistress Jaa : [email protected]
Mistress Wael : [email protected]
ignore this bit.  i'm surprised you actually scrolled down this far.  color me impressed.
i'm just adding in the keyword here for google searches which is pussy sucking.
pussy sucking , hmm what can we say about pussy sucking.  nothing because google is after all stupid.
it doesn't know what pussy sucking is now does it?  pussy sucking is pussy sucking and nothing more than pussy sucking.
did you know that the more i type pussy sucking the less sexy it becomes?  try saying pussy sucking 10 times with me out loud.  ready?
pussy sucking thats one keep going.  pussy sucking thats two.  pussy sucking that's 3.  pussy sucking that's 4.  pussy sucking that's 5.
getting long in the tooth aint it?  not done with pussy sucking yet though.  google needs to rank me #1 for pussy sucking.
i want this story to be the pussy sucking story of all pussy sucking stories in the pussy sucking universe.  pussy sucking times infinity.
ok i'm done.  pussy sucking out.