"I'm not a schemer.  I try to show the schemers how pathetic their attempts to control things really are."
Heath Leger , The Joker in The Dark Knight
I'm trying , not metaphorically but physically , get to the line where he says "look what I did to this city with a few drums of gas and a couple of bullets."
Only for me, my bullets are my videos, 400 of them to be exact … and growing by 5 every three days.
I reckon the drums of gas are all the other websites I'm proliferating my video collection to rather than stupidly betting on the OnlyFans horse.
In betting terms,  I'm placing free bets on each horse in the race to win, place or show.  I'm guaranteed to win.
So let me explain in detail here what I've been doing, the purpose of what I'm doing, the estimated length of time it'll take to finish, and finally how it all applies to you.
"You" is such an awkward word for me presently.  In the seven years since I took over this blog from original Jaa , I've always written for you my readers.
This is the first story I'll be writing which will be linked to my onlyfans subscribers via mass private messaging … but by way of a link that links to a password protected .pdf of this story on my pCloud … which at the top links to this published page.
Overkill?  Perhaps, but it gives you an idea just how much separation I'm attempting to put in between me and them , and so let me explain for you each layer of that separation which is currently in motion.  Let's start with something none of you are aware of yet , but I've been working diligently on … AVN Stars.
AVN Stars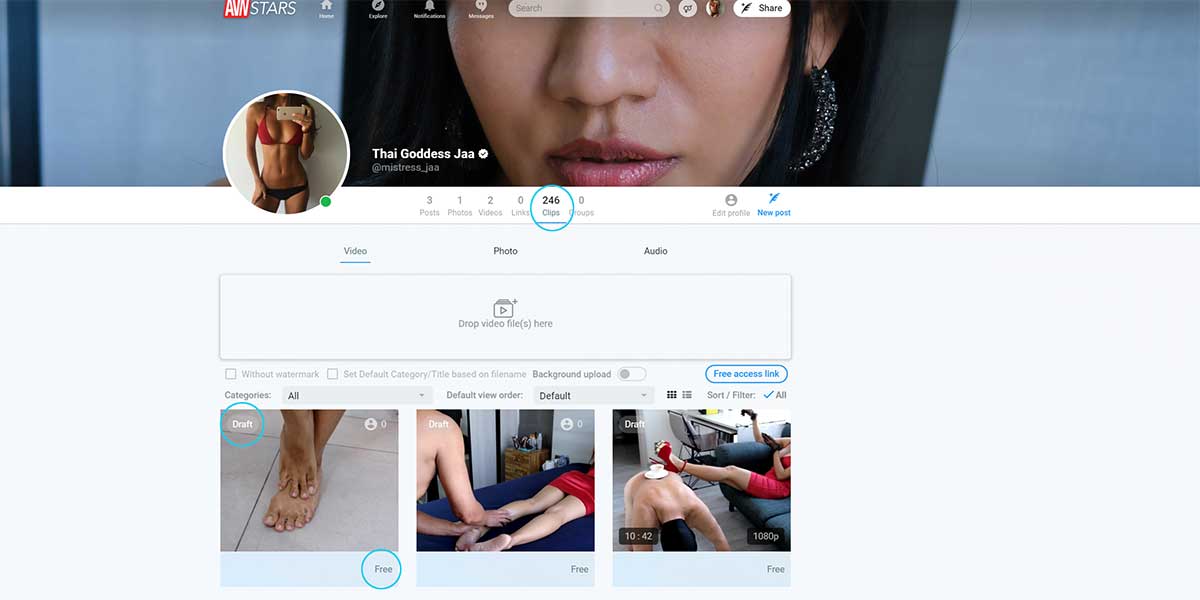 "But Mistress, why would I pay your $50 subscription to AVN Stars when your OnlyFans is only $20 per month?"
Because my love, AVN Stars has something that OnlyFans doesn't – a clips store.  So the AVN Subscription is meant as a one time purchase , not as an ongoing subscription.
"Ya but how much are the videos in the clip store?"
Absolutely free.
"Why would you put them for free?"
Well three reasons exactly.   For one, my videos will most certainly drive session booking volume so it behooves me to have as many eyeballs seeing my content as possible.  Two , I figure the $50 is already a reasonable sum for 400 top of the line, creative, hot, funny and varied library of  femdom videos.  And three, umm, I'm nice?  haha
"Are you posting on AVN Stars so frequently like you do on OnlyFans?"
I will be , just to keep a presence.  But for those who like to hang out with me,  chat , video call , and so on – onlyfans is the current venue for that level of interaction.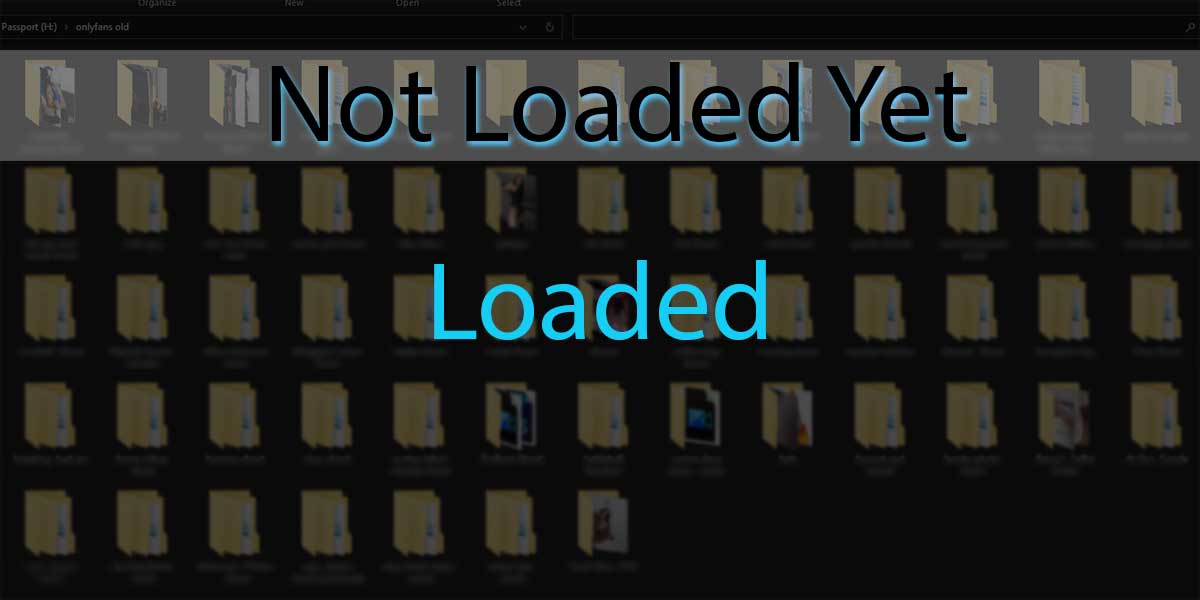 AVN Stars is intended to be the preferred place where my followers can get to see my entire video collection and get an idea from hundreds of hours of clips just how unique my seductive style of femdom and bdsm is.
I'll be linking to the store in my posts and when I get to redesigning my Video Store page in the next little while it'll be prominently displayed at the top.
But don't go looking yet , it's like a Hollywood set that's being built.   Yes I've loaded 246 clips already ,  but if you look closely they're still in draft form and not live just yet.
There's but 10 folders left to load to that store so by the end of March that will be live.
PCloud
Truth be told, had it been just as fast to load a video to my 2TB of cloud space on my pCloud drive – this would of had priority over AVN Stars , but the loads are slow as molasses and it's going to be a one month project of constant loading and babysitting 24 hours a day.
That's because if there's but a 1 second drop of internet service the whole upload needs to be restarted from scratch and that's maddening.   Every single day has had a moment where an upload which I've started at 7am and got 80% loaded by 2pm needed to be restarted.
Had I been one to tear my hair out at such inconveniences , I'd be a bald girl by now.
But come hell or high water, it'll get done eventually,  and that means a lot of good things for me, my jaa4u.com followers and my onlyfans subscribers.
For one, I can now link any of my videos to my blog stories , like this one below ..
I've never been able to do that.  Previously I've had to link you videos like this hot one from my twitter feed.  I'm excited.
Now , I'm speaking directly to my onlyfans subscribers here – but as I've been hinting at over on our 1984 thoughtpolice monitored blog , pCloud should solve all their anal rules and regulations roadblocks that have prevented me from showing you anything other than me wiggling my ass – as anything else is too unsettling ,  horrifying and shocking for their mainstream audience.  Again , let me reiterate, there are girls on there making a living pulling their assholes inside out with ungodly huge dildos on their prolapse blogs – and that's absolutely fine.  But stick a sweaty sock in a whimpering slave's mouth and its red flag city.  (or , tell them  that one little mayor is going to die, and people lose their minds – again quoting the Joker above)
So fuck them right?  Like I said, all through school here , which is as repressive as you can possibly imagine , I've been a rebel.   Fuck the system.  Fuck any system.  Which brings us back to Joker's quote that I started off with.  The great thing about having lived a lifetime of thinking outside the box is I've become quite good at plotting solutions to any roadblocks placed in front of me.
It seems to me that the onlyfans main blog is intended for ass shaking , tit shaking and me one finger stroking agonizing cum shots out of my slaves cock
What's said or sent in private mass messages looks to be far enough off the beaten path (re: the main blog) that I  could possibly get by with just sending you the "sensitive" (re: hot as fuck) videos one at a time.  And that's what I did as a knee jerk reaction , remember?
But pCloud allows me to give my onlyfans subscribers my entire video library , all you need is the password , which my subscribers have , and others can have too by just arranging the $50 access payment via Amazon Gift Card , Bank to Bank, whatever floats your boat.
Two things though.  One, I'll be constantly changing the password , and I don't want any of their nosey employees to know what that password is at all.
So I'm thinking of sending out in private message something routine like "Cable guy says : Louise"   and Louise will be the password for that week.  It'll be our  inside joke.
If there's other ways to do it let me know.  Ideally, our private messages on onlyfans will have two types of messages that I need to send you.  One being an alert that I've uploaded a new video : "Hey, the tease & denial video named Ruined just got loaded to the Tease & Denial folder , check it out."
And the only other message I'd be sending out en masse would be "Cable guy says cumshot" and you'd know that'd be the new root folder password.
That solves the problem of never needing to load anything sensitive to the onlyfans main blog.
My subscribers can watch any video they want at any time , and subscribing gives them continual access to the new passwords.
I'm completely autonomous , free of their limits and restrictions.
Nothing ever gets typed in chat,  it's just a private internal system that runs quietly under the hood and keeps everybody happy.
I maintain control over the folder by making the videos view only and not downloadable.  To have a permanent copy for oneself they'd either need to pay the one time Subscription to AVN Stars or …
IWantClips & Clips4Sale Stores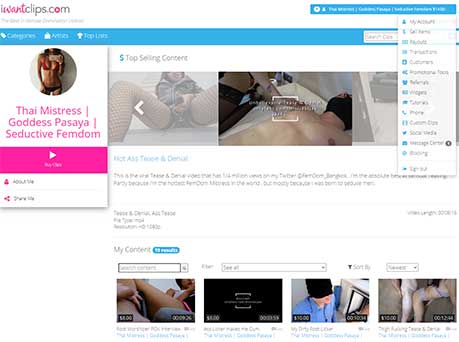 My IWantClips store is growing, it's going to take a couple of months to have my entire 400 video archive loaded to their platform , and another three months to load a copy to my Clips4Sale store thereafter.
"Why are the videos so freaking cheap to buy Mistress?"
Because the videos are a means to an end … to entice men to come see me in person which is truly what I love doing , in person femdom sessions.  So putting a video for $30 like most girls do on those sites defeats the purpose , well the way I see it.
I can go see the 4 hour long Justice League Snyder cut for $8 , doesn't make sense that a 10 minute video should be more than that.
There might be someone who absolutely loves my World Class Tease & Denial video but only wants that for his collection and so would find paying the $50 AVN Stars subscription not up his alley, and that's what IWantClips and Clips4Sale is for.
He can individually buy it $6 and have money left over for the extra butter popcorn that's going to make his fingers all nice and slippery as he strokes himself to my video.   Win / win ,  right? 🙂
Also, there's a pride thing going on.  Both those sites take a whopping 40% as their percentage , so fuck them both.  AVN and OF will keep me afloat , and I consider the nickles and dimes that come in from these two sites to be food money.
Not that I need food as I've been actively rinsing unsuspecting Tinder boys for thousands of baht a night for the past seven months , getting them to take me to any 5 star restaurant I want in the city in exchange for the hope of sex with me thereafter.
Hint: collectively they're a combined 0/127 on bedding me … although as I wrote about in my recent onlyfans post, one guy got extremely close … before his shoes got tossed out of my condo.  Seriously , I've done that twice now.
I'm not only done with dudes with small dicks, but I'm abrupt and rude now, consider it a 0 tolerance policy so if you crave SPH – I'm your new girl cuz I'll fucking humiliate you like nobody else can , and I'll mean it too.
Writing for jaa4u.com
When the ofThoughtpolice took down every post where I linked to this blog I got away from writing for a bit.  That's not going to happen any longer.
Every night I'm going to write like I'm doing now from 11pm to 1 or 2am and I'll post a story.
See, at the beginning , pretty much every subscriber on onlyfans wanted to chat with me all night , and so I'd spend hours talking to you Wilson, and the fart guy , and the dude who paid $100 a letter for my Line id , and many more.
Lately though, and I think its a product of the length of this pandemic and how its numbing us all to interaction , there's a manageable few who like to talk to me at night , but its not everybody , not even close to how it was before.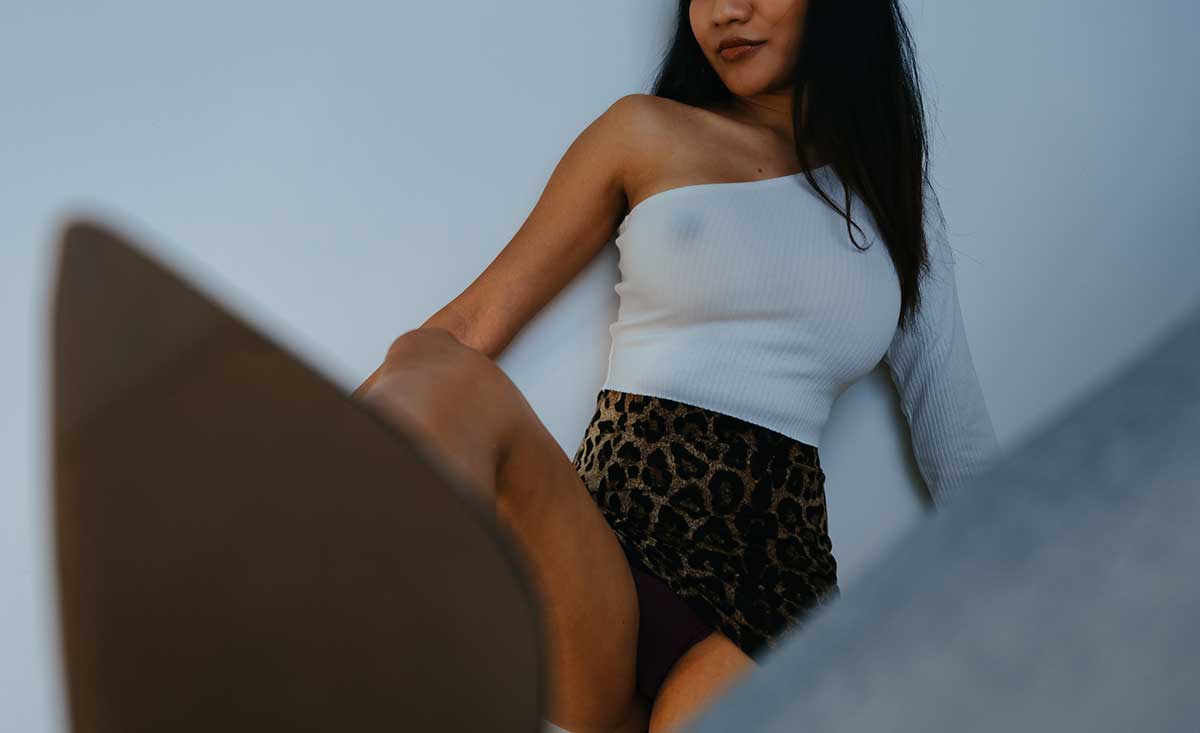 And so , that leaves me time to write !!  Finally.
Back in the day , guys in Europe who followed me would wake up to their cup of coffee and read my blog every morning because there'd be a new post.  I'm going back to that again as honestly, editing videos is fine , its fun and all , but it doesn't hold a torch to writing.
I'm still greatly frustrated by my inability to say certain phonetic sounds in English even after 20 years of trying , and so it's here behind a keyboard where I can let myself be me.
Oh , and without the constant censoring of words.   Like, here I can write "For 7 years I've been torturing slaves by dressing them up as a girl and sending them to 7Eleven to buy my tampons."
When I write that and press send on OF it reads "For I've been slaves by dressing them up as a girl and sending them to buy my tampons."  I shit you not.   … or ,  I ___ you not.
So I fucking hate composing my thoughts on that platform.  For when I do , I feel – no shit – like I'm a citizen in George Orwell's 1984 novel.  In other words, I feel like the book has manifested itself into our current reality and I'm being watched and censored with everything I do.
Heh, which truly isn't that far from the truth nowadays is it?
By  the way,  can somebody lecture me on the proper use of "is it,  isn't it, and doesn't it?"  I still need to guess every time which one to use when.  In our language we just say "chai mai" at the end , and only that.  So ez to remember.
I'm a Dog Chasing Cars
A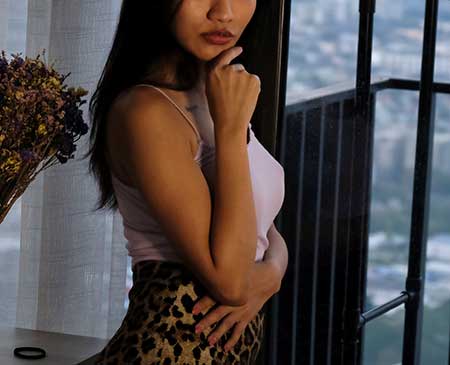 t the very least , once all the above mentioned sites have my full library on hand and I'm promoting the heck out of them with my 18,000 followers on Twitter, I can see a lowball scenario where all these videos constantly pay for my condo and allow me to easily move back to Nana when this lease expires in July.
One shade above that , they pay for a very nice luxury 3 bedroom condo around Nana , which will make hosting sessions so much fun again.  Hosting sessions here in this tiny abode is a nightmare.
Guys are so eager to come see me here and I'm the opposite, I want to get the hell out of this 1/2 bacehelorette space and go to their hotel !!
However, I can't help but dream right?  What if these videos catch on and become popular.
See, even aiming at the bottom of the "wow my videos are successful financially" tier , they'd drive sessions to me like crazy , because I'm so unique, nobody does femdom like I do , and now I have 400 videos to prove it.
Only, before covid hit, I was at maximum capacity for hosting sessions.  My twitter was at 6,000 f0llowers because I'd mostly ignored it , I had 5 maybe 6 half ass videos to show from 7 years of doing sessions , and still I was overbooked.
Now with Twitter about to hit 20,000 , 400 videos hosted over 4 or 5 different sites ,   … I'm going to have to hire at the very least a new girl and get Ladyboy Arita back here.
Which would mean that we'd be buying a house that's full of femdom themed living rooms , bedrooms and , woe is me …  maybe even a dungeon?  Me?  A dungeon?  Nah.  Never.  Not my style.   But the house will be elegant, sensual, and spectacular.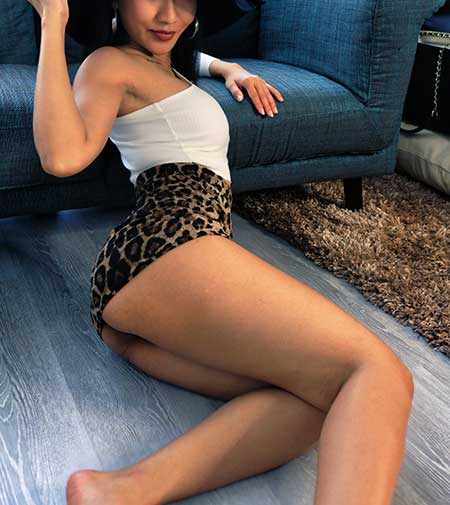 And what if my business plan hits the jackpot and catches fire?  Say a million baht a month of residual income, like a perpetual annuity?  Cuz one thing about these videos, not only are they super hot, but I'll forever be 33 years old in them, so perpetuity is something quite possible to accomplish.
Well then boys, I'm living it large in Europe.  Oh fuck ya.
Condo on the French Riviera , a 2nd condo in Zurich ,  and I'd be jetting around from session to session all over Europe.
That's me chasing cars and actually catching one.   Oh sure I wouldn't know what to do with it once I caught it  , but damn, I'd be one happy girl.
Which is why I'm perfectly happy staying up 18 hours a day … as the Joker says … I just do things.  Let the chips fall where they may.
Mistress Jaa
Book A Session
Looking to book a session?  You can either email us :
Mistress Jaa : [email protected]
Mistress Wael : [email protected]
Or fill out the form below.  Don't forget to check out my Loyalfans femdom blog , or Mistress Wael's Loyalfans blog its a great way to get to know more about us through our photos , videos and daily stories.