Making human toilet training hot and sexy is my new goal.
When your head mistress taught me about bdsm she say to me every day "find a hole and fill it."
And no is not talking about anal sex.
Supply and demand.   Find a fetish with little supply , a lot of demand , and do things different.
So I am.
I am making toilet training super sexy and hot.  Because I watched about 1000 toilet training videos now.   All are mean , messy , and gross.
Not one video show what the submissive slave wants the most.
a)  To be scared and want to be submissive anyway.
b)  To be excited.
c)  To be able to serve me perfectly.
d)  To feel embarrassed and loved at the same time.
e)   To experience humiliation in a good way.
My goal is to give my submissive slave all that and more  when he submits to be my human toilet training boy.
When Christmas comes  …
I will be the #1 Mistress in Asia for Human Toilet Training with 100 videos.  Let me show you why.
Yesterday I made a video to show one way I do my human toilet training.   In fact …  I have about 10 ways.   Slowly I will show you all 10.
If you want to watch the video and follow along you can buy it for 2,000 baht.
Today I will start to make a store page for my videos.  First I will load all the videos I did already.   Then I will make one new video a day and load it to the store.  And I will add the custom made videos people ask for.
To help you understand my technique I will post screenshot from my Human Toilet Training video but to really "get it" you should watch the video to feel the "desire" I make in your heart.
Scared and Submissive
The perfect human toilet is scared and submissive.
I will show you soon how I take care of scared.  I remove it.  All fear gone.  I have a perfect way to do  that
But I want to talk about submissive.  How I  make you feel submissive.
Because I don't do it only for my human toilet training session.  No.   The technique I use for all my session.   Especially my Mistress as a Girlfriend session.
Your head mistress is a bombshell.   She can make you feel weak and desire at the same time.
I am 'maybe' only cute.
So I have to do technique perfect to make you submit to me.
One thing I do always is to keep you below me.  Under me.
Under my foot.   Under my ass.  Sitting below me.  Sitting under me.  Always under me or below me.
In my Mistress as a Girlfriend session  …  if  you taller than me  … you must bend yourself to be below my eye.
Men love that when we go shopping all day.   And I massage the sore back in the evening for reward.
You can see in the video you start below me.
And I make you wait like that.
Why rush?
You wait all your life for  this  fantasy right?  So now you will wait 10 minute at my foot watching me on the toilet.
I want you to enjoy to  be my  human toilet training slave.   So let it last a long time.
Every human toilet training video in the world is so short.   Why?  It should be very long experience for you.   And every minute  you wait will make you to want it more.
Human Toilet Training is Exciting!
I need you excited  – not scared.
Excited means your cock is super hard.   Hard like my Tease & Denial sessions.
Watch every other human toilet training video in the world … every man has a soft dick.
All my slaves stay rock hard.    Why?
Because I focus one thing other Mistress never focus :  anticipation.
No not that anticipation.   You're so vain if you think like that. (see my joke?)
Again … in  every video the slave is on the floor already.  Or under a toilet chair.
And that is fun how?
Look at my hand in  the photo.
I am push you down below.  You can feel me push you to your position.
I encourage you.
Tell you  how perfect  you are.
I  let you  tell me how perfect is my ass from down there.
Often I will put lipsitick  on your mouth.   Nice shiny red lipstick.
And I will let you tattoo my ass with your lips first.
If I like my tattoos ,  I will fart to let you know.
And you will play with  your cock when  you kiss.   Just like you are now!
Only touch my perfect ass with your lips.
Again.  Why rush?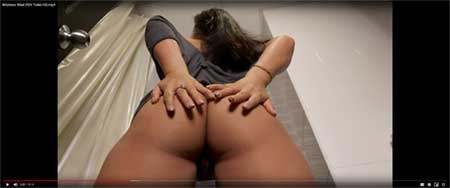 You are below a naked Mistress on your knees about to eat from my ass soon.
How about I put a show on for you?
Let you enjoy to look at my hair.
Let you enjoy  to  look at my ass.
Maybe I give  you 1 peek to see my boob.
I want you to enjoy your time on your knees.
Because how often can a man be on  his knees in  his  life?    Almost never you agree?   So  when that time come to have fun … take your time.   Because I will take my time to see  you submit to  me  for  sure.
Serve me Perfectly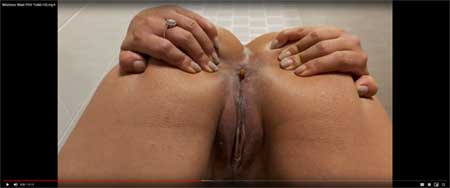 Ok.  So your cock is 100% hard.  Good.
Your heart is going crazy.  Good.
If  you watch other Human Toilet Training videos … the slave is ready …  and the poo come like a sausage machine.    Voooooooooom.
No.
Did you know poo can look cute?
Poo can look like a rabbit.  Or like a strange bubble.
See the bubble on  my asshole?   I want you  to  look at it from below me.  I  want you to  ask yourself question about it like "is that a bubble?"
Always I will let out 1 tiny sample and hold it on my asshole.
The more you see what it  will look  like  …  the color  …  the texture …  size …  wet or dry  … the more  your  brain  will think about where  you are and  what will  happen soon.
Slow.  Everything so slow.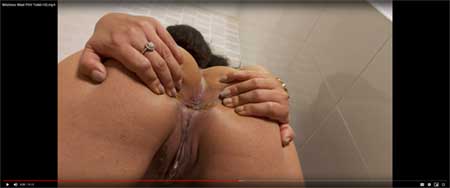 Then I will squeeze my ass tight.
And  make a smear.
IF you are level 2  human toilet slave  –  mean you have 0 fear because we did many times my special technique to remove fear ….  this will be your first touch.
But not with your mouth.
With your nose.
You foreigner love to say the word "brown nose."  But did you ever get a  chance  to really be a "brown nose" slave?  With me you will.  How humiliating to put your nose in my dirty ass!   You must  be a dirty slave.   You agree?
Say "Yes Mistress Wael."   I  will  make  you say  my name  a  lot  to make you sure you remember me and this session.
Love and Embarrassment
I want you to love to serve me.  I  want you  to love my ass.  And love what come out of it.
To make you almost cum I have 2 technique I do  …  and because these 2 techniques  …  sometimes I have to tie your hand so you don't cum.
First technique is  The Volcano.
I think …  it is amazing to see the ass open.   It is like a movie  when you see a  volcano  explode.
But  in my movie … you can see very close the top of  the volcano before the  lava  come  out.
I  play with that idea.   Sometimes for 10 minutes I will open the volcano mouth and close again.
Sometimes I will almost let  you see the brown lava a  little bit.  And  then pull back inside again.
And I will tell you every time  the volcano open to lick  your  lip and  open your  mouth.
Anticipation.
After 10 minute you don't  know what to explode first.   Your cock or my volcano.
When the volcano finally open …  you will beg me for it to come.   But I don't do Dairy Queen style like every human toilet training video in the world.
I think it is stupid to put a Dairy Queen brown ice cream mountain on your face.
Did you ever in your life go 1 time to the toilet and poo on the top toilet seat?  No of course not.
So why do a human toilet training session like that?
Drop by drop … you will open and swallow.
Then open and swallow again.
No mess.  I hate a messy toilet.
And drop by drop you can enjoy yourself.
Because some slave … have a problem to swallow.    But everybody can swallow one drop.
I learned if  I don't tie the hand  of my  slave he  will come when he taste the first drop.
Anticipation and taste … is too much.
So you  will have to tell me what you want from the session.  You  want one drop for  your fantasy?
Or you  want to hear "open" , "swallow" 100  times?
But like I  say  in the video  "I am not done with  you yet."
Especially if you cum already.
Because like after you cum  … after you taste one small drop of  my poo …  you will  feel  shy and embarrassed.
I want to enjoy when you feel  like  that and  want  to shower fast and go home quickly.
No fucking way.
You are my slave.   I let you  go when I say "I  am done with  you."
So serve  me  more.
Yes …. with that taste  in your  mouth.   Yes …  with  all that  cum on  your  tummy.   Serve  me  more  shy toilet  slave.
Here.   Take tissue.  Clean my ass for me.  I love to  see  my slave learn  how to clean my ass  under the toilet seat.   Not easy  like you think.
My ass is clean?   Good.
Maybe I make  you drink  some pee.    Drop by drop.  To give you more taste.
And I take you  to the  bed.
The  bed is  for  me  not  for  you.  You always  below  me remember?   So?   Get on  the  floor.
And look  up at me.
Yes with the taste  in your mouth  still.
Dont'  worry … I  will add  to  the taste.
With the dust  from my nail after I file.
And my spit.
And my ear wax.
And my nose stuff.
All mix together in your mouth.   And say "Thank You Mistress Wael" every time.   Understand?
I  love to see you embarrassed like that.
Know what I learned?
The longer I make  you  feel  embarrassed  …  the faster you come back for another session.
There.
That is some of the technique I use for my human toilet training session … with a new slave.
My fetish is to train slaves who never try it before and feel scare.
And  change them from feel scare to feel horny.
And from feel horny to embarrassed.
And  from embarrassed to rush to try again.
In two days I will show you how I take away fear from my slaves.
I have a special human toilet training technique  for that  I think no Mistress in the world do.  Only me.
Remember you can email me to buy my video.
And  you can email me for me to  make a custom video for you.
Talk to you in 2  days.
Mistress Wael
I'd Like a Session with Mistress Wael
Intense Tease & Denial / BDSM Sessions