Since my blog is a conduit into the thoughts of your Mistress , I thought that in lieu of an official story you'd enjoy a peak into some of my email correspondance , as the first thoughts which pass through my mind after reading a fresh session request are some of the purest.
So how do I actually follow through on emails?  Perhaps we'll start there.
I read it , usually while sipping on "morning" coffee which for me remember is mid afternoon right after I've woken up.
Usually my legs are propped up on my bed under a pillow while my weary arm is draped over the headboard and i'm grabbbing the first sip of my Nescafe instant roasted blend.
I won't actually reply to it right away , instead I'll mark it as unread and make a mental note to come back to it later after I've read the rest of the literature waiting on my in box.
When the time comes to reply I'll think "what's motivating this guy to write to me?" and I'll go back over the email and look for the clues.
Then if I can , I close my eyes and try to walk a mile in this guy's shoes only through the words he's written me.
I'm trying to imagine where he's from , what his life is possibly like, how he's tried to live out some of these caged fantasies before … ya I'm grabbing at straws , I realize that , but it's more for putting me in the mindset of caring about how valuable this guy's time is and appreciating that he spent some of it writing me.
Why might I do that?  As hokey as it sounds, right?
Because if I don't understand you , I could have all the beauty in the world, I'm just not going to connect with you mentally , right?
This is why email are fucking exhausting to do, especially when I wake up and see an ungodly number like 33 sitting in my unread inbox.
There's no quick auto replies or half hearted attempts at responding to a person's deepest fantasy.
Each time I press send I know I'm either going to hit the nail right on the head and tap into his soul , or I'm going to fail spectacularly.
… and fail I do.  Often.
That's because when my fingers begin to fly over the keyboard I let my thoughts flow freely , and that sometimes gets me into trouble.
Like, I can be snarky , I can be witty , I can be sarcastic … a whole bunch of things the guy wasn't expecting and quite possibly be turned off by it.
But like it or not, he's getting a taste … immediately … of my personality.
There's no filter between my brain and my mouth , and well , that's probably why I'm in my 30's now and still single.
So say we begin with this guy and his request.  I'll crop it such that you can see a bit of my reply to him so you know it matches with my true response.

"Yes it's possible to do such an extreme session  , I don't particularly enjoy them to be honest , but I do them if it is indeed the man's true fantasy to experience such a thing.
I'm in the business of fulfilling fantasies , most of which are much more tame … guys asking for the orgasm of their life … that sort of stuff.
Every once in a while though, comes an email like this where the guy has a special fantasy that is very far away from mainstream.
Truth be told, most of these types of letters , though exciting , will never be acted upon by the writer … as the pain in real life is a far different beast than the pain imagined … and often masturbated over.
It's like for example, guys asking me or begging me to be their toilet.
There's that moment where my ass is hovered above them and begins to open that they truly question why they decided to follow through on something they've jacked off over a million times in bed before sleep.
I'd think that a full force ballbusting session is along the same lines.
I've met only a couple , and by couple I mean 3 … guys who said they could handle a full force ball busting session and have indeed followed through on it … remarkably.
Truly, their ability to withstand pain is jaw dropping.  They were fun sessions.
But I ask you , is this truly something you wish to do ; or perhaps ; is this something that is better left for your right hand to take care of whilst you dream about doing it under the sheets?
Mistress R….."
In that reply, I'm just being honest, drawing upon past experiences , most of which have just been about 1000 emails or so wasting time with someone I know who'll never book.
Why waste all that time?
Meh, it's just extracting information , learning about a particular fetish.  Any reply is a window into a man's mind and the more thoughts I can extract from him the better I am for it in the future.
At least some guys are talkative.  What really pisses me off are guys like this next one who took all of 5 seconds to fill out the form.
I should just delete such requests, but the smart ass in my can't just leave it alone and so … you get replies like this out of me …

If this is indeed an honest session request , one that you wish for me to take seriously ; you're going to have to put in a bit of legwork on your end to introduce yourself and talk briefly about some of the things that interest you.
For example, in the photo i'm including down below, notice how there has been an email thread that stretches back to January of 42 emails in total going back and forth.
That all started when his first email , unlike yours , had an entire paragraph written to say hello and introduce himself a bit to me.
So please, take a moment , think about your fantasies , about who you are , and what you'd like for a session … and articulate those thoughts to me via some written prose.
Mistress R….
There, like a peacock spreading it's tail proudly , I'm cooing about just one of the many email threads I have with guys that span over a time of months and sometimes years.
When you take the time to walk a mile in someone's shoes, sometimes – but not always – they return the effort by revealing more of themselves to me , and over time I in essence become somehat of a psychological therapist for them.
Crazy thing to say huh?  But it's true, and I still scratch my head at times wondering how it always plays out like this.
I have 100's of guys who'll session with me just once or twice a year , but in between we'll talk about stuff he wouldn't dare tell his closest friend let alone his therapist.
This is why email is the living hell I love to bitch and complain about at times, but truly – deep down – I love it and it's the best part about being a lifestyle Mistress.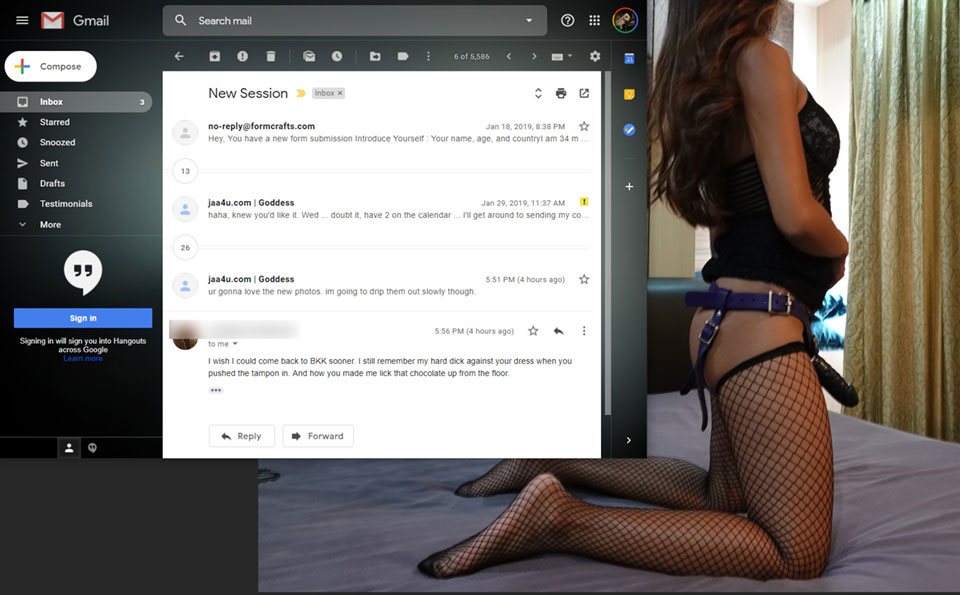 I can talk a guy through a divorce, a death in the family or a long standing illness … and then he'll drop by the city and I'll shove a tampon up his ass with my dildo while making him lick up chocolate I've drooled onto the dirty living room floor.
… and then a week after we're back talking about how much he wants to strangle the neighbour's parakeet 'cuz it keeps him awake all night.
Thing is , you don't marry your therapist right?
So I'm single , gonna be forever , I've come to terms with that.
My life is about making other's lives a tiny bit better , something that Mistress Wael has been harping on me to accept like she's done for a long time.
We have an obligation to ouselves to foster the environment that leads to our self-actualization.
Rather than having guys serve me, I must first serve them.
Which begins the moment I put pen to paper – or finger to a keyboard , as it were.
xx