This week I did a lot of Dirty Foot Worship.
It is something very new for me but not for Jaa because before I only let people worship my feet when they are pretty clean.  Some guys like smelly feet and for somebody like that I will make him come to see me in the morning after I finish my running in the park.
But still that is only a smelly foot and I think very easy to worship and to clean.
Sure I have a lot of men like this man who love to clean my boot and clean my shoe but you can see in the photo my boot is not really dirty so much.  But yesterday I had somebody who want very crazy dirty.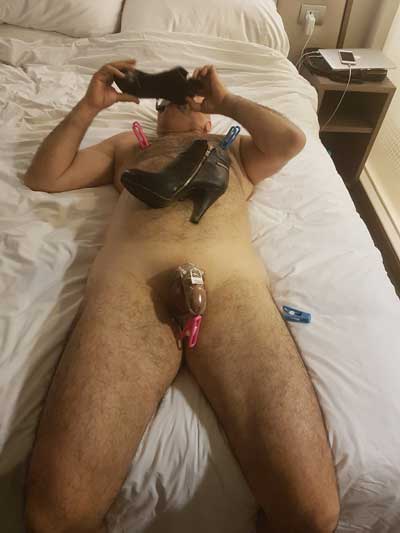 So I went to walk outside on the street all the way to the 7 Eleven store in my feet … no shoes !!!   I met him at the 7 Eleven store and he was hard right after he see me walking to see him in only my feet.  I took his hand and walk with him back to my condo and tease him to tell him I want my feet perfect 100% clean and he will have to lick for two hours.
And he did it !!!
Holy shit.
He did only that with his tongue so black and he never complain even one time.  He clean my foot perfect from black to almost perfect.  Almost 2 hours of licking !!   He wanted to shower after but I only took him to the shower to wash his mouth with my pee.  lol.   Then I sent him home like that and told him he has to walk with a dirty mouth because he is a dirty foot licker and belongs to me  🙂
First time I ever saw a man like that.  The best foot cleaner ever.
I had a lot of fun with my story for one month.  I hope you liked 🙂   But your mistress she fly back to Bangkok today from Europe and tomorrow she will do sessions again start on Thursday.  I will keep load all my session video here to this link so check often to see something new.  If you want me to do a video special for you let me know ok.   Today is off day for me.  I had one 5 hour tease & denial session yesterday and my hand today hurt so much like I exercised too much XD
wael