"Holy fuck, you look absolutely amazing."
"Why wouldn't I?"
"Well ,  the cancer , the operation , and everything … you know … I just , I mean I thought" his words eventually dropping off to a stuttering stammer void of strength.
My first session in , fuck what has it been, half a year almost?  And here we were, at the foyer of my condo , standing in silence as he kept checking me out from head to toe and back again.
"Well are you going to come in or not?" I politely asked him while stepping to the side and leaned against the edge of my door so that my rose colored dress rode up the bottom curve of my ass just a little bit more.
So he did , and by the time he got to the kitchen counter a few steps away I could see he was already trying to hide the massive erection that had grown suddenly down the left side of his tight jeans.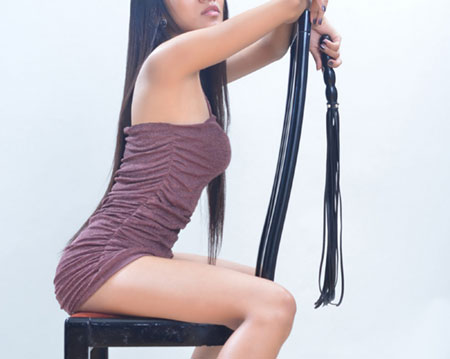 I can slip into my mistress's skin faster than you can slip a condom onto a stalk of broccoli , so here I was already to go – like a Formula 1 racecar at the starting line – with a revved up pussy just purring for the green starting light to flick on.
Except , even with his hard-on trying to burst out of his pantleg like a misplaced Xenomorph baby Alien , he decided to instead sit down on my cream colored sofa – with his shoes still on (huge no-no) and instead of acting like all of you submissive slaves act- he wanted to act out the part of being my psycho-therapist so he could chip away at the deep embedded trauma I have over my recent cancer removal procedures.
See though, there is no trauma.  It's done.  It's over with.  Can we move on please?
So I thought I'd take this moment to say what I have to say about the ordeal , and thereafter can I ask that we just bury the topic?   Because when sessions resume en masse – and they will , eventually – your time with me as I see it, is meant to be possibly the hottest two hours of your life.  For that to happen I need anticipation on your side , not trepidation.  Until now that's been something I've nary shed a moment's concern for , but if how this last session kicked off is going to be an early indicator of where your  mindset is at … due to concern over my health … well let's just put that to bed right here and now okay?
I'm physically fine now , my fight is more about the mental side of things.
The two lumps they took out of my right boob caused me to say "holy shit" to the doctor showing them to me whereas I could only muster an "oh wow" for the single lump they hauled out from the left side.
Both surgeons seemed a little too delighted with revealing the shit they removed from my body.  The way they have them laid out on green cloth , perfectly centered , with my name on the corner of the tray made me feel like they're being shipped off to be put on display at the Louvre beside MichaelAngelo's works of art.
The incisions were thankfully made from below instead of on top which is a relief because I had these visions of painting my face white before sessions , ripping open my bra , grabbing you by the throat and whispering into your ear "wanna know how I got these scars? …
Wael sat with me the entire week after the surgery , and I intended to write thereafter but once she left and I was alone again , my mind played games with my emotions.
Then Kelly Preston died of breast cancer a week ago and that hit harder than anything ever has.
For exactly one day I felt riddled with guilt and the 'why her, not me' feeling that washed over me that day.
Then immediately thereafter, I've been dealing with this total loss of words from the true answer to that question … because of you, collectively.  You guys decided to keep me alive , and Kelly's death proved to me that I can say that without a hint of exaggeration.
There may be a loss of words, but there is infinite gratitude.
I'm home now.  I haven't told them either, I just want to be here with family and not be treated like a wounded puppy by everybody.
This weekend and into early next week I'm going to be hanging out here and getting back into writing.
There's nothing going on in Bangkok right now, it's dead – like an old western ghost town as we showed in this tweet earlier this week.
You should see Nana and Soi Cowboy , it's the strangest thing.  Just a few girls sitting there looking at their phones – because well, only foreigners frequent those parts of town and there's maybe like 10 foreigners left in the city.
So there's no reason to go back to my condo on soi 11 , the whole street is a 'going out of business' flea market.   Better off to stay here for a week and get some writing done which is easier to do with people around me I've found.
As for that session I had , after I had him begging me to cum inside the first hour I told him he should just walk down to Nana and bang as many girls as he wanted for a hundred baht a pop.
He didn't believe me so I cut the session short and went with him to teach him about the laws of supply and demand as they pertain to cost.
I failed economics in university, so don't let my smart ass answers on economic theory in regards to forced-bi sessions fool you ,  I googled that shit to make me look smart.
But I do know that if you rowed your way across the ocean into Pattaya this month and somehow survived, you could set yourself up with 4-5 girls pampering you all night for the price of a movie and popcorn.
Sure enough, the young Danish boy who had come to see me Thursday night had me negotiate two girls willing to ride his dick the whole night for the combined fee of 500 baht.
Sadly, as per his report, he lasted all of 5 minutes before they made him  cum the first time and  15 minutes before he came the second time …  thanks to my prep work.
Gotta tell ya though, other than that session, it's crickets over here.
The greatest thing about this covid shit is that I don't care about it any more, I'm just so happy that the chances of me being alive to see New Year's day for 2021 is back as high as it was before.
My promise to you going forward , as a way of  saying thanks, is a story a day from here until sessions start again, probably around your Thanksgiving and/or Christmas.
That's not a covid prediction , that's just the time of year that all retailers sink or swim , and if Wael's walking video of my dead soi looks desolate, it'd be nothing compared to the closures that would happen if all stores are forced to stay closed for November and December.
That's my best guess, November'ish, do you agree?  Email me , let me know your opinion , I'd love to hear what the collective wisdom of my fanbase thinks.
Thank you again.
I'm beyond humbled by your generosity.
Now let's move on and see if I can get some sexy stories up and maybe even finish my book which I've started writing the 2nd half of this weekend.
Love you all.
xx
Book A Session
Looking to book a session?  You can either email us :
Mistress Jaa : [email protected]
Mistress Wael : [email protected]
Or fill out the form below.  Don't forget to check out my Loyalfans femdom blog , or Mistress Wael's Loyalfans blog its a great way to get to know more about us through our photos , videos and daily stories.