bdsm wrestling in Bangkok happened last night 1 day before Full Metal Dojo happens tomorrow in Bangkok but i think our bdsm version is more fun.
Yes I was my "mistress"self last night = my Dr. Jekyl if you will , because i was mad.  I'm used to fighting boyfriends who let me win after they see how mad I am.  I am used to fighting submissive customers when they want me to beat them up a bit in the session.  I am even used to fighting my sister trying to get her to clean her room after her, but I always win.  Last night was the first time I did a wrestling session against a guy who didn't want to lose.  Guess what.  Neither did I lol.
I tried to explain the rules to Jaa but she was confused.  I don't think she ever saw a WWE wrestling match in her life.  Lucky for me I went to a few bars with a few guys in my class in school who liked to watch that stuff.  So I knew what a tap in was and knew what a tap out was at least.  After telling Jaa that she had to wait on the side of the bed until I was losing and could reach touch her hand she went looking for a stick to beat him up with.
"no no cannot" I told her, "you have to play by the rules"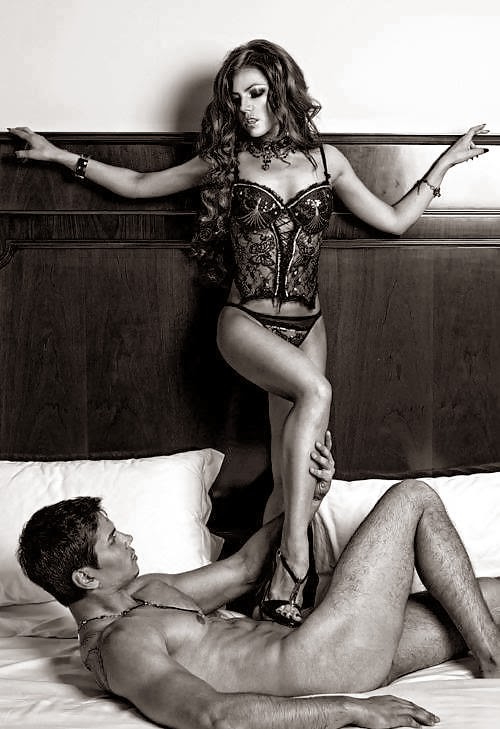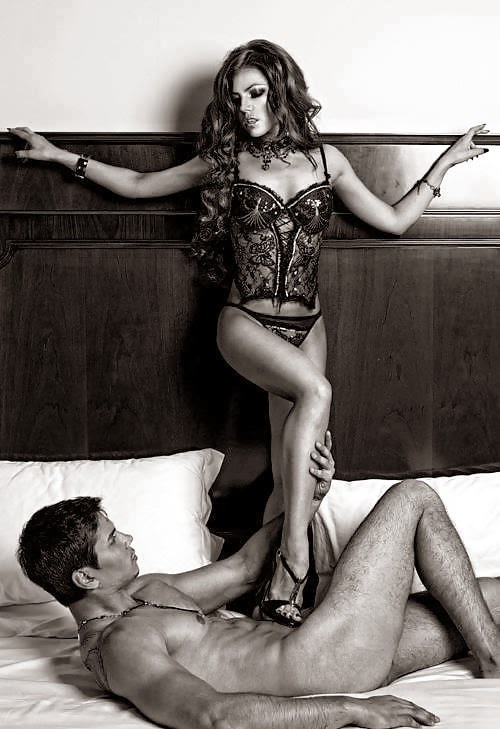 So I get on the bed.  Go low to try to grab his waist and next thing I know I'm flying across the bed.  He follows me and tries to pin me and if i let him get me like that he wins and gets to spank my ass three times.  No fkng way that's going to happen so I turn into him and shazaam i am on my back again with this guy climbing on top of me.  No problem i knee him to make him fly over me into the headboard and now it's on.  I try to climb on his back and he shakes me off like a dog flicking off water.  I go to grab Jaa to tap out already but he drags me back to the middle of the bed and tries to slap my ass.  So I reach under my legs and grab his balls and he yells ..
"no ball grabbing you cheat"
Cheat?  He can throw me across the bed and I cannot hold onto his balls to give me a chance?  War.  He had to let go to rip my hand off his balls and i use that to crawl to Jaa and tap her hand.  I'm out, she's in.  I'm like "wow 2 hours of this?" because i was sweating already.
Jaa.  hmmm.  Jaa is a different animal.  Like if you cross a bear with an ostrich, she fights like that.
I tapped her hand and she did a good "i'm going to rip your leg off face" but he was ripping her underwear off first.  They went around and around changing up and down on the bed and Jaa was doing good.  You know, for 20 seconds.  Then she got tired and then more tired and was almost going to get her ass spanked until she touched my hand to tap out.
Didn't take long to find out this guy knows how to fight.  I don't know if he knows Jiu Jitsu or he just doesn't want to lose, he said he had a fight before with 2 mistresses and even they couldn't win from him.
"Hey … you're so small how can you win?"
Easy.  By holding his cock to get control of him.  But in fights before this was very sexy for the guys i fought so they had hard dicks.  This guy was all soft when i got his dick in my hand and I didn't win him yet but my hand let him know about his reward if he would just fkng lose.  But this guy was weird.  The brain in his head was winning from the brain in his dick and he just wanted to fight fight fight.  I tapped Jaa after 10 minutes.
I didn't know Jaa knows so many bad words in English and Thai 555.
Just like me Jaa really wants to win.  Unfortunately I run 1 hour in Lumpini Park most days and she runs not very often.  So after 5 minutes trying to pin him and make him cum she times out and has to ask for Paracetamol for headache.  Fine I let her do that and tackle the guy putting my hand on his throat.  He rolls me over to my back and it's a bad place because I cannot get out under him and he has my arms so I cannot cheat and get his dick hard.  So I look to Jaa and she is on her phone doing SMS.  I'm trying to tap her to come in and I hear her phone talking …
"line.  line.  line.  line."  Fuck.
Under him I am so sweaty now my nipple is showing through my t-shirt and maybe that did it for him because sitting between my legs pushing against my pussy and looking at my sweaty breasts got his cock hard.  Then he got those "i'm going to fuck this girl" eyes and my hand is hitting the bed .. Jaa Jaa Jaa Jaa
"line.  line.  line.  line." still sms on her phone.
Yoga!  Sometimes I forget how flexible I am.  I lift my legs over his body and upside down over my head but he pins me there putting his face in my ass I think.  I don't know it is hard to see when I am pinned like that.  I bring my knees to my shoulder and flip out then flying jump him and finally pin him to his belly on the bed.  Laying on top of him i'm pushing his head to the bed from his neck and sweat now from my face is dropping to his back.
"see told you I will win you"
He rolled over under me and is under my pussy almost.  I push my panties up a little bit closer to his mouth wanting him to smell or lick so I can take a break.  But I am flying across the bed again one second later.  If I didn't grab his cock before I could swear I was fighting a eunuch.  Why he wants to win so much?  Maybe because he said in his email that if Jaa or me can pin him and make him cum he will pay us 3,000 extra.  I guess my sweaty pussy in his face is not value enough for 3,000 lol.  I headlock him and he gets out.  Put his hand behind his back but he just laughs.  I'm so tired I'm shaking.  tap tap tap Jaaaaa
"line.  line.  line.  line."  still she sms.  Must take long time for Tylenol to work on her I think.  Or that is the Ostrich in her not sure.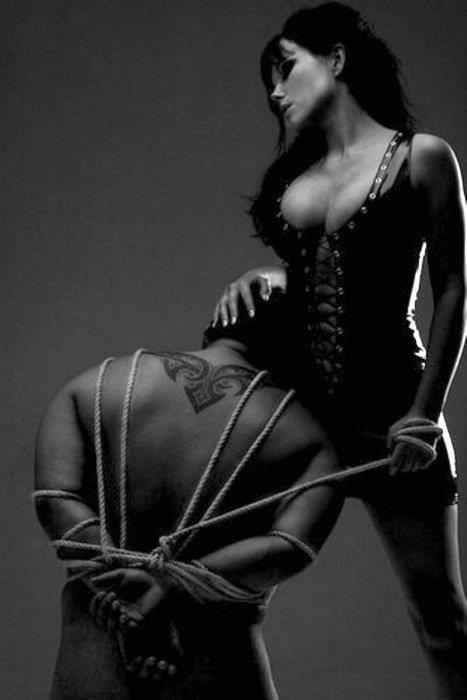 Never I had a guy fight me back like this guy.  Most men want to lose. When was he going to lose for me?  But for sure if i already fought for 45 minutes and Jaa for 10 only I can survive him for 5 mins more and go to round 2.  That was a hard 5 minutes.  My body now writing is still shaking from that 5 minutes.  What I was thinking in that time is if somebody ever wants to come for smelly body worship for sure I have to invite him to clean me after a session like this.
Round 2 … second hour is me and Jaa against him.
Easier but not easy yet.  I think he just wanted to see how long he can last with two ladies.  Long time apparently.  After Jaa got tired again he started to fake with me he was tired too.  I am sure he was faking.  I mean I could fight him for the hour if have to but sure I cannot win.  So he lets me get on top of him and pin him.  Good but my hand I use to masturbate him feels about 20 kilo heavier than my normal hand.  Go lick an ice cream for 2 hours and then go down on me and see what I mean about how heavy your tongue feels.
He cums and finally I get to humiliate him for losing.
I pose on top of him before taking him to the washroom and when we come out he goes to pay for the session.
"what about 3,000 for pinning you?" Jaa asks him.
"3,000 for what?" he says, "she fought me 100 minutes and you 10"
"she was referee" I thought lol.
It's ok I love her she is not 27 I am and my job to beat up the boys now.
So that is 3 fights for me this week and I win all three 555
Tomorrow I have a sissy maid session for the bdsm part and I am supposed to do Tease & Denial after.  But maybe I will just fight the maid instead 555
xx
[formcrafts id='10805′ name='Book A Session' align='left'][/formcrafts]
[formcrafts id='20566′ name='Session With Wael' align='left'][/formcrafts]