For 2.5 years I have been writing 1-3 female domination stories and posting them privately on my Onlyfans blog by mass messaging.  It was the only way I could survive the lockdowns of covid.  My subscribers will tell you that my first 100 stories were really awful lol.
You see, I cannot spell in English.  But I do not have to because my phone understands my voice and I have learned to speak out my blogs into writing.
At first I had to use Google Translate a lot.  I mean a lot – a lot lol.  But I don't know if Google improved or I got better but especially this year there are almost no mistakes.  Google fixes my grammar and spelling.  It's really wonderful.
So all I have to do is say what is on my mind.  Just talk into my phone.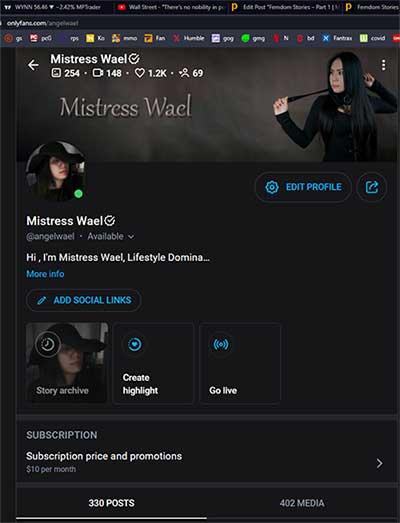 Until just a couple of months ago in March I had to talk about my thoughts about being a Mistress and used my "writing" to explain what I was thinking in my bdsm videos.  There were no sessions before March of this year.
But since March I have been writing every day about each session I have done.
Some are exciting.  Like very exciting … especially the sessions where I am basically a sexual fantasy secretary arranging fantasies for my V.I.P clients.
Some sessions that I wrote about were just so-so femdom sessions.
Well I thought they were only 'ok.'  My subscribers have really loved hearing how I think about bdsm.  Maybe because I think like a lifestyle Mistress.  I don't care about the money any more.  I care that submissive men understand how I think.
Through my stories my subscribers have really started to understand me.
So now I think what I want to do is to start copying those stories to my blog here before I lose them all if OF shuts me down.  They really hate me over there.  Like if you look on my OF public blog page all I am posting are jokes and stock trades.  I say nothing about bdsm or femdom at all.
And still , they read all my private conversations.  And sometimes I will get a red flag for something I said a year ago to somebody I was chatting with.  How many red flags before they delete me like they did to Mistress Jaa?  I don't know.
But I was told my stories are valuable and that I should publish them.  So that is what I want to do.  Starting today.
Which stories though?  There are about 1000 of them.  Yes that many haha.  If my phone's AI was alive it would be sick of listening to me lol.   Well, I needed to survive so I had to do something to make my blog better than anybody's.  Including Mistress Jaa's blog.
I am still writing stories every day and posting videos on onlyfans.  But I focus more on my Loyalfans for videos.  They don't censor me.  So we prefer Loyalfans, both hers and mine.
But I am used to "speak writing" now.  My fans seem to love my stories more than my videos.  That's crazy to me.
So let me scroll back to late February on my Onlyfans blog and start copying from there.  I will keep pasting until I reach July.  Then if people are happy I will go back further and start posting the earlier stories.
…which will get worse and worse as I post from 2021 and 2020 because I was still learning.   So it will be like reverse Flowers for Algernon (a wonderful book Mistress Jaa gave me in Thai).  The more you read the dumber I will sound lol.
Also , so sorry my sentences are short.  I found that I "write" better when I speak slowly and get out one thought at a time.  My phone also makes less mistakes when I do it this way.
Ok here we go.  I am nervous lol.  Hope you like some of them.  You can always email me at [email protected] and let me know how I can improve.  Or maybe book a session if you read something you like and want to try my style.
Oh one thing you have to know is … the code words I have to use on Onlyfans.  I can't say "session" for example.  So when you read me saying "I am busy" or "I am working" or "I am going on a date" or "I am going out for my dinner appointment" … I'm talking about my femdom sessions.
Also , because I can't talk about Human Toilet Slavery – and that was all I did for 2.5 years – I have to talk about things like "eating chocolate."
So you will have to read between the lines to get what I am really saying ok?  😉
Mistress Wael
February 20th, 2022
I believe I have nipples that are perfect for worshiping.  Do you agree?
I also love and hate drool.  Let me explain.
My one foreigner boyfriend … he used to cuddle me and hold me to his chest.  It was nice.  But when he slept he would drool on my forehead.
Gross.  No I don't enjoy drooling like that.
What I enjoy is to watch men drool when I instruct them to hold my nipple in their mouth without movement.
No sucking.  No licking.  No biting with pressure.  Just holding.
Well, holding and stroking.  Either I stroke or I command him to stroke.  Both ways produce more drool.
If I am really cruel I will wait until there is a puddle of his drool on the floor.
Then I will make him get on his hands and knees and slurp it up.   And then back to my nipple.
Slaves love it and hate it.  50/50 really 🙂
February 24th, 2022
Know what would relax me right now?
Most people when they are nervous need to smoke or need to drink right?
I need to fuck a slave's ass. I need to get mad … and let him have it.
Spank him. Fuck him. Use him. And send him home.
That's what I need right now to keep me calm while I wait for the stock market to open.
I think instead of looking at the market all week I will just make my slave come live with me so that I can use him 24/7 and not think about my stocks.
March 5th, 2022
So let me tell you a story.
I made the cannabis tea just like I saw on the youtube videos of how to make it.  Actually it tasted like green tea and I enjoy green tea so I didn't have to add sugar or anything.
After the stock market closed I played my video game that I play called Lost Ark.
For 2 hours nothing happened.   Well , I had to run and do a #2 because the tea cleaned my stomach out very quickly.
Then.  I think I fell into the video game.  I'm not sure.
Or I think I think I fell into the  video game.  Maybe I was just sitting in  the chair thinking  I was in the video game.  Or maybe I was sleeping in the chair?
I'm not sure.
I think I was in the video game though.  I remember walking around in the game.   Sort of.  I think.  lol.
Not sure how I got to my bed too.  I don't remember going from the chair to my bed.
I slept 11 hours.   And when I was sleeping I had the most amazing dreams.  There were so many.
What was strange was I was falling from one dream to the next.  Like I was falling through space and would land in another dream.  Then fall out of that one and into another dream.  Each dream was just as real.
It was awesome.
Is that the tea?  Is that what it is like?  Is that what I am supposed to feel like?
Can somebody with experience message me and explain what happened.  Will it be the same if I do it again?
I honestly don't know what to make of what happened the last two days.
What I do know is I have to wait until later to try it again because there are SO MANY emails and so many things to do that come with those emails.
This weekend is so busy.  It is like before the pandemic but like 10x more busy.  Not used to it for sure.
March 6, 2022
Deepthroat training.  My slave complained that he remembered the shoot for 5 days after we shot it because his throat hurt.
That's nothing.
I did a shoot one time where I put the slave's head over the side of the bed.  Then I stood over him and put my elbows on the bed so that my face was just over his cock.
Then for 1 hour , with my thickest dildo , I pushed it balls deep into his throat.  Over and over.  And over and over.
Under the bed at the hotel I had put all the towels.  About 6 of them.  By the end of the filming the towels were soaked.  100% soaked with his spit.
Anyways.  For 10 days after … he couldn't eat.  The only thing he ate every day was McDonald's milkshakes.
Because the dildo opened his throat so wide that he couldn't properly swallow food.
And it stayed like that for just over a week.
I didn't know that could happen.  He said he wanted to film something very extreme.  He wanted to endure.
Well.  I gave him his fantasy.
March 12, 2022
My hand still hurts from the tease I did last night.
4 hours straight.  We started at 5pm , ended just after 9pm.
I can only load the videos in parts.  Because there is a file size limit for each video.  So I broke it down into 30 minute clips.
It's not my longest tease.  My longest was 6 straight hours.
Anyone who goes past 3 hours ends up with the "blue ball walk"
What is the blue ball walk?   It's when your balls hurt so much from endless teasing that you walk with your knees bent inward.   And you don't walk with normal strides.  You shuffle.
So you kind of look like an 80yo cripple shuffling down the street.  If you see someone walking like that …. you know they just survived one of my teases.  haha.
March 14th, 2022
Did another 4 hour tease.  My hand is going to fall off.  But look at me … complaining about my hand when my slave cannot even walk.
Poor boy. By the end of hour two he asked me "do we really have to do all four hours? I don't think I can take two more hours of this."
That is the point. The first hour the slave is very excited.
Second hour his balls start to ache.
Third hour time stands still. 60 minutes feels like it will never end.
Fourth hour is madness. They complain so much. Most times I have to have a gag ready.
I've never tried to film 5 hours.  I wonder how long I would have to tease a slave on film so I can capture the moment he passes out or dies lol.
hmmm.
March 21, 2022
I saw my old "friend" in the gym today working out by herself.  I didn't even go say hi to her.
Still.  I came home and was wet between my legs.  Thinking about her.  That night I slept at her place.  But nothing happened 🙁
If I could go back and be alone in the room doing that massage with her.  I mean … me now , the not so shy me.
I think I would have lifted her ass in the air and had a taste haha.
shhh , don't tell her 😛
March 26, 2022
What is today? Saturday 🙁 Still 2 more days to go of this 7 day session.   I have to wait until my slave is sleeping before I can post.
I got him not 1 , not 2 but 3 girls to fuck him last night. All at the same time. I just told each what to do , when to do , and how to do it.
He didn't get to cum until about 5am. That is why he is still sleeping at 8am lol.
I sent the girls home. Its just me sitting here on the balcony posting with my phone.
You know … that maybe was the longest Tease & Denial I ever saw.
We got back to the room at about 11pm. Tease & Denial sex from 11pm to 5am non-stop.
Only 1 bad thing.
The room smelled like pussy. Awful awful awful.
3 pussy smell. (Not mine … I just gave instructions haha)
That's why I'm on the balcony. Seriously need to change rooms , this smell will not go away.
So can I ask you? What is the longest you have ever fucked for?
Did you ever try to survive 6 hours of girls fucking you non-stop?
Or try to eat pussy for 6 hours in a row?
How do I top that tonight?
Seriously. How do you top that? 8 hours? I think he'd die. Help me think. I'm still here until Sunday or Monday.
March 28th, 2022
I finished my week-long job as a 24/7 "tour guide" early this morning.
More like an executive secretary to be honest.  I feel like I am his personal secretary now.  Only thing different between me and a normal secretary is a normal secretary doesn't have a private list of fantasy girl's and ladyboy's they can call to fulfill any fantasy.   lol
I do.   And the list is getting longer and longer every time he comes.
Yesterday I knew it was my final day.  So I took him to AnnaLisa ball massage – a special place that if you didn't ever try it yet … well … try it when you come haha.  Because … you will cum .. a lot.
I get to always choose the girls so I chose the two who were the opposite of oldest.  As always, I get to supervise.  I know for sure these girls did not like me telling them what to do and ordering them around for 2 hours.
I told them "if you work for me you will make more in one day than they pay you here in one month."
Guess what?  They did everything I told them to do after that.  And I added 2 more girls to my private list.
When they were done with my slave he couldn't walk normally out of the shop.
If you don't know AnnaLisa , they make you lay down on an elevated massage table that has a very nice and large hole for your dick to hang down from.
So 1/2 of the 2 hours I had him face down with the short sexy girl working on his cock with her mouth from below.
The girl above was working his ass with her tongue.   I was sitting in front of him in a chair with my foot raised under the table so his face … which also has a hole to sink into … could worship my feet.
Having my foot in his mouth kept him from screaming too loud too.  But he was loud because … well … have you ever had two girls suck and lick you at the same time from both sides of your body … and for 30 minutes?
I say 30 minutes because I made sure they switched after 30.  Girls suck differently right?  So I wanted his dick to feel a different mouth and his ass to feel a different mouth.
Unfortunately he was sucking the same 2 feet for the whole time haha.   But my feet are lovely, no?
For the 2nd hour I had him flip so his ass hung down from the hole in the table.  That was the hardest hour for him.
I made him tip the girl extra to fuck him on top … while the girl under the table was filling his ass with the vibrating dildo I brought.
I had no choice.  I had to tell the girls to stop every single minute.  Sometimes every 15 seconds.  He was that close to cumming.  He absolutely couldn't take it.
Again after 30 minutes I told the girls to switch.  The smaller girl under the table this time … she didn't want to use the dildo.  She used her finger.  I think she knew how to find the prostate because he was shaking the whole last 30 minutes.
I mean really shaking.  His whole body was jumping almost off the table.  Also because the taller girl with the big boobs on top liked to lean over and put her nipples in his mouth when she fucked him.
I didn't even have to tell her to do that.  She did it by herself !!  It made him crazy.
I think that was the sexual limit for him.  Or any man.
Nipples in the mouth being told by me not to suck , just to hold them in the mouth.  I'm whispering in his ear not to cum , not to cum , not to cum.
She is fucking him slowly up and down his whole super hard cock.
And the girl below him is fingering his prostate.
What I can tell you is he filled the whole condom with cum.  It was so much cum that it leaked out and onto his balls , onto his hair above his cock and even into his belly button.
We all had to help him into the shower.  He had absolutely no power in his legs.
Even when we left the shop his knees were trembling when he took a step.
Those girls – I'm going to use them next week.  I'm going to call them m my "knee knocking girls."  haha.
Ok.  let me sleep a few hours.  I'm exhausted.   Yes i know … I did nothing.  I can hear you saying that.
But 24 hours is a long time.  So is 1 week.  There is food I have to order.  Trips I have to organize.  Night fantasies I have to arrange.  And I also have to help him with his translation from French to Thai to English.
Was a busy and sexy week.
March 29th, 2022
Want me to tell you about the ladyboy I got for my slave tonight?   omg lol.
The one I wrote about on my website and that I linked to you before came to help and she was hot.  100% like a super sexy girl with a surprise.
I told her she was allowed to bring a friend because I knew first time she would be nervous being with me.  Why?  Because ladyboy's in Bangkok all want to work alone.  Nobody trusts anybody here.  Ever.
And I knew if I told her to bring a friend that she would show up for sure.  Smart right?
Well not really.
One thing about Bangkok is this … you have to control everything or you will get fucked over.  Like … if you go to a massage place and don't choose the girl you want but just go lay down and let them choose … 9/10 times you will get the old ugly one who never gets a customer.   That's what I mean.  Take control and demand everything how you like it when you come here.
So no surprise.  Her ladyboy friend was a 1/10 ladyboy and 9/10 huge man wearing makeup and ladyboy clothes.
And she .. he? … had a huge thick cock to match the body haha.
I told him that they are not going home until he deep throats both of them back to back.
To help I sat on the bed behind him.  He was on the floor in front of the bed.  Kneeling and facing away from the bed.
My job was to push his head all the way down the cock until his lips hit the balls.
Now he had no problem deep throating the sexy ladyboy.
But we had to put towels on the floor when it came to the man like ladyboy.  Many many towels.
My fault.  I learned that you can't do deep throat in the same position Mistress Jaa like to do.  She trained me.  I know that because it is so messy that it has to be head over the side of the bed upside down.
I got him to finally take her whole cock.  Holy shit.  I had to push so hard with my foot.  Almost like I was kicking him in the back of the head.  Hard like that.
When he pulled off it was like a waterfall.  All over his lap.  All over his legs.  All over his knees.  And on the towels on the floor.
"Enough."  he said.
"I'm done.  I'm done.  I'm done."
Here is the thing about ladyboy's too.  They can't wait to leave.  Once he said that they quickly went to the bathroom to wash up and left before one minute passed.
That's why I love working with Arita.  She actually wants to be taught.  She sees the value in having Mistress Jaa and me teach her.
And its almost April so with some luck she will be back in Bangkok next week or at least by Songkran holiday on the 16th.  :)))
March 30th, 2022
Ok well the new ladyboy is yes … fucking hot.  And kinky.
She had no problem following any of my orders yesterday but what shocked me the most is … She stayed !!!
What do I mean?  Well most ladyboy's want to 'cum and go" if you know what I mean.  The shorter the time they have to "work" the happier they are.  Finding one that will stay for 2 hours is almost impossible.
So when my slave who was having so much "fun" asked for us to stay all night I thought for sure she would say no way.
But she didn't.  She stayed.  And as a result the slave's ass and throat was so sore that he stayed in bed all day today and I had to stay and take care of him.
Basically … we spit roasted him for 6 hours in a row.  Switching ends every 20 minutes or so.
We used him in the living room of his condo.  On the kitchen counter where I soaked him with the sink hose while she was licking his ass.  His feet up on the kitchen counter.  She was on her knees under him.  I was kneeling on the kitchen counter and almost fell off 2 times.
I soaked him with the hose every time he leaned forward to suck my nipple.  I was teasing him with it.  So much that my knees are bruised today 🙁   It's sore for me to walk.  But more so for him lol.
His biggest problem today though is swallowing food.
Again I did the position I showed you last week … the one where Mistress Jaa was pushing the slave's head with her foot onto my dildo … impaling him while I grabbed his hair and pulled him even deeper.
Only this time the ladyboy was laying on the bed and I was touching the ceiling standing over her.  My boot was on the back of his head and I was pushing him down onto her cock all the way to her balls.  I would keep him there too until he made that very loud gagging noise and then I would let him up for air for just 5 seconds.  Then down again.
I did that to him until he had no spit to throw up.  It was his condo bed and not a hotel bed so we didn't care what house cleaning would say or report.
The bed was soaked with his spit and cum.
I say cum because she came 4 times in that position.  I don't think she ever had somebody's mouth go all the way to her balls before.  It made her orgasm so quickly at the start.  Then after the 2nd time she finally got used to it.
I think she loved not having to do anything.  Maybe that is why she stayed.  I controlled every position.
You see most ladybody's or maybe all ladyboys are used to being submissive and being fucked all night.  Even having to fuck ass is hard work.  The legs get tired.  It is like a hard exercise workout.
But to lay on the bed and see a slave struggle balls deep on her cock was something she enjoyed very much.
The other thing she enjoyed was the OTK (over the knee) spanking we both gave him at the same time.
OTK usually means over my knee.  Or her knee.  But we sat together side by side.  It was my idea.  I wanted to feel close to her so she would feel comfortable with me.
So over both our knees she spanked the lower back and upper part of his ass and because I was lower … on her right side … my duty was to spank the slave's lower ass endlessly.
We started with 100 strokes but by the end of the night I think it was over 1000 each.  His ass was more black than blue.  There is no way he will be able to sleep on his back this week.
The problem was after I sent her home and I was alone with him.  I ordered jok (rice porridge) for us because I was hungry and we were close to soi 11 where some places are still open at 4am.
He couldn't eat it.  He could not get it down his throat.  Her cock had pushed his throat so wide open that it was impossible for him to swallow.  Just a big round hole in his throat.
So I had to order 2 McDonald's milkshakes because they are very thick and the ice cream can just slide down his throat.  Also because the ice cream is cold maybe it would make his throat feel a bit better.
He texted me today saying he thinks he will have to survive on milkshakes all week.  I told him no … 3 days maximum I think.
That's why I couldn't post yesterday.  Was busy like that for another 8 hours.  Then today I watched Love is Blind on Netflix all day just to relax.
Then I did email for 2 hours.  Yes … THAT many emails.  April is going to be busy.  Super busy.
Ok I will continue with my April, 2022 posts in Femdom Stories | Part 2 tomorrow.
Remember you can join and read my shorter posts , watch my videos and talk to me on my Loyalfans. 
If you really want to read these stories as I practice writing them you can subscribe to my Onlyfans. 
The extreme Forced Human Toilet Slavery videos of mine are not for everybody , but they are some of the best in the world.
Mistress Wael
Book A Session
Looking to book a session?  You can either email us :
Mistress Jaa : [email protected]
Mistress Wael : [email protected]
Or fill out the form below.  Don't forget to check out my Loyalfans femdom blog , or Mistress Wael's Loyalfans blog its a great way to get to know more about us through our photos , videos and daily stories.
onlyfans sucks ass.  onlyfans is a fucked up website.  onlyfans can go to hell.  onlyfans can eat my shit.  onlyfans can choke on my piss.
onlyfans can let me castrate all their male employees.  onlyfans can choke on my shit.  onlyfans can facesit under me until they all end up in hell.
onlyfans is the worst site ever.  never join up for onlyfans.  onlyfans sucks.  just typing this so onlyfans and femdom rank me.