Earlier I posted Part 1 of the Onlyfans femdom stories I wrote in the month of March , 2022.   This will be the stories copied over from the month of April.   Well the first half of April to start.  The stories are long.  And I posted every day because I had sessions every day.
You see, the month of April was the time that sessions really started to come back from the dead.  So finally I had a chance to start writing about real sessions and not the videos I was shooting.
I am only copy/pasting the femdom related stories.  The days where I'm talking about my life … I'm leaving out.   You can subscribe if you really want to know everything I'm doing and thinking every single day.
Let's start with April 1st, the day after a really fun bdsm session ….

April 1, 2022
Today another new femdom experience for my slave.  I got a slave's nipples to sweat haha.  Seriously !!!
I tied him with his hands above his head to the top of the bar over the bed.  Then I tied his feed while he was on his knees to the leg of the bed.  Made sure no slack.  I didn't want him to move left or right.
"My nipples make me weak and helpless" is what he had said to me in his last email.
All I did was caress his nipples for 2 hours.  Just that.  Little bit of biting.  Little bit of quick rapid spanks with the end of my crop to make them super sensitive and erect.
But mostly just caressing.
With my nails.  Then with my hair.  Some with my teeth and then the back of my hand.  I'd switch to my fingers and make circles around them over and over asking him to beg me to actually touch the nipple part again.
I would only touch the nipple for at most 5 to 6 seconds.  Then 1-2 minutes around the nipple to make it sensitive again.
With the new shaver I bought which was very sharp I put baby oil around his nipples and shaved all the hair off.
Then I held ice cubes on both of them at the same time until they stuck out like my nipples when they get hard.
Every time they got hard like that … I spanked them.
In the 2nd hour they started to sweat.  First time I ever saw that.  I mean … I did it to girls and I would make their nipples squeeze out milk.  But men don't have milk.
Or was it the baby oil coming back out?  I had wiped it off.  I don't think it was the baby oil.
I actually tasted it with my finger to my mouth.  It was awful.  Tasted like sweat.  Salty.  But both his nipples were wet and leaking.
Has this ever happened to you?
I don't know what to think.  I'm googling it but I can't find anything and I'm not good at reading English results.
Also, I only brushed the end of his cock.  A technique I learned from one of Mistress Jaa's sexy tease videos
Didn't jerk it.  Milk it.  Nothing like that.  Just soft pulls sometimes.  Never 2 or more pulls.  Only enough to keep his cock straight and hard the whole time.
At the end I locked him in chastity.  He was so horny that by the time I got it finally closed over his dick he had filled it with pre cum.
I'm keeping him like that until tomorrow.  I'm going to do the same thing tomorrow … but to his ass and prostate.
Again, I'm not going to let him cum.  He doesn't know that yet though haha.
Won't be until the 3rd day that I finally will let him cum.  I want him to remember me when he flies home lol 🙂
Yes I am evil.
April 2, 2022
Onyx the Car Guy ….
I get – not joking – 20 messages almost every day from a slave named Onyx.
"can today?" "now?" "i'm hard" "i'm horny" "we can?"
and he always finishes with … "what new kinky thing can you do to me?"
Thing about him is he never wants to get a room. Always wants to see me in his car. So now I know just about every unused private area to park in my neighborhood lol.
I'm also getting good at finding kinky things to do in a car. I think I can write a book about it by next month. Well , if I can keep coming up with new ideas I can then write a book. But I haven't run out of ideas yet.
Yesterday I brought handcuffs , a blindfold and an ass plug. I found a 1 star hotel on the map that I don't think any sane person would volunteer to go there lol. Well in the day time the spot just looks dirty and poor. At night time? lol
https://tinyurl.com/1starspot
So first thing I made him do was tell him to crawl under the steering wheel seat and put his hands up so I could lock him to the steering wheel.
But before he did that I made him put the ass plug in his butt which was hard because his ass was pressing on the brake pedal. Took him some time but he did get it in.
Then after his hands were handcuffed from behind the steering wheel I climbed over to the driver's seat and I told him this:
"If you can get my panties off with just your teeth you can lick my pussy. But if you don't make me cum before your time is up … 10 minutes … I will leave you like that and walk home."
I could too. That lane is only about a 15 minutes walk from my condo.
With my Garmin watch I set a 10 minute countdown timer and said "go" to him as I showed him it beginning to countdown.
As he began I added one more thing:
"oh. I forgot. You also have to make yourself cum somehow or I also leave you here like this."
"how?" he said uncomfortably. I think the ass plug was 1 size too big for him.
"I don't know. Use my leg maybe" I said.
Men can be creative. He didn't take my panties off. No. He ripped a hole in them ><
You know how it looks like on the show Survivor when they first get to the island and try to make a fire using two pieces of wood? Well that is what his cock was doing to my right leg … trying to cum or make fire. I don't know which.
Do you know what made him cum? Accident really. I lied to him and told him "somebody is coming , hurry."
That did it. He got so nervous or excited that he didn't make fire on my leg with his rubbing … he made a mess. lol
And in 6 minutes too.
In the 15 or so times I have met him in the car … we have never reached 10 minutes. I guess my ideas are that good.
LOL. I'm typing this to you and he just emailed me. "now?"
Oh I have an idea. Bring the new ladyboy. Problem is. Well here is the problem :
Two things make this work. One is his car has tinted windows. Two is that arranging it at 2pm is safe because everybody is at work. The area is empty.
Now. Let me call that ladyboy. I think I should sit down and have a coffee with her. Introduce her to my world. Open the door to many more possibilities.
April 3, 2022
This ladyboy is turning out to be pretty amazing.  She showed up !!!
Well, I tricked her.  Kind of.  I invited her to Starbucks for a coffee and told her it was on me.
There are 2 kinds of ladyboys in Bangkok.  Well, in my opinion.  Trashy and Classy.
Trashy means?  Men dressed up like women who are loud , sometimes rude and not glamorous.  See them everywhere around Nana.
Classy are the ladyboys who you think are girls.  Until … its too late haha.  This girl is like that.  Classy as fuck.
When she walked into Starbucks I saw 2 men sitting at the table left of where you order just stop and stare at her.  The guy who lined up behind her (she bought a muffin) could not stop looking at her ass.
She is confident.  Sounds like a girl when she talks but she is confident.  If I can work on changing one thing about her … I will teach her to act more soft , shy and innocent.  Why because men fall for that and I can stun them easily when she then switches back to being confident … changing to a Mistress like personality.
Ok so.  Read this first :
http://u.pc.cd/YWJrtalK
Just in case somebody from the cheap apartment building way across the street had a phone and was recording … I opened the back door for my ladyboy friend when he drove up and told him to climb into the back seat from the drivers seat.  I didn't want anybody to see us all going to the back seat.
So we got in the back.  He climbed back to us.  When he was 1/2 way through the front 2 seats I put my shoe in his face and told him to suck my stiletto.  "Deep" I said.
"Good" I said when he got all of it in his throat.  "You're ready."
Then in Thai I told Pang (that's her real name for now, I will change it to something more sexy soon) to move to the middle and take out her cock.  She did.
So to see it in your mind.  She is in the middle of the back seat.  Legs open.  Cock out.
I am beside her to her right.  He was 1/2 way through the 2 front seats in his car with his legs twisted and I think still where he was sitting in the driver's seat.
From there I told him "now suck her cock the way you sucked my shoe … all the way down"
And he tried.  He got maybe 1/2 way down before he started gagging.
And that is when I put my two legs on the back of his neck and let them rest very heavy until he sunk down to her balls.
To come up for air he had to lift my legs and when he did they banged the roof of his car.  So I sat up more so they wouldn't go as high.  And good idea too because that added more weight to his neck.
Funny thing is that with him not only sucking her whole cock into his mouth but also having his mouth pushing onto her balls because of my legs …. she came in less than a minute.  haha.  So quick.
I then reached into his left pants pocket and got his wallet in my hands.  Looked inside.
"FourKay" I said to him.  I told you to bring the fourkay.
He couldn't speak of course.  I had not let him up off her cock.
"Ok well I guess I will have to tie both your legs and balls to the steering wheel and leave you in this position."
I said that in both English and Thai so she understood.  She speaks English but I wanted to make sure.
When I said that I took out some rope that was in my purse and the handcuffs from yesterday which were still in my purse.
I opened the door to get out and when I did that he pulled off her cock … went into his right pocket which I couldn't reach before and guess what he found?
That's right.  "FourKay"
He drove us back to the Starbucks we were at 10 minutes before.  I made him take off the belt from his jeans and give it to me.
"For tomorrow" I told him.  And told him to "go get out of my face."
We went back into Starbucks and this time she bought me coffee.
After she sat down she looked at the belt on the sofa and asked me "what is that for?"
"I don't know yet.  You decide.  You have a whole day to think of an idea of how we can use that."
"Fun" she said with a smile 🙂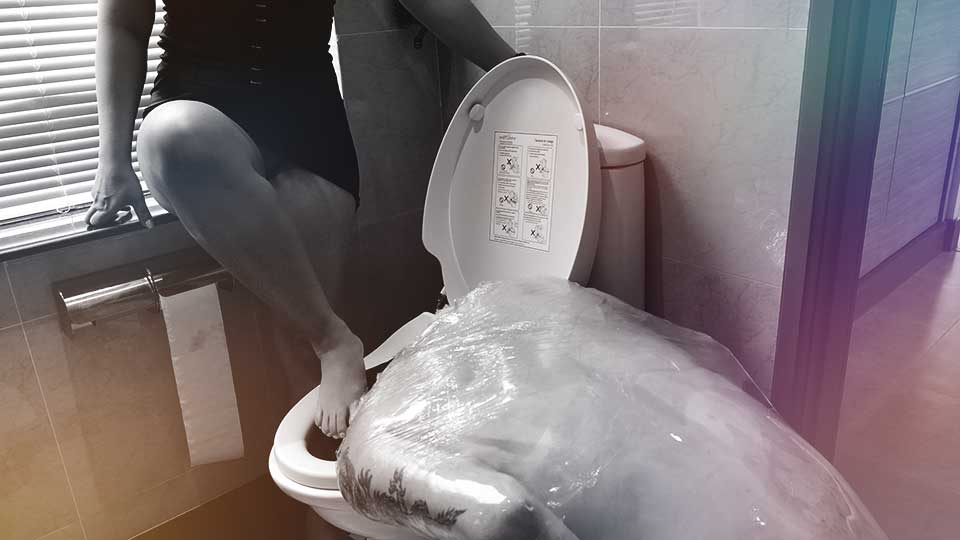 April 4, 2022
"I would like to have a date with you for two hours WITHOUT HTT training. I would like to get familiar with you, and serve with the following fetishes: SPH, humiliation about my weight, doggie training, and golden shower (on face, but only a little drinking)."
As you can see I'm going to be busy tonight.  Want to know what I have planned for him?
SPH is small penis humiliation.  Humiliation about his weight means he's obese.  So think "Huge fat guy , itty bitty dicky" <- Alladin 😛
Just found out he has his own pig mask and paw accessories.  Now that is dedication.  Think about it.  He's on a business trip here in Bangkok and the first thing he packs in his suitcase is not his suit or his laptop … but his piggy outfit for bdsm training.  He takes his fetish seriously , so I must be ready for that.
So with him in full doggy attire ( I am bringing my doggy slave accessories ) I'm going to give him the "Endless Stream" treatment.  Do you remember that video?
I have had 2 cans of Coke Zero to get my caffeine levels up.  Makes me dribble it out endlessly because my bladder is very sensitive to caffeine.
But because he is probably out of shape I am going to make him do something impossible.
Remember the scene from The Exorcist when Megan walked down the stairs upside down on her toes and fingers?
Ya.  I want to feed him like that.  Him under me upside down in his doggy paws and mask and having to stay right under me as I move.  When I stop walking … like maybe to put makeup on …  I will dribble it out for 3-5 minutes.  Then move somewhere else like in front of the mirror and have him follow me again.  When he catches up again he will gulp gulp gulp gulp for 5 minutes.
I want to do that with him until he is exhausted.
Then like a crazy Mistress … I am going to "prove to him" that by putting solid ice water bottles dangling from his dick that I can stretch his cock to not be small anymore.
I have already frozen 6 water bottles.  My backpack is going to be fucking heavy.
If I had a slave boyfriend with a big cock … this would be a perfect time to do something like I"m showing you in the video here.
Make him 'prepare" my pussy by shaving it , putting perfume on her.  Then making him crawl under me while my big cock boyfriend fucks me in front of his nose.  I would laugh at his cock while being fucked.
But I don't have a boyfriend.  And even if I asked the slave I shoot with to cum … yes he has a big cock but cannot get hard very often.  That would just mean I have 2 cocks to laugh at.  Maybe I would then sit back and make them fuck each other.
Something like that.
Will let you know how it goes.  I'll be home after midnight my time in Bangkok.
April 5, 2022
(I posted a thank you letter )
Dave Tue, Apr 5, 8:30 AM (1 day ago) to me Good morning Mistress Wael,
I want to thank you for last night!!!  IT WAS GREAT. I had a fantastic time being in your service, I really enjoy submitting to strong women and you are one of the best.  Maybe the best.
I am not enjoying the cage so much   I woke several times during the night with 10/10 pain in my balls where I was trying to get hard and it felt like it was ripping my balls off…  I had to pour cold water on the area to ease the pain but the plastic insulates the cock from cold so my balls freeze but my cock couldn't feel anything…I took a few minutes for the swelling to settle and ease the pain. Please don't lose the keys Mistress. My  cock is trying to swell as I write this and it is so frustrating       it is kind of nice but horrible at the same time because I can't feel anything when I try to touch myself.
I loved it when you had me hold your nipple in my mouth.  I saw a ladyboy in Budapest a few years ago who wasn't really very good at the whole domination thing but she blew my mind when she had me just hold her cock in my mouth while she was on a phone call to a friend,  she then told me to blink if I wanted her to take a picture and post it on the internet.  I don't know how long the phone call was,  2min, 10minutes I don't know but my eyes were watering well before she hung up.  I didn't understand what they were saying but can still hear their laughter, I never thought about it till afterwards but she could have had me on a video call. I still feel humiliation thinking about it, and right now my cock is trying to bust it's way out of this cage
You said you have something very special planned for me tonight.
See you at the restaurant and yes I have been there before so I know how to make my way there.  It's a really busy place , you got me worried that you are planning something evil.   I still get hard thinking of the last time we met at that Cabbages & Condoms restaurant !!!!!!
April 6, 2022
April 8, 2022
So I ordered this very wide and thick butt plug that can vibrate like its going to take off into space like a rocket.  Seriously, I could make thick milkshakes with it, that's how hard it shakes.
Its expensive because it comes with an app I can download on my phone … or even your phone , anybody's phone … and anyone can control the vibration from soft to violent with their phone.
Kind of the same as the pink clit vibrators the webcam girls put in their pussy and have clients control their orgasms for tips.
Only they do that over the computer monitor.  I did my out in public because I wanted to show the slave what humiliation is really like.  It's what he begged me for.  And I promised him I could give him exactly what he wanted to experience.  Here is how I did it.
At the restaurant , after the food had arrived ,  I took the huge butt plug out of my purse and put it on the table.  Then I ordered him to go to the woman's washroom and not the men's washroom.  I gave him my black purse (after I took my wallet out) and told him to put the purse on the floor between his feet so I would know what stall he was sitting in.  Last thing I told him to do was to put the butt plug in my purse and in the bathroom stall he had to put the baby oil in my purse all over his ass and asshole.
He left.  I waited.  For about 5 minutes I waited because 2 tables of people were watching us.  We grabbed a lot of attention.  And I hadn't done anything yet lol.
So 5 minutes later I went into my washroom.  I mean the woman's washroom.  He was in the last stall on the left.  Nobody else was in there.  It was just me and him.
Ah.  Forgot to tell you one thing.  I was wearing my fur coat lol.  Yes it was 35C that night 2 nights ago.  Hot.  Way too hot to wear a fur coat to dinner.  But the coat has a big pocket on the inside.  That's why I wore it.  Big enough to hide the strap on harness I had brought.
Now there is this mistress I follow very closely on Twitter.  Her name is Evil Mistress.  She makes her popularity from her ass fucking videos.  What I love about her is the posts she makes when she fucks her slave in the underground parking garage.  In the airport washroom.  In the mall washrooms.  I think it is very very hot.  I have wanted to copy her and do something like that myself for a very long time.
And so … in the women's washroom … I put my strap on harness on and the purple dildo which is medium thick.  I could have brought my king kong 12 inch dildo but I did not want to take a chance he would moan or scream loudly when I fucked him.
That's what I did.  I fucked him in the washroom stall.  For about 10 minutes I drilled his ass hard.  We only had to stop 2 times and not for long.  Nobody used the stall beside us or any stall.  The 2 girls who came in only came to do their makeup.  And they left quickly.
I had his face pushed against the wall with one leg up on the seat.  I got his ass from under going up so I was going very deep every thrust.  He cried a bit not from the pain but from the speed.  I really went fast because I was excited.
When I finished I told him to put the butt plug in his ass and come to the table.  I told him I wasn't done yet.  In fact I was just starting.
I was.  What I did next was awesome.  Tell you about it in my next post.

April 8, 2022
This is part 2.
Make sure you first read part 1 in the post above.
Then come back and read this.  Because this is what happened after we left the woman's washroom ….
I let him go back to the table first.  I thought it would look very weird if we came back at the same time.  Lucky when I did come back 5 minutes after him 1 of the 2 families that were staring at me before had left already.  The other family was just a couple.  They didn't notice.  Yet !!!
My intention was to make everybody notice soon.
In Thailand money can buy you anything.  All you have to do is use your imagination.  The waitress serving us was not old at all.  University girl.  Maybe 21 or 22.  Very long hair.  It touched her ass it was so long.  And her waist was super slim.  Kind of cute but not hot.
I told my slave to go into his wallet and take out 200 baht.  He did.  Then I told him that the next time the waitress walked by he had to get her attention and give her the 200 baht and tell her to sit down for a minute beside me.  I was across the table from him.
About a minute later she walked by and he slipped her the 200 baht.  She sat down.  When she did I told her in Thai that I needed her only for 2 minutes and all she had to do was to play with the 'Power" slider on my phone app and laugh if anything funny happens.
I slid her my phone with the app open.  She found the slider and right way she slide the power on the slider from OFF to MAXIMUM.
My slave almost fell off his long table.  He wasn't sitting on a chair or we would have fallen for sure.  I could hear the thing vibrating in his asshole.   Yes, the restaurant was loud.  But I could hear it humm in his butt lol.
His fists hit the table.  He tried to support himself.  He had to spit out the last bite of food he had in his mouth.  People began to stare.
What was perfect was that the waitress laughed.   She looked over at me and asked me in Thai what was happening.  "I can't tell you" I said in Thai.  "Play more and see if you can guess."
So she did.  She pushed the slider down low.  Then up to Maximum again.  The slid it up and down up and down in the middle.
Each time she did he put his head lower and lower until his forehead was almost in his food.  He lifted his head up and was biting his lip.
"No noise" I said to him with my most mean look.
And then I told the slave to give the waitress 200 more baht but to give it to me first.  He did.
I put the 200 baht in her hand and told her she could keep it if she could get another girl waitress to come sit down.
Took her only 1 minute to find a waitress that for sure wasn't even in University yet.  Small too.  Tiny.  Smaller than Mistress Jaa if you know how small she is.
Same thing.  I told the slave to give the new waitress  200 baht again.  But this time the 1st waitress was staying to explain what was going to happen and the 2nd waitress was sitting down.  The first waitress couldn't stop laughing.  That made the 2nd waitress smile and when she too put the slider to maximum she started laughing because the slave again almost put his face in his food.
She didn't play with it much.  The 2nd waitress I mean.  She mostly left it on Maximum because it was making the slave move and shake all over the table.
By now many tables were turning to look at us.  I didn't care.
"Pay 200 again" I told him.
"I'm so hard" he whispered to me.
"Pay!" I said.
Ok so we had 3 waitresses and one girl from the front cashier desk come to play with the remote before we finished dinner.  I think 2 tables complained in the restaurant but nothing happened.  It was fun.  Really fun.  His face was so red from the humiliation.  Especially his ears.
That was the most fun I think I ever had in a restaurant.
Now today is an off day for me.  Know what made me smile today though?  When I woke up there were 2 messages waiting for me on my phone.  Both said almost the same thing.  First message said:
You are by far the best Mistress in Thailand.
Second message said:
You are the best kept secret in Asia.  My little secret.  If that secret gets out you'll be the best in the world and everybody will know it.
Wow !!!
April 9, 2022
Would you, could you in a car? … to borrow a line from Dr.Seuss
Yup. In a car.
Back seat actually.
With Wael and and yet another ladyboy that she picked up.
10 minutes total.
Left him cuffed to the steering wheel behind / above him , hands behind his back. Head on the floor resting on the brake pedal. Naked ass in the air. Legs tied via his quads being roped to the front seat.
Took his wallet from his pants and told him we were going shopping. Said we were going to max out his credit cards in the process.
Of course being a good girl , I did no such thing. It's sitting on the kitchen counter behind me, untouched. Just wanted to scare the hell out of him.
So Wael and I tied him up like that. Prepped him , so to speak. Took his wallet like I said.
We were parked at the far end of a place called Baan On Nut Mansion , a crappy 1 star dive of a place that's deserted in the day time. Car was parked beside the garbage disposal bins.
Rescued by the same Grab taxi that our new ladyboy arrived in we went home while the ladyboy who was instructed to "find him" in such a precarious position went and did her thing to his ass. Then uncuffed him before she left.
We sent the same Grab taxi back to get her 10 minutes after we had left so the whole scenario played out in 15 minutes.
He wanted humiliation.
We gave him … how did he put it in the email he just sent … ah yes … "the most humiliating ass fucking ever."
Apparently he jizzed all over his floor mats. Damn. Had I been there , would have told him to lick that mess up.
Risky as fuck to try and pull a public humiliation thing like that off in broad daylight given where I live , but we did it.
April 10, 2022

April 11, 2022
I woke up early and saw this email:
Onyx (the car guy)
Mon, Apr 11, 11:25 AM (1 day ago)
Can you tell me what we can do next time we hook up?
And I replied:  Threesome?
He begged me not to bring a ladyboy because his ass was still very sore from the car humiliation we gave him.
So I agreed.  I told him I would make him survive 3 girls.  Me and two others.  I had a slave recommend to me two girls that he has threesomes with.  The two I had been using were 'ok' , 'not bad' … know what I mean?   So I wanted to have a really really hot time for the 'car guy slave.'
I met the girls first at PB Hotel.  Got the room for 2 hours.  The first girl had a typical sexy gogo dancer girl type body.  But with an Isaan shaped face.  Nice ass though.
Second girl was smaller.  Didn't look 100% Thai.  Looked very innocent and cute.  And … she liked the taller Isaan girl to dominate her a bit.  I saw she was taking orders from the Isaan girl when we met.  Like "stand behind me" or "let me talk" , orders like that.
I had to first control the Isaan girl.  I told her (in Thai) "I want you to use my slave like he is in the middle of a sandwich.  But … I want you to ignore him.  Touch him only "by accident" and not often.  Until I tell you to go crazy on him."
Ok reason is : the 'car guy' slave cums really fast.  Like really fast.  He is way over-horny.
And because he never had 2-3 sexy girls (I'm sexy?) at the same time I wanted him to cum way before he had a chance to have sex.  I thought he would cum in 1 minute when I told the girls to finally focus on him.  I just had to make him go crazy until I saw he was ready to explode.  Then … 1 touch and … explosion.
Did it work?   Yes.  Very much.
It was actually 8 seconds after I told the girls to 'go crazy on him' that he came all over the bed.
They were very good.  I took a photo of them playing with each other just as he walked into the room :
http://u.pc.cd/Dzw
The top girl is from Phuket.  Can't use her often.  But the girl on the bottom is from Bangkok.  I want to talk to her in private.  Hopefully tomorrow.  If I feel better.
Only thing  I did to the slave was to tie his hands behind his back so he couldn't touch himself.  Oh and I locked him in chastity.  Just to make sure.
They did everything together.  First beside him.  So he could watch.
Then the tall Isaan girl got under him and wrapped her legs around him from the back.  The sexy small girl was on top of him (and her)
She pushed herself up from the bed to make her back arch.  That made her nipples stretch.  And the Isaan girl massaged both nipples and pulled them closer and closer to his mouth.  But I would put my bamboo spanking stick in front of his mouth to make sure … no sucking.
When I let him out of his chastity 1 hour later the Isaan girl kissed him and the sexy small girl … well all she did was grab his dick and he started moving his hips really fast in her hand and he exploded.  When he was cumming the Isaan girl French kissed him and I took over and milked all the cum out of his cock with slow squeezing strokes.  I made the small girl hold and squeeze his balls while I was sucking the rest of his cum up with my right hand.
"Ok , go home"  I told the girls.
"But.  But.  But.  I didn't have sex yet.  I can get hard again."
"Yes you probably will" I told him.  As I was locking his dick up and then untying his hands.
"Tonight probably.  When you are dreaming about what just happened."
"But.  Fuck.  But.  Aw fuck."  he complained.  And complained.  And complained.
"But nothing" I said.  As we left the room.  "Now you know exactly what to ask for the next time we hook up, right?"
"Yes Mistress."  and when he said that he was so excited about tomorrow.
Of course tomorrow is today.  And I feel like sh(t.   There's 23 messages in my inbox right now because I have no energy to answer emails.
They are all from him.  Saying the same thing.
"Today Mistress?"  "WTF?"  "Where are you?"
"I'm still in chastity.  Have you forgotten?"
lol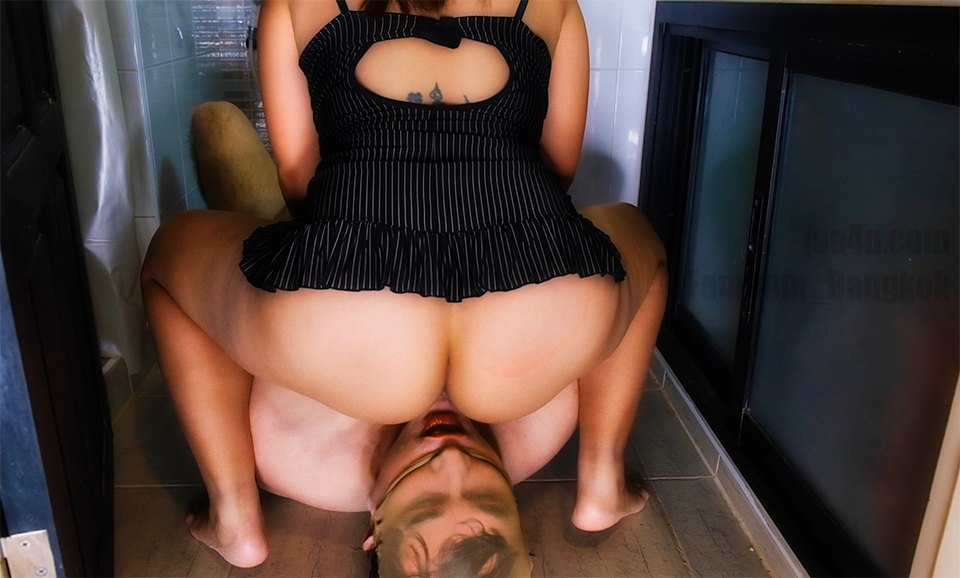 April 12, 2022
So Mistress Jaa is talking today on loyalfans.com/mistressjaa about listening to two people on her floor fucking.
I have that too.  Room 718.  He puts music on the tv when he is going to fuck her.  Does not help.  He bangs her so long and so hard.
I saw him with her in the lobby waiting for the elevator up to my floor.  I couldn't help it.  I started staring at his dick in his pants.  He was obviously hard.  I had maybe 1 slave I saw who was as long as this guy.  Looked like he had a snake in his pants this black guy at the lift yesterday.  I know why she screams.
Usually I go to the gym on the 2nd floor to do my running or walking.  But since 2 days ago I have been walking up and down my floor instead.
Why?  Because I never heard anyone get fucked so hard and be so loud.  The only thing I hear every day is slaves moaning and screaming.  Never a girl.
He keeps her all night too.  Now in Bangkok –  longtime – overnight with a bar girl is between 3,000 to 5,000 baht.
I wonder why she came back a 2nd time with him.  Is 3 or 5 thousand baht or $100 usd worth it to get fucked all night like that?
She could make the same by fucking 3 guys 1 hour each.
But she is not super pretty.  Little big thick body.  So maybe she cannot get 3 customers in one night?
I didn't go to the door and listen closely like Mistress Jaa  did.  Too scared.
So I just walk up and down the hall again and again trying not to laugh.
Also, I did not play with my pussy like she did.  I want to ask her today if she really masturbated in her hallway listening to her couple or if she wrote that to make her subscribers horny.
What I can do to give you an idea of how loud she is …  I can record a video on my phone as I walk past their door.  I am pretty sure my phone will catch it all.
Then you guys can tell me if she is getting it in her pussy or her ass.  You are probably more professional at knowing that compared to me.
I know how men moan , scream and cry.
Women?  Not so much lol.
See?  That's only until April 12th.  Like I said we were really busy.
Remember the full videos are all being posted on my Loyalfans , with the Human Toilet Slavery watersport videos being delivered by private messages.
I'm posting new stories , still practicing, every night on my Onlyfans femdom blog , but through private group messages only on OF.
My Inescapable Human Toilet Forced Shit Feeding videos are yours to own … if you like that kind of thing 😛
Want to book me for a session?  Email me  :  [email protected]
Book A Session
Looking to book a session?   Fill out the form or send one of us an email and in it be very descriptive about what you would like for a session, where you're from, what your name is, and when you would like to meet.
If you decide to fill out the form, double check that you've typed in your email address properly cuz guess what?  If you fuck that up, I can't get back to you, end of story.  It's shocking how many guys can't spell their own email address.
Mistress Wael is available from 1pm until 10pm every day, while I am available at either 7pm or 10pm Monday – Thursday and 4pm on Friday's.
1 hour sessions are 5k baht while 2 hours are 7k.
Human Toilet Training with Mistress Wael is 15k and with me it's 20k.
With Mistress Wael sessions are outcalls at your hotel, house or condo and with me they are held here at my condo.
Check out our Fees & Bookings page for all the information you need to know for booking your session with us.
Mistress Jaa : [email protected]
Mistress Wael : [email protected]
for google search.  femdom stories.  these are femdom stories.  my femdom stories.  i write my femdom stories on my onlyfans every night.
only my subscribers could see my femdom stories from 2020-2022.  I posted my femdom stories privately.  But everybody enjoyed my femdom stories.
So I am posting my femdom stories here now.  If you like my femdom stories let me know.  If my femdom stories turn you on then book me.
I will be putting the other femdom stories in to an Amazon book I think.  I'll call it Femdom Stories.  Or Femdom Stories of Mistress Wael.  That's me.
My femdom stories.  Ok that should be enough writing the words femdom stories.  Ok maybe one more.  femdom stories.  there you go.  done.