So Wednesday is coming quite soon now and though I'm trying not to think about it , or write about it for that matter , it's constantly there in my mind ; how can it not be?  You all have been very kind in your emails, I really appreciate the support.
What I really have enjoyed is the words used by you to express your feelings of emotion towards me have changed from "exquisite, beautiful , hot , sexy , etc" to "lovely , kind , special , and other words of that ilk and for me it's nice to see that by most I'm looked at as more than a person who just fulfills fantasies.
The sessions I've done , especially this past month have been super intense.  We've (Wael and I) kind of blown the doors off what Tease & Denial can produce in terms of emotion.  I suppose I can copy/paste a long laundry list of post-session emails that support my thoughts , but my purpose is not to beat my own drum today.  Rather, I'm pontificating on what that secret ingredient is exactly that has propelled the sensuality of these sessions to a new level.
At first I thought it was this stressful thing I've been dealing with health wise that has brought out a lot of inner-reflection on my part , and perhaps I've been channeling all those "live life to the fullest" thoughts into my sessions more so than I was doing before.
But that wouldn't describe why Wael's FemDom sessions are exploding in popularity as the circumstances in her life are much different than mine at the moment.  Regarding Wael, I've seen her personality change so much recently that I need to consider re-writing her page as she's no longer the sweet innocent doe caught in the headlights of life that I described her as being last year.  She downright gets off on controlling men now.  So much so that she persue's that dominant/submissive relationship with men she dates.
You cannot learn a thing … you think you know. #trampling#bdsm#ballbusting pic.twitter.com/Z067Ih2vOC

— ThaiGoddessJaa (@FemDom_Khaleesa) May 21, 2017
For example , she runs now 2 hours a day in the morning and then another 1 hour at night.  While that's all well and good , what I find so amusing is that she'll arrange her sessions in the evening so that she can grab the guy by his hair when he gets to her condo and then shoves his face between her legs to suffer the dank dank musk of her unwashed sweaty pussy.  She'll laugh and talk to me over dinner – eaten on her bed in her condo – while the guy is buried between her legs and told not to lick , kiss, or move the mouth in any manner whatsoever.
I ask her why she gets off on it so much and she replies "I like to see men suffer for me."
Really?
This is the same girl who was sought out by every sex monger scuzzy dirty ass tourist who visited Bangkok before and found her innocence something they could exploit for their sexual benefit.  I dare say , If the guy between her legs does so much as think of licking while down there ; she'll beat him within an inch of his life – and then go back to eating as if nothing happened.  To her , a slave is a slave ; there are rules and behaviors that one must follow and its very cool to see that she's embraced all that I've taught her.
As for me , the "denial" in "Tease & Denial" has been deliciously fun to focus on as of late.
I've brought every man this past week ; except for one ; to the brink of tears.  My thing to do has been to lock guys in chastity after teasing them to the brink of insanity – and then sending them on their way locked up and securing the key to my necklace of 12 keys now.  Ya that's right ; I currently have 12 men in the world who are so addicted to me that I've deprived them of the very thing they could call their own – their cock.  They can't touch it, can't stroke it , can't cum.
So I got this idea from Dave a few months ago.  In that session he hired a girl from the bdsm place in town called Bar Bar to sit under the table at my condo and suck his cock for the full hour we ate dinner.  I've already had over 15 sessions in a row where I've let the guy crawl out of my condo with no relief and a throbbing dick that is so hard I can see it almost thrusting out of the pants of every man as they enter the elevator outside my door.
What I needed was some next level shit.  I'm always looking for something that takes guys to the next level of mental anguish , and to do so I called upon that experience with Dave which begat a series of "what if's" in my mind.
The guy who was the one exception last week , well , we broke him.  Way beyond tears.
The guy is 5'10" , ok looking , but he's one of these guys who's so proud of his dick.  Ok, whatever.  I've seen more dicks than a gynecologist has seen pussies ; they're no big deal.  I've had him locked up for 2 whole weeks – allowing him access to the key so he could shower and keep it cleanly on my orders to do so.  But more importantly , he's been without orgasm for 2 entire months now ; a period of time that has included 4 sessions with me.
I promised him he could cum this session ; under one condition.  He had to pass the gauntlet.
This is how my mind works :  I see a movie.  I catalogue it.  Somehow I relate it to BDSM and bring an element of it into my session.  It's cuz I live at the movie theater , every afternoon if you want to know where to find me .. I'm at Terminal 21 Cinema.
But in this case, I recalled a very old Clint Eastwood movie called The Gauntlet.  I saw it a long time ago on YouTube I think , and it was memorable to me because it was one of the first movies to give me lesbian hots for a girl.  I was in love with the main actresses tits and had several wet dreams back in university scratching my pussy on the bed to the thought of eating her out.  Why her?  I have no idea.  Maybe I was just really horny back then lol.
Anyways, in that movie he – Clint – drives an armored bus through a gauntlet of rifle shooting police officers trying to stop him and though the bus eats about 100,000 bullets going down the main street of town it manages to arrive at its final destination just as it falls apart at the seams.
Wow.  Wouldn't it be wonderful if I could make a guy fall apart just the same as that bus did?
So I too ordered 5 girls from Bar Bar and lined them up on my living room sofa.  When Paul arrived I had Wael the rope bondage expert tie him up so he was totally helpless and in a bit of discomfort from being roped like a pig.
I had promised the girls a bbq dinner at my expense (well , his expense lol)  and my living room was decked out with enough food to feed a small army.  Each girl was to suck his dick for 20 minutes while the rest of us ate.
His orders from me were to not cum.  For if he did, he wasn't allowed to see me again for a year.
Pssh you say, I know, I can hear your thoughts.  Well what you don't know is that once a man is under my spell there is absolutely nothing he won't do for me , often at my amusement.  But this was no trivial game.  It was a test of willpower.
Also, I have to keep in mind that when I regurgitate these events that the guys this story will connect with will instantly want a similar session so let me throw in one caveat.  From time to time I get guys who have been seeing me for a while who throw in the towel when it comes to their budget for a session and they propose a John Hammond "spared no expense" Jurassic Park type of session.
I have another one tonight as well that's proposing 12 straight hours of me and Wael going nasty on him all through the night.  I don't always say yes to them … the feeling / the moment / the timing all has to feel right.  You can't just throw a bag of money at something like this , the dominos have to line up perfectly first.  This goes back to what I'm always talking about when I say I'm looking not for quantity of slaves , but quality.  Long term relationships allow some very deep exploration into the intricacies of one's mind.
So this "spared no expense" guy gets hog tied and is so excited from having all these girls giggling at him while being rendered helpless … and I DO mean helpless as Wael is a master technician at bondage now that she's studying it like it's a university major … he's so horned up from the humiliation he starts leaking precum from his cock all over the floor like a leaky faucet.  One minute into the first girls blowjob and he nearly shoots his load into her mouth begging her to stop.
Meanwhile I'm making him do trivial things like pass me a fork that's sitting on the floor 2 feet to his left and he has to wiggle like a worm to fetch it with his mouth … all while the girl is trying to crawl slightly to keep his dick in her mouth.  Fun shit.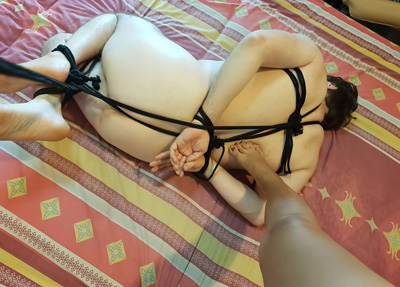 Not for him though.  By the time the third girl started sucking him he was struggling to last even a minute.  As soon as she'd start bobbing his eyes would clinch up and he'd contort his mouth calling on all his muscular contraction to hold his cum from shooting up the shaft too quickly.  I'd push his body with my foot and he'd plop over on the floor cooling his dick off on the cool ground before i'd roll him over like a sausage so she could do another minute of deep sucking.
When I finished washing his chastity and brought it over to him … he cowered like a dog about to be leashed all the while begging me to finish him first.
"I can't , I just can't be locked up again" he said repeatedly.
"Alright I'll make you a deal" I said.  "If you can make it to my washroom and find a way to piss in the toilet within the next five minutes … I'll let you cum by my hand."
We were in the living room , for those of you who've been to my condo you know it's a decent distance from the sofa here over to the bathroom.
Ever seen a worm squirm?
This guy plopped and flopped from one side to the next trying to gain an inch of ground towards the washroom … moving as if his life depended on it.  With his hands bound to his feet tightly behind his back he had to either inch across the floor using his man nipples , or alternatively he had to scrape his way to his knees while balancing on his forehead and wobble left then right to gain an inch of ground.
The laughter was sonorous.  At first we glanced at him over our shoulders but as he slowly but surely made it to the smaller colder tiles on the bathroom floor we all got up in unison to see how he might align himself to piss in the toilet while bound in such a state.  I'll give him full marks for ingenuity though.  He launched himself like a springboard diver over top of the toilet from a kneeling position and landed with his head in my garbage can where my blood stained period pads stuck matted to his hair.  Well one did anyways, which brought another chorus of laughter from us.
"Well come on let's hear you piss" I said ,  "you only have 90 seconds left."
"It won't make a sound" he complained.
"Why?"
"Because my dick is in the water." he replied and after I translated that to the girls they shrieked in laughter yet again.  I went over to flush the toilet not really knowing what effect that would have , I just did it for kicks to add to the silliness of the situation and fuck wouldn't you know it … the swirling of the water against his cock head was enough sensation to let him start to piss.  Fuck.
"I"m pissinggggggg , I'm pissssssssing" he proclaimed loudly.  Ah the thrill of the hunt, the promise of payment made full.
Now I've done over 1000 sessions in my tenuous career as a mistress and never have I seen a guy want to leave my condo more quickly than he wanted to that night.  There is a point where the realization of being humiliated past one's expectations becomes something one can't deal with at that particular moment I guess.  I don't know, I'm hypothesizing really.  Like, he left with jaw dropping speed as the moment we untied him he slipped on his pants , shoes , shirt and practically ran to the door.
Me too, I have these "well that's that" moments the second the session ends where I slip back into my skin of who I am every day.  I wanted these hirlings gone and I was quick to shoo-shoo them out the door politely soon thereafter leaving me with a huge mess to clean up for an hour afterwards.
Once I had showered and curled up on the same sofa all by myself … man I don't know … it's like I suppose how a heroin junky comes crashing down after the high has dissipated.  I mean, going from that type of evening to immediately going into countdown mode as the 24th slowly but surely approaches, it's a trip to experience two vastly different long lasting emotions one right after another.
But that's what I'm saying about the intensity of these sessions lately.  This medical thing hanging over me is definitely a catalyst for these swings of emotion.  If one were to graph Wael and I in relation to our emotions while in and out of session , she would be a parabolic curve as her love for femdom is exponentially growing , and I'd be a sin wave.
The derivitive of sin(x) is cos(x)
To solve for sin, the variable cos(x) must be determined.  I'll know what cos(x) is in relationship to me on the 24th.  God help me.
xx