"It's all yours" your headmistress said to me today.  She finished her last session before her Europe trip and gave me the keys to the femdom toyroom … the blog … the website … everything.
I see what she does.
I see how she does her blog stories.
And I see how she does her sessions.
In September I knew this trip would be a long one for her.
So I practiced typing every day so I not have to type with one finger now and take a long time just only to do 1 story.
Did English writing every day in my notebook.  Listened to Rod Stewart songs every day all day.
Now that I am head mistress Wael for one month … on my own … how do I feel?  You think I feel like this for sure …
No.
Not really.
If you want me to say true … I feel more like this …
Bob Marley said "every little thing is gonna be all right."
I believe in that.
Compare to before I am really good now.
Like 3 years ago I had to do my first CBT session.  After the session was finished she (head mistress) asked me "what did you do to him tonight for CBT because I didn't teach you that yet?"
I told her "fork in balls."
"You fucked his balls? What?"
No no … "fork in balls."
"Pork and beans  … you mean , right?"
"No fork in balls means … fork in balls.  See, I even did a fork in balls video to show her."
That was the days all I could say was "you like it?" over and over , and even if he would say "no it hurts" I'd say "ah but you like it" … because that was all the English I knew.
So what do I do now for CBT sessions?
Well because when I was innocent and learning … a lot of you guy sent to my gmail many many videos from Mistresses around the world.  I stopped watching Netflix.  At night I ate Frosted Flake cereal and watched 100 videos a night of bdsm sessions.
I took ideas from different videos and started to make my own style.
It takes time about 3 years to get a style.  Have to do the same style session over and over many times and try new things.
Like one video from kink dot com the mistress had her slave in this old factory … closed for many year.
And in the factory she made her naked slave pull a very big iron weight with his balls across the floor.
"Amazing" … I have to make my slave do that.
In my condo I have a 16kg Kettlebell for my ab workout.
What I found out?  You want to know?
If I tie a 16kg Kettlebell to a man's balls … he won't move.  Hmmm.  What to do?  My fantasy from the video is not the same like real life session.
Then I get the idea to start small and train the guy.
Same like I do for toilet slave training … start very small and teach him to handle more and more every session.
And now I get my guys to do something like this video I put in our Twitter …
With no unstretched sinew to protect them , will these hanging balls finally fail?

Mistress Wael#cbt , #balltorture , #testicle , #testiclestrengthening , #bdsm , #femdom , #mistress , #domina , #dominatrix pic.twitter.com/dVyjb6sYVi

— ThaiGoddessJaa (@FemDom_Bangkok) December 12, 2019
For his next session I bought a 10kg Kettlebell.
Then a 12 kg Kettlebell.
Sad 🙁  Nobody graduate past 12kg yet.  My dream is to find a slave who on his knees can pull my 16kg Kettlebell and go shopping with me for a 20kg one.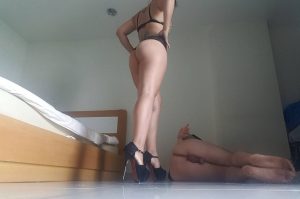 Now my video gallery is full with CBT ideas.  Waterbottles , clips , candle wax , many rope bondage styles , dick spanking , testicle tickling.
Always my session is fun and funny.  Never too serious.
She will always be the serious Mistress.  And I will always be the innocent fun mistress.
That come from me all my life try to keep my sister to smile every day and make her happy.  Now her Down Syndrome makes her so much pain.
She used to call me every day and start every phone call by crying and beg to die.
Every phone call she hang up smile and laughing.
How I can do that?  I just make everyting in my life fun and funny.  See the world with a smile.  And I push my idea about that to her.
So far .. it work.  She not die yet.  And before she try many times for go to the doctor and begging him for Euthenasia relief.
Now she say she cannot because she will missing me too much 🙂
And because that is in my life every day … I think my sessions copy that style … fun and funny.
Ok maybe to stab your cock with a fork is not so funny.
But that was 3 years ago.
I changed a lot.
I use a pitchfork now 😛  haha.
Mistress Wael