Femdom Sine Wave : Describing my best technique of controlling men as being like a sine wave.
By Mistress Wael
First of all, please don't think I know a whole lot about sine waves.  I don't.  It's just that I was having this chat on my Loyalfans Femdom Blog with a subscriber and was trying to describe to him not only how I control men so easily but why they enjoy it so much than they do with any other Mistress they have been with.
It was him who said "oh, so like a sine wave then huh?" and he had to explain to me what a sine wave was for the next 20 minutes ok.
But he is right.  So let me explain to you the same things I was talking to him about for the last hour.
Fear is a tool, not a weapon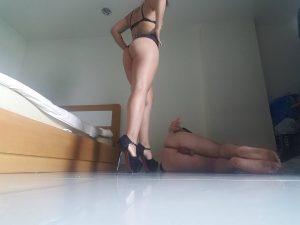 So to understand how I conduct my sessions you first need to understand how important it is for me as a Mistress to use fear as a tool to earn 100% of your respect for my authority.
Even if it is just 2 hours of authority you are granting me, that authority has to be absolute.  It can't be acted.  It has to be real.
I don't need to hit you or kick your balls over and over again for two consecutive hours.  There is no point to that.  Mistresses who do that – well – that is just a very basic way to conduct a session.
What I need to do is set the rules and see if you first understand them clearly and then see if you dare to break one of them.
For example, if I put my nipple in between your teeth and tell you that the rules are to not bite , suck , or use your tongue whatsoever and to just deal with the drool then I will first have you make it clear to me that you understand those rules.
Then if you happen to suck as most slaves do the first time serving me, you will be punished.
You'll be punished once, be it one kick, one slap, or one caning stroke.  But fuck – that one hit will be so hard , come so quickly and with zero compassion that it will certainly shock you.
It'll hurt – alot.  But I guarantee you after that punishment is given you will think long and hard about the next time you want to disobey me.
After that, all I need is the threat of punishment to hang in the air between us.  That keeps you in line.
Be Unpredictable
I waver from being extremely nice to you at the start to eventually – even if it's just for a moment – to being extremely strict with you.
At one moment I can be so pleased with how you are behaving when serving me.  Then in the next moment, if you have done something I don't like, you'll see the exact opposite side of me.
Your balls at that moment may go from have been caressed ever so gently for 10 minutes to being twisted to their limit a few seconds later.
Then back to pleasure.  Followed by the threat of pain perhaps.  Back to 10 seconds of pleasure.  And maybe I'll tie your balls tighter at that point before re-introducing them to pleasure again.
Back and forth.  Unpredictable.  Able to change my mood and style at any moment.  Keeping you on your toes.
The Baseline is Your Cock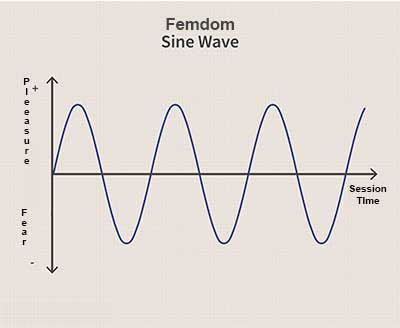 Ok so now that you understand my thoughts on being unpredictable and using fear to control you, now we can talk about the sin wave theory that I was talking to my subscriber with on Loyalfans.
Draw a sine wave.  Here, I'll post a photo of one for this section to the right.
The middle of that sine wave is the baseline.   The baseline is your cock.  What do I mean by that?
You see, it doesn't matter what kind of session I am doing, the focus will always be on keeping your cock excited and hard.
That means yes, even in a ball busting session the focus is not on striking the balls but keeping the cock super excited and crazy hard.
Foot worship?  Right, the focus is your cock.
Face Sitting?  Cock.  Get the idea?
So how do I do that exactly?  Must be hard right, since there are SO many femdom fetishes that all you guys like.
Well that is where the sine wave , being unpredictable and controlling you with fear all come together.
The top of that sine wave is the pleasure you feel from the session.  So that could be a break from cbt & ballbusting to reward you by teasing your cock until you are about to cum – as an example.
The bottom of that sine wave is the moments of the session you are uncomfortable, in fear, and unsure how to react or behave.
Perhaps I was face sitting you and tempted you by moving my pussy close to your mouth while I was massaging your cock and you took the bait and licked without permission.
Suddenly you scream and it muffles in my ass because I just spanked the bottom of your balls as hard as I could with my hand to get your attention.  That moment is the bottom of the sine wave.
We don't stay there for long, mostly , but we do visit it many times in a session.
Remember, it can be the fear of being hit that takes you down to that level.  The bottom of the sine wave doesn't necessarily mean pain, it just means you are extremely uncomfortable.
And in fact, most of that uncomfortableness comes from being jerked from the top of the sine wave so quickly.
Ah but that changes too.  Remember, I like being unpredictable.  So I might sometimes take you very slowly from pleasure to being on your toes again.  Up to me right?
Up and down we go, following the sine wave over the whole time you are submitting to me.
Each time we finish a cycle of the sine wave, it's like you are being hypnotized, you become very much my slave.  Why?
One because you don't dare disobey me or displease me by say the 2nd or 3rd completed wave.
Two because you're having so much fun.
Your Hard Dick Becomes a Secondary Thought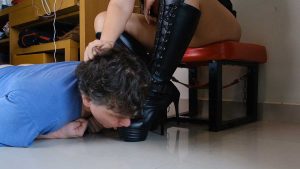 The result of this method of mine is that you hardly realize that your cock has been hard for two hours straight – assuming you booked me for a two hour session.
I've kept slaves hard like this for an entire evening and night – although that is one reason why I don't like to do 24 hour sessions any longer because it is so draining to maintain the sine wave until exhaustion.
In my last 24 hour session, I kept his cock hard for 16 straight hours and three natural orgasms came from that.  Meaning, his cock leaked cum with the feeling of an orgasm without me touching it all three times.
The whole time I think I started doing face sitting with him, then foot worship, then ass sniffing, chastity and testicle tickling, I forget what I did in the evening.   There were so many things.
Didn't matter what I did though.  I made sure his dick was hard the whole time.
After a while he stopped talking about or complaining about how long his cock was hard.  He was just having so much fun being controlled so completely that he stopped noticing.
That is when I know I am in the middle of a perfect session.  When the slave gives up and just surrenders to the idea that his cock will never have a chance to get soft and let him calm down.
See this is also why – if I had to guess – I'd say 95% of everybody who books me for a session at some point comes back to see me again and again.
For example this month I have had only 3 new emails come in and here we are at the end of the first week of June.   Just three new session requests.
But I've had 14 sms conversations booking me for different days in June so far.
Since they are talking with me by sms – that means they've seen me before and they have my WhatsApp or my Line.
Final Thoughts
I hope this helps you understand what a session with me might be like in case you have yet to see me and are wondering what I am like.
I mean, I can show you all kinds of videos I have done to let you see how I use my hands, my feet and my body.
But you won't be able to understand from a video what it is I am doing to control your mind and make you so happy to submit to me.
Submit fully, without acting.
Only a Mistress who has absolutely what a sine wave does in math but full understands how powerful it can be when used with female domination can accomplish you to submit fully 🙂
Lucky for you, I sucked at math and have a Ph.D in female domination haha.
Mistress Wael