My Ladyboy Machine is maybe not the prettiest, not the youngest and not the most chosen.  But she fucks like someone who is half animal and half machine.  One with no mercy whatsoever.  And she absolutely will not stop.  Ever.  Until you are broken.
Session Cost :
Mistress Wael : 7,000 baht
1 Ladyboy Machine : 3,500
Total: 10,500 baht
Session Duration:  Was supposed to be 2 hours but the slave tapped out with his safe word from ass pain after 1 hour 20 minutes.
Initial Email Request:  I'm looking for a bit of humiliation , possibly with a ladyboy.
The Machine : My Ladyboy Terminator Session
By Mistress Wael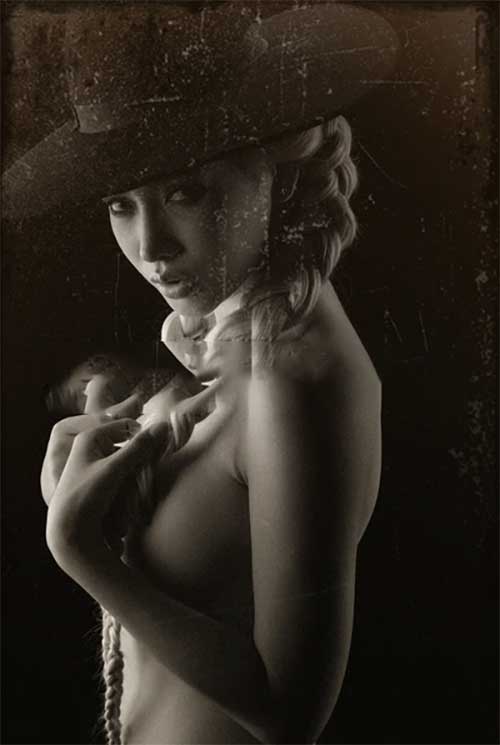 He wanted humiliation so let me tell you one of my favorite ways to make a slave's ears turn red.
This was 2 days before I had to get the 6 ladyboys for The Ladyboy Gauntlet so I brought my slave to that same ladyboy bar that everybody I had heard from said was so good.
I sat him down and made him tell me one by one which ladyboys he found to be the most attractive.  As he pointed them out I one by one crossed them off my list of ladyboys I would be choosing for him.
I kept asking him until he had named almost every ladyboy in the bar except for the Mamasan boss and the one ladyboy sitting against the wall all alone.  The one nobody wanted.
She was older than all of them.  Older than me.  And I think she was even older than the boss of the bar.  She looked like she had been through many wars.
You know about her already , I re-used her in The Ladyboy Gauntlet that I arranged for Mistress Jaa.
I called her over and as soon as I did my slave said "what? her? No, not her , I'm not into her at all."
To which I said "its not your choice, is it?"
And he went silent.
This was my first moment meeting her.  So I had to test her.  Anybody can talk , but can they perform?  I asked her nicely to take my slave by his hair and drag him around the bar and make him kiss every ladyboys ass.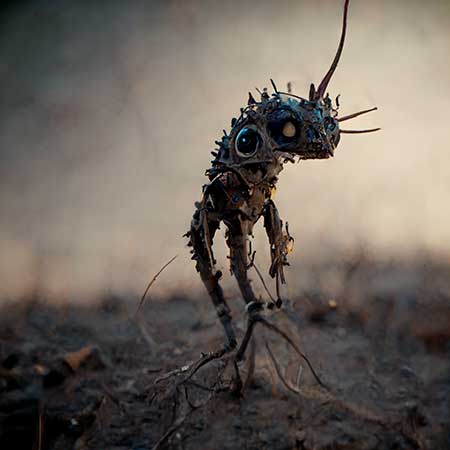 You know what she did?  Fuck it was funny because I had told her to do this in Thai.  My submissive slave had no idea what I had just said to her.
So when she grabbed him by his hair and threw him past her onto the floor with both hands I was shocked.  Nothing much shocks me anymore.  But that did.  I think it shocked my slave even more.
He was not a tall or heavy slave.  He was only 24.  Looked like a weak Harry Potter.  So when I say she threw him … I mean she really threw him far.  He landed about 2m from the table.
Thing is – he didn't even have time to complain.  She grabbed his hair so hard that I saw – in the dark – some of it fall onto the floor.  Like when she was pulling him … he had to walk like a dog running on his hands and knees as fast as he could or he was going to lose 1/2 of his hair.
He had long dark hair and she had it wrapped in her hand like that thing you grab when you ride a horse.
When she got to the first ladyboy she pushed him into her ass.  So hard that her friend almost fell over.
They laughed.  Other ladyboys saw what was going on and came over.  Then in front of everybody in the bar The Machine was grabbing him by his chin and hair and pushing him into all their asses.
I fell in love right there.  But I didn't know that was just the beginning of what she can do.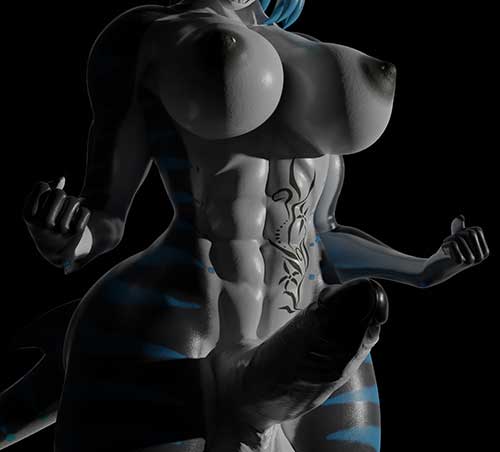 I hired her.  3,500 baht including the bar fine.
In 9 years I have been a Mistress I have done so many sessions with ladyboys and Mistress Jaa.  Not once has a slave ever used his safe word for ass fucking or throat fucking.
And trust me, we have fucked some slaves very hard – especially me because I'm bigger and stronger than Mistress Jaa.
The Machine was the first ladyboy to break a slave and she did it in front of my own eyes.
I even had the bigger dildo.  I have stronger muscles.  I have watched brutal face fucking and ass fucking videos as study material.
But I learned what I didn't have was the aggressive animal inside of me like she does.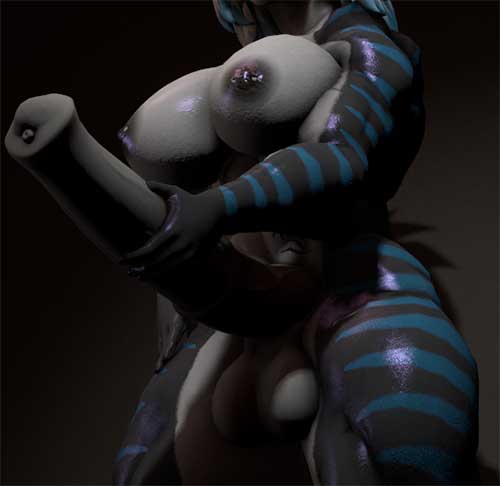 When we got back to his hotel room the Ladyboy Machine didn't need me to tell her what to do.  What a relief.  Usually I have to order everybody around.  Arrange positions.  Tell them what to say and how to act.
As soon as we got in the room she took her skirt and panties off.  Her cock was thick curved and hard.
From there we started to move as one.  Each knowing exactly what to do.  Incredible because it was the first time we had met.
Grabbing my slave by his collar leash she yanked him to his knees , grabbed his hair again and directed my slave's mouth onto her cock.  From there she grabbed his cheeks and ears and stuck it all the way down without warning.
It was really hard for me to get my strap on dildo in his ass.  She was fucking his throat so hard that he kept backing up like a train sliding down a mountain.  He was trying to escape her cock but she wouldn't let him.
Finally I decided just to keep the tip of my dildo inside his hole.  Because as he backed up he put my cock in his ass himself by doing so.  Eventually with my dildo all the way inside his ass he had nowhere to go.
I learned to be the one to throat fuck first.  I mean … I have seen spit pools on the floor before from throat fucking but this was not a pool it was an ocean.
Every time she pulled out of his throat he looked like the girl in The Exorcist when she threw spit across the room at the priest.
I was looking around the room thinking of a place to stand when we switched spots.  Then I decided maybe we will just stay in this position for 2 hours and my feet will stay dry.
But in Thai she said to me exactly this "switch!  I want this fuckers ass."

You want to know what it looked like when she was fucking his ass?
Imagine Godzilla mauling a chimpanzee.
Meaning … there was no holding his hips and pushing the dildo in and out like most ladyboys do.
She was trying to climb up and on him so that her cock would go deeper and with gravity would fuck harder.  She she was always climbing over him.  One leg up on the bed , then two.
The best was when she looked like she was doing the barbell squat I do in my gym and balancing herself by leaning over his back and pushing the back of his head between my legs and into the bed.
Like, through the bed almost.
So me standing there with a strap on and trying to throat fuck him became impossible.
What I did was keep him hard by stroking his cock.  It was a bit dangerous.  She was pounding him so hard that there was almost no space between his cock and the bed in doggy position.
So I had to lay down beside his knee to reach in and stroke his cock.  I say dangerous because when he couldn't take her fucking him anymore he would collapse on the bed and almost break my wrist.
I don't want to say prison rape because that sounds bad.  But ya, maybe I have to describe the last 1/2 hour as being like that.  She didn't get tired.  She got stronger , harder and more forceful.
It was the most "forced" … forced-bi I have ever seen.  Like the last 10 minutes were 100% forced.  He couldn't even scream.  She had his head pushed so far into the bed that anything he cried sounded muffled.
But what caused him to surrender and use his safe word was me playing with his cock head after I had made him cum on the bed.
I think that was too much.  I know how to get the most reaction from a cock that just came , I know where men hate to be rubbed when sensitive.
It's not just the flat cock head.  It's the sides.  The rim around the head.  I make one area sensitive and then I switch to a new area.  The way I do it makes men scream and beg.
But he was already screaming and begging.  So the endless hard fucking now combined with his loss of sexual appetite and me making his body twitch and shake was all just too much for him.
"Mercy.  Mercy.  Mercy.  Mercy" he tried to scream over and over.
The Machine looked at me looking for a cue of how to proceed.  I put my hand out making a stop motion.  A safe word is a safe word after all.  So I shrugged my shoulders at her.  It was after all the first time a slave had given up in a session.
… in 9 years time !!!
I leaned over to whisper in his ear "do you feel humiliated?"
He cried.  He tried to reach behind him to grab his ass but I wouldn't let him.
Instead I fed him his cum from the bed.
"Hmm , now you feel even more humiliated don't you?" I whispered.
He just sobbed into his pillow face down.
I was a bit … umm , not sure how he felt.  Usually slaves talk to me after a minute or two if the session was really hard.  But he kept his face in the pillow for 5 minutes before I asked him to give me a "thumbs up" if he enjoyed it.
He didn't just give us one thumb up.  He raised both hands and gave us two 🙂
Mistress Wael
Book A Session
Looking to book a session?   Fill out the form or send one of us an email and in it be very descriptive about what you would like for a session, where you're from, what your name is, and when you would like to meet.
If you decide to fill out the form, double check that you've typed in your email address properly cuz guess what?  If you fuck that up, I can't get back to you, end of story.  It's shocking how many guys can't spell their own email address.
Mistress Wael is available from 1pm until 10pm every day, while I am available at either 7pm or 10pm Monday – Thursday and 4pm on Friday's.
1 hour sessions are 5k baht while 2 hours are 7k.
Human Toilet Training with Mistress Wael is 15k and with me it's 20k.
With Mistress Wael sessions are outcalls at your hotel, house or condo and with me they are held here at my condo.
Check out our Fees & Bookings page for all the information you need to know for booking your session with us.
Mistress Jaa : [email protected]
Mistress Wael : [email protected]
ladyboy machine 1 , is a ladyboy machine 2 , because of a ladyboy machine 3 , which is a ladyboy machine 4 , he wants a ladyboy machine
she wants a ladyboy machine , i want a ladyboy machine , what model is the ladyboy machine , not a defective ladyboy machine