Why is my Tease & Denial session not only amazing but so different from anyone else?
4 reasons :
 Edging Pre-Session Training
 My 3 day rule
 Secret Teasing tool nobody else uses
 Chastity control
So let me explain each.
Edging Pre-Session Training
What I found from 6 years of Teasing is men don't know how to control their orgasm.
That is because 2 things.  Never trained cock muscle to stop cumming.  And no willpower.
So hopefully you always book your session with me one week out from the session date.  So I have time to teach you control.
I use this Edging Challenge 30 minute video for you to practice controlling your orgasm for 3 days.
Your job is to make it through not the whole video.  Just one stage each night.
Of course you will fail.
How it goes is … you will fail and cum the first day.  Second day you will make it through one stage.  Third day you will explode again … but hopefully this time on the 2nd stage.
I don't care about the rest of the video … that is for you to practice when you return home the weeks after our session and you can keep practice.
Why this video?
One … because it has sound.  You MUST  beat your dick to the sound.  Don't do your own speed … follow the sound.  Because it teaches you what I know already … perfect Tease & Denial is about speed (and pressure but I will talk about pressure in a minute.)
Two … because it forces you to watch over and over the thing you want to do the most … cum.
It tricks your brain.  You must fight what your eyes see … especially when your brain is weak and wants to give up.  Don't.  And don't look away from the monitor.  That is cheating.  You MUST stare at the monitor the whole time.
After 3 days you are ready for my other 3 day rule …
My 3 day rule
My 3 day rule is really very easy.  Don't touch your dick after your video training for 3 days.
No playing, no holding, no edging.
Nothing.  Hand off !
Why?  Because yes maybe you cum 2 times and very heavy from the video training but that is good because it make you remember your last orgasm was special.
You will want that feel again.  And you will get it soon … with me … but you have to wait minimum 3 days until our session.
I prefer 5 days.  But honest …. a lot of guys fail if I tell them 5 days.  Especially beginner guys who never session with me before.  I know from our session how much you cum if you touched yourself or not.
What I don't like?  I really do not enjoy games.  Please do not sms me and tell me you failed and you cum by yourself.  Some guys want to test me and see if I will punish them for not listening to me.
That is a different style session.  CBT or corporal punishment session.
With Tease & Denial please understand it is hard to survive one week of feeling hard.  It is worth it in the end if you practice control.
Because if you do not want to practice control … why come to me in the first place right?
It's only 3 days.
My Secret Teasing Tool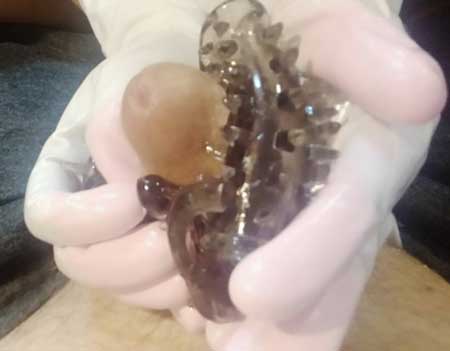 What do you think it is?  Rope bondage maybe?  Or cock ring , or is it a special oil from a jungle plant in Africa that I had to go find myself?
Well bondage is important yes , but that is not what makes you beg.
Cock ring is something I use for some guys who can only get 60% hard … usually older men.
I use Johnson Baby oil because its cheap.  Oil is oil.
No the thing that makes guys crazy is my soft rubber thumb toy that I rub in oil and wear on both hands not just one.
Because guys tell me it feels exactly like a pussy.
So why not a fleshlight or other toy that looks like a pussy?
Pressure.
Any toy you buy to put your dick inside you have to hold – and that makes your brain know it is not a realy pussy.
But my soft plastic toy with nubs on it and slippery oil feels exactly like a pussy because … i control the squeeze pressure for you.
Sometimes soft , sometimes hard , sometimes I bend your dick and sometimes I make your dick push through hard.
Different pressures make you go crazy.
200 baht it costs me.  Shows you the best toys in the world are not always the most expensive.
Chastity control
How to end a session.
In reverse order from what I enjoy not what you enjoy ….
4. Back to back (to back) orgasms with sensitive cock head torture between.
3. Ruined orgasm
2. Rapid aim for the roof cumshot orgasm lol
#1  …  stop and lock you in chastity just before you explode , tease your balls to make them really hurt … and send you home.
Then I let you cum the next day you see me.
That is why I love back to back 2 day sessions the most.  Love to control you over time like that.
What is different from me and your head mistress is she only talks with you through email.
I enjoy to practice my English and tease you over Line and WhatsApp sms message too.
When I do … I put priority to the guy who had a session with me and is begging me from his hotel because I keep teasing him late at night with sms.
Less stress for me too.
I stress a lot to do a blog because I have to type what I think.  With sms I can speak to my phone what I am thinking.  Very easy for me.
I love to send voice message too and short video tease.
Why because I have to make sure you come back to me the next day and not run away with my chastity.   😛
That's it.
That's why I'm the best at Tease & Denial.
4 easy steps.
But it took me 5 years to perfect those steps.
Was it worth it?  Yes !!  A million times yes.  Come see for yourself 🙂
Mistress Wael
I'd Like a Session with Mistress Wael
Intense Tease & Denial / BDSM Sessions