For years I've been playing this mental game with a few hand picked submissive guys who'd been coming to worship me often.
I'd let them dry off from their shower in my living room , giving their mind a few more moments to race in circles with thoughts before I'd sexily walk out from my bedroom completely naked except for a pair of cute white cotton socks , the kind the come with a pom-pom on the heel.
Leaning back against the wall furthest from them I'd slide down ever so slowly until I was seated on the floor with my feet crossed over top of one another.
With one hand I'd reach forward and slowly remove my  socks while with the other I'd gesture for the man to lay down on the floor over by the sofa.
Again I'd let silence throw loud daggers at their minds.  I'd sit , and which ever particular person was seeing me that evening would lay across the room like that for minutes on end.  Until finally I'd say:
"Crawl to me.  Show me what you want."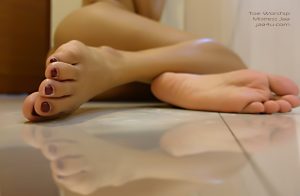 Slowly they'd make their way across the warm linoleum cream coloured floor towards me , hardly ever making eye contact.
At last they'd reach my shiny toenails, glistening from the tungsten glow of the foyer light , the only one I'd have on in the entire condo.
Sheepishly they'd look up at me as they began to ever so lightly kiss the tips of my toes and I'd look them in the eye much the same way a shoe would look down at an ant.
My looks of unamusment would hinder them not.  Eagerly each and every one would lap up my toes for the entirety of the session , and then thank me on their way out a few hours later.
They'd return for a second session and once again we'd play out the exact same scenario.
And a third.  Perhaps a fourth.
Then they'd stop coming.  Boredom perhaps.
Eventually though, each one would inevetably email me and ask if – upon the next session's arrival  – we could do something else.
"It isn't the mountains ahead to climb that wear you out , it's the pebble in your shoe" is how I replied to all four guys when confronted with their uniform request.
Having chosen on purpose four submissive and yet clearly intelligent men they all responded with some sort of  verbage saying  "how do you mean?"
"The choice to do something else has always been there ,  it's you who chose to ignore the mountains beyond to instead dwell upon my feet."
"I could have worshiped your pussy instead?"
"Yes.  At  any time."
All four of those men went through varying stages of madness before their next opportunity for a sesison with me arose.
It's like finding out the cute girl who lived next door when  you were  a kid always wished you'd have come over and fucked her when she was alone.
Would I have truly let them worship my pussy?   Definitely.
Did I think that was something I'd have to contend with?  Hardly.
Now certainly there's a lot of factors that weigh in on my favour come their moment of action; social acceptance, adequacy, societal norms to name a few.
However I felt safest with the fact that men, but submissive men in general – tend to let whatever their own personal 'pebble in their shoe' stop them from embracing their dreams – the proverbial mountain before them.
So I share this story with you now – knowing that of course I'll have to abandon that game entirely now – because we're experiencing unprescedented times at the moment , and I can literally feel the anxiety building at the other end of these emails I'm having with you as the days pass.
Pay attention to the smallest of details in your life, the things you absolutely can control right now, namely : your health and your mind.
For me, that means paying attention to my immune system by  eating healthy, exercising every day, and making sure I'm topped up on Vitamin C
I watch an hour of comedy every day.  I write every day.   I remember to smile every day.
Toss that pebble from your shoe guys …  and when sessions resume … please don't do your best Komodo Dragon lizard impression by scooting across the floor and diving into my 'puss  … us wolves do eat lizards after all.
xx
I'd like a Session with Mistress Jaa
My sessions are mostly soft, sensual and seductive.