Tickle Torture added a new layer of fun to what i now call my Tickle Torture, Tease & Denial session, and that is strange because Mistress Jaa didn't like Tickle Torture as a way of teasing but your goddess Mistress Pasaya does very much.  I was really into his Tickle Torture, i mean for 2 hours i felt like we were boyfriend girlfriend and i could Tickle Torture him as much as i wanted because he loved it.
If the how of the story is the Tickle Torture, the why of the story is …
Why is Tickle Torture Such a Memorable Experience?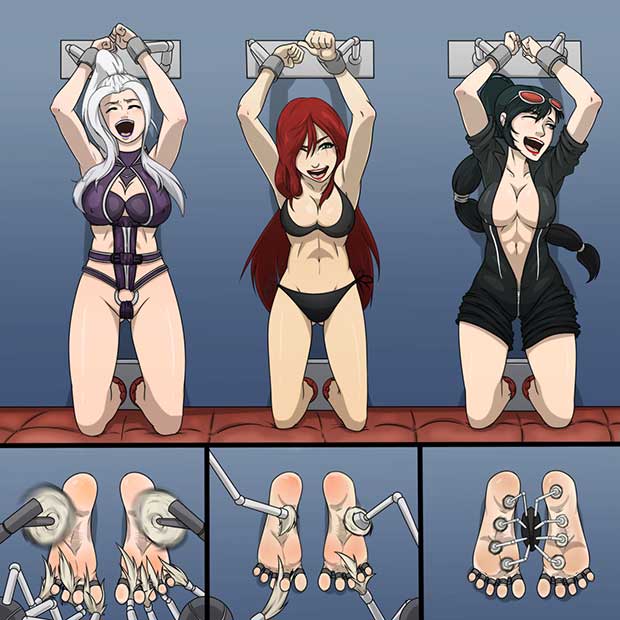 Tip : it's in the passion of the session.  Read his email to me first and i'll explain …
Andy
12/30/14 (4 days ago)
to me
Hey sweety.  My ribs hurt.  My thighs hurt.  Everything in that Tickle Torture session hurts haha.
Need to tell you that I have been super busy traveling and trying to enjoy several activities in koh samui, the weather here is mostly cloudy, but we always find fun activities to do. I have to admit that our time has been remarkably awesome, erotic and in general it was a memorable experience.
My first experience with Mistress Pasaya was truly erotic beyond words, I can describe her as gorgeously good looking and beautiful women, sensuous, intelligent, sophisticated and talented in the art of domination. Both Sexy, and wicked. She will use you in any way you desire, she can completely live your fantasy.
I did submit myself to her and she had a full control over my body, She did psychologically took every part of my soul and devour all my desires ,Under her control anyone will do exactly as she desire.
She did tease and tickle torture my physical person as I was tied up under her mercy, She did make me shiver with excitement and anticipation every single second, leaving me with a memorable erotic experience that I won't forget anytime soon and leave me asking for more.  Her Tickle Torture was the most sensual experience i've ever had with a mistress, including 2 of the more famous Mistress's in Europe who offer this Tickle Torture type of session.   I wasn't anywhere near as horny with those Mistress as I was with Mistress Pasaya.
Maybe I can invite you for a drink after the next session at the hotel top sky bar before I leave Bangkok 😉
Looking forward to see you
Andy
Date: Sat, 27 Dec 2014 16:26:46 +0700
Now do you see what i mean when i say i kill every man?  Tickle Torture is enough to kill 555 … Not have to use pain or torture or whips or canes (well can if you ask haha) but how i do it is make you let me into your heart and then i kill you softly.  He says i had full control from his body.  Yes because i rhymed him — made him trust and lust me — it's a must!  Can you think why?  'A memorable experience' it comes with trust.  Once you feel it is not a 'session' but a 'memorable experience' you give your heart to me and not just your cock.
Sure your cock is ok but you can pay any lady money to make your cock happy.  Where do you find a girl to make your cock your heart and your mind happy?  haha — now you know.  The Tickle Torture is just the tool, the way I do the Tickle Torture is the key, the closeness, the passion.  Life is about passion, isn't it?
Let me clear your brain — i do it with every man in every session.  Not only him na …
[email protected]
12/30/14 (4 days ago)
to me
Sorry mistress for all my emails,
I hope you don't block me … but I think day and night and every free second about the last session and you….
No idea what you did with my brain – it is gone …. No more brain…
I had no drink in your room – so no drugs … It is a little bit like hypnosis.
You did not hurt me …you did not hit me … You just gave me your smile…
I think it is dangerous to play with you … In my emails with mistress jaa, I don't like to meet you … I was just addicted to see mistress jaa
And now?
I am on holiday – I should relax – I should sleep with my beautiful girlfriend – I should have an easy time …
But the reality is different
I don't sleep with her, because I worship you … I cannot relax …. You are always here ….I miss your smile, your skin, your weight on my body, your weight on my face, your soft hand, your skin, your lovely boobies, your beautiful ass, your eyes, your smell – YOU
For sure … I send you to much emails – and maybe you blog me …
But I have to tell you that I miss your laugh and your smile….
You definitely need a photo on your website with your eyes and your natural smile…
I wish you a perfect day !!
lol he didn't even want to see me and now?  Give a man 'a memorable experience' and look what happen to him 🙂  Aw but he is sweet we even argue a little bit now in email about men and assholes 555.  Crazy huh?  I think so.  Just i feel sorry a lot for men and the relationships with woman why so many women cannot take care of the man and give him a memorable experience like i do?
I told him in my last session i had 100 dates or more since last year.  98 men i threw out after the first date.  Kept 3 only and two of them i fight with every day because fucking jealousy makes them crazy.  Ya i am like that — i choose my man carefully.  So far no man can cut it with me.  Why?  I am a girl — am looking for 'a memorable experience' too — but all men think with his dick.
Met a man on the bts last week.  He asked me for my number and i give it to him.  Why?  Because if he is brave enough to come talk to me like that sure i will give him a chance.  Took him 5 fucking messages to tell me something sexual he wants to do with me.  See if he didn't think with his dick he wouldn't be blocked.  If you start talking about how you want to kiss me , fuck me, hug me, hold me, lick me, you just make me feel not comfortable.
My sessions make you crazy because — i make you feel comfortable first ….
Richard <[email protected]>
12/30/14 (4 days ago)
to me
Hi  Mistress Pasaya ,
You made me feel so comfortable.You are my complete fantasy except you are very real.
I now have a feeling I don't want to leave you, I want to stay close.
You have a beautiful open heart. It shows.
Thank you for making my visit very special
I would love to see you again.
HAPPY NEW YEAR !
Richard
Sent from my iPhone
It's not hard to make somebody feel comfortable.  Just think with your mind and not with the other smaller brain.  I'm lucky to be a girl i don't have a problem about 2 brains i only have 1 haha.
Maybe that's what it takes to give 'a memorable experience' — just have to have only 1 brain.
** Tickle Torture sessions have to have a safe word.  You cannot use "hahahahaha" as your Tickle Torture safe word, sorry.  No cheating.
Pasaya xx
[formcrafts id='10805′ name='Book A Session' align='left'][/formcrafts]
About the Author, the Domina, and the Girl: Mistress Pasaya
I am not j
ust a Bangkok Mistress and Domina / Dominatrix , i am the most sexy Domina in Thailand and for sure with Mistress Jaa we are the smartest.  A Bangkok Mistress these days is about the colors red and black and fake photos pretending to enjoy bdsm in an expensive dungeon.  I enjoy bdsm because i play with my clients using my brain, my imagination and my understanding of how men think.  The bdsm toys are just a tool really, a real dominatrix doesn't need to use tools if she doesn't want to, and that's where i am coming from — i am a real Dominatrix — Jaa and I are Bangkok's only true domina 's in my opinion.  I'm really into Tease & Denial since it makes men beg but i'm also into a different kind of begging — the kind a man makes when i've stolen his heart, his soul, and his mind — and then then throw him to the water for the mistakes he has made to lose me.  I guess i am a teacher for men as well then, i teach men what it takes to keep a girl like me.