What would make my Cross Dressing whore want to eat Apple Sauce for a week?
It's not that he wants to eat Apple Sauce – he actually hates the taste of it.  Nope, the truth is, he has to eat Apple Sauce and of all his fantasies of being forced to do things in his session he never considered that he'd have to force himself to eat baby food for a week.
Wii is a 31 year old Asian boy who without his glasses looks like he could climb into a Bruce Lee movie, and with his glasses looks every bit like the database programmer he is.  The only thing that gets him through his days is the feel of the pantyhose and satin panties that he wears under his business suit which is fine but he has always felt that his geeky looks prohibit him from being the sexy slut that he secretly desires to be and that's why he emailed me.
I asked him what his fantasy really is and he admitted to secretly wanting to be forced under his bosses desk to quietly pleasure him while he conducts his meetings all day but dismissed it by saying that even if his boss was into that, Wii would be the last guy he'd ever choose to be his bitch.
Really?
So I asked him to send a photo and after talking it over with my friend Mistress Wael who is also a Scandanavian makeup school professional  … I replied back … "what if I told you that after your first hour with me and Wael you'd have the most fuckable cross dressing mouth in Bangkok and that I already have somebody interested in using you if you're pretty enough?"
Asian guys have small bodies, and in particular small waists and skinny legs that make the whole cross dressing transformation very believable once the makeup and hair has been done properly.  While I was happy to leave the makeup part in the hands of Wael, I was more interested in counting up the number of times he opted to use the word "forced" for his cross dressing fantasy.
There are two types of submissive guys who use the word "forced."  The first is the guy who for whatever reason doesn't want to come to terms with his secret desire to want to be a cross dressing cock sucker.  Maybe it's his job, or his fear of his friends finding out, or maybe it's just that he doesn't see himself as a guy who would go that far to please his secret fantasies that swim in his brain at night.  This kind of fantasy is easily solved with my very cute ladyboy friend as her feminine appearance clouds that boundary between doing an act that he feels is too "gay".
The other forced fantasy, the one that this cross dressing guy wanted, has nothing to do with desire to suck a dick, and everything to do with simply being used.  Here's the big difference between the two fantasies though.  The first guy is in cocksucking heaven when he finds out that my sexy girlfriend's cock is actually delicious and the cross dressing part of his fantasy slips away, not being anywhere near as important as the enjoyment of feeling the release of his closet desires.
However the second type of fantasy is actually not enjoyed at all during the actual session.  In fact, it doesn't fit the fantasy at all if at every moment he is not wishing for the session to end, he needs to feel as if he has fallen into his fantasy which in actuality is really a nightmare.  Why?  Because like a bold red wine, the fantasy doesn't actually reach its full effectiveness until it has had time to age.  It's after the session, once Wii is back in Korea laying on his bed at night that he's going to truly appreciate the session by how hard his cock gets thinking about it.
It's true.  But to get to that point he has to truly feel that he is desirable enough to be used.  When Wael was finished with him and he saw himself as the true Hentai doll that he was for the first time he was in shock.  We then took him in a taxi over to Phrakanong to the Life condo where I met for the first time the guy who had best answered my Craigslist ad.  Raul, a 45 year old Cuban guy was the only one to really understand what I meant when I said "use him for your pleasure" in the ad.
We're all fucking beasts inside.  I'm sure if society broke down we'd see the animal come out in 90% of us but we're so tied to conforming and being accepted that it's actually truly difficult to find somebody who is willing to let that barbaric side of him loose.  Most ads were answered with questions of "does he want his nipples pinched?" or "what do you want, what does he want?" when I clearly stated that none of that mattered … what I was looking for was somebody who was only interested selfishly in his desires.
Now Wii my sexy cross dressing whore, he had no idea who Raul was as I told him we were going to meet one of my girlfriends and another friend before going out and he probably assumed that Raul was one of my other friends.  So conversation was a bit forced in the lift going up to his condo as nobody knew each other and I was thinking that this pudgy guy just a bit taller than me … and I'm fairly short … hardly looked like somebody who could use Wii as I was hoping.  But then a glance down at his jeans told me that if we didn't get to his room quickly his dick would tear a hole in the guys pants so he definitely was excited at least.
Cross Dressing wasn't something that Wii had done before, not this far at least.  Wearing pantyhose under trousers and having dreams of being under a boss's desk is far different than looking like a Japanese Hentai whore and walking into a strangers apartment.
Applause for Raul.  We get into the condo and he walks right into his bedroom pulling, almost dragging Wii by his hand and I'm thinking 'yes' … that … is how you start a session and take control of somebody.  Even better was what he did next.  He pushed Wii to his knees, unzipped his jeans and the fucking fattest dick I've seen yet bounced up and down in the air in front of Wii's perfectly pouty lips.  Grabbing him by the back of his pink ponytail scunchys he almost pulled Wii's wig off forcing his whole dick down his mouth.
Couldn't have been done any better.  "Fuck, now you're going to learn what forced means I think"  I said laughing.
I had the idea to play with Wii's dick to tease him while he was being used but I suddenly regretted not bringing my strap on and joining in.  Raul was merciless.  He only let Wii off his sword long enough for him to catch a breath before impaling him again.
But I did catch on to the cheating game Wii was playing to help him survive his session.  I didn't have my riding crop, my bamboo twitch or my whip since we had taken the BTS so I just took him by his chin and face slapped him 10 times on each side.  By this time the makeup that Wael had done so well was melting down his cheeks and the mascara got on my hand as I slapped him making him look even more like some female Joker character from a Batman movie gone wrong.
"Why?" he asked as I was slapping him.
"You want forced and I see you trying to keep his dick from going all the way into your throat, that's not forced is it?"
So I laid him on the bed with his neck hanging over the edge as if it were waiting for the executioners axe, except in this case there was no axe in the room only a sword haha.  Raul straddled Wii's face and dropped his thick thing into the mouth like a train disappearing into a tunnel.
Wii kicked the bed and I jumped on top of his legs so he shook side to side instead trying to get the dick out of his throat but gravity was against him this time.  When Raul pulled out a mess of spit came up with it and Wii breathed as if he had been under the ocean drowning and was catching his first breath at the surface.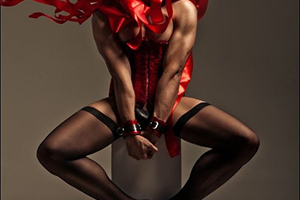 He shook.  An actual tremble that went through his body, I could feel it just by sitting on his legs.  That was the moment that I told you where he would start to hate the session and wish for it to be over.  Raul started face fucking him and each time he went balls deep Wii shuddered and even though I was playing with his dick it was shrinking in my hands.  So, fuck, I feel bad about what I did but I feel that if he honestly was going to remember the session in the weeks ahead and masturbate hard over it that his dick needed to shrink even more.
I asked Raul to turn him over, lift his chin up and face fuck him that way which would give me access to his ass and the back of his balls.
We spent the last 30 minutes in exactly that position.  Wii was spit roasted, my fingers going into his ass the same time Raul's cock was coming out of Wii's mouth.
When Raul let Wii's head drop to the side of the bed and came over to where I was there was this moment where I thought I should stop the session.  Again, the animal in men when let loose has no limits and I'm sure that had he gotten a chance to put his fat as fuck dick into Wii's ass he would have monkey fucked him to death.
I guess Wii realized that too when Raul lifted his ass right off the bed to the doggy style position because he rolled off the bed saying "stop stop enough enough."
He said it with more emphasis than any safe word I've ever heard spoken before.  This wasn't so much as a safe word as it was him hitting his absolute limit.
Forced means forced.  Anything less is something that is not being true to the meaning of the word.  I looked at Wii sitting on his knees in his own puddle of spit acting like he was some sort of cat coughing up a fur ball clutching at his throat and sort of self massaging it.
"Enough?" Raul finally spoke after an hour of pounding.
Wii just rose his hand in response making a stop gesture.  I wondered at that moment if Wii would ever have a cross dressing fantasy again.  But I tried to convince myself that it's not the cross dressing dream that makes this fantasy work, it's the forced part of it that needs to come to a slow boil over the next few weeks.  It's hard though.  I've only done two forced sessions now to this extreme and both have had me feeling like "wow, this guy really got his limits pushed."  Is he happy with this?  Who could be?
For about 20 minutes Wii disappeared into the bathroom.  When he came out he quickly put the 10,000 baht on the small glass top kitchen table and left without saying a word.  I too left shortly thereafter and on the bts going home I was really having second thoughts about how far I pushed this cross dressing session.  Wael sent me a Line asking me if Wii enjoyed the makeup and I said I honestly didn't know.
I have this faith that I understand exactly what men want, that I understand their fantasies even better than they do and in some cases like this one, that faith really gets tested in some moments.  For three days after the session I didn't hear from Wii, nor did I dare to even email him to ask him how he was or whether or not he enjoyed his cross dressing fantasy with us.
Then, on the fourth day I got the Apple Sauce email.  Faith restored, I do understand men's fantasies better than most …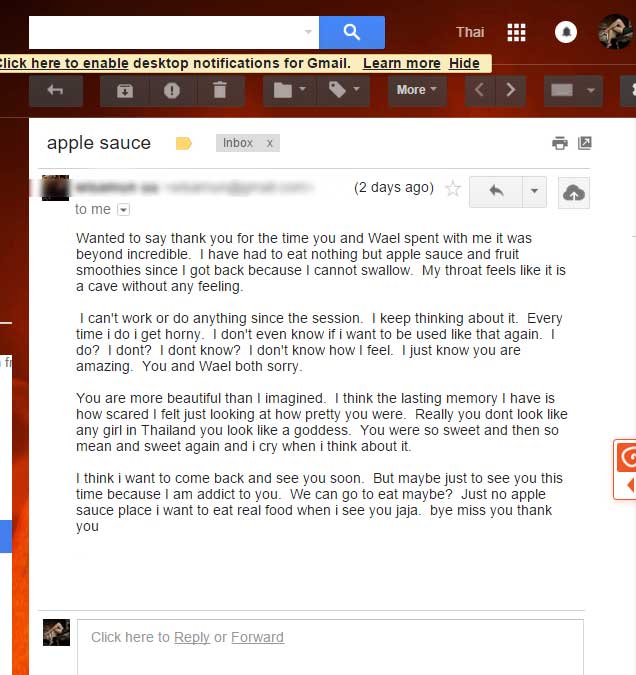 Jaa xx