Saying you want to be Face Fucked and then guiding my dildo to the side of the throat with your tongue is like trying to get a little bit pregnant.  It's a cheap trick, it pisses me off, so don't do it.  As the guy found out tonight you'll be punished by me or by my ladyboy friend mercilessly.  We don't want to hear fake moans, contrived breathing difficulties or see unnecessary thrashing of your feet and hands.
What we want, unequivocally is for you to accept the last inch, have her balls press deeply into your chin, and if that destroys your throat and makes you gag her cock back up then so be it.
So tonight even though my sissy session went great there was again nothing out of the ordinary to write about, and in fact tonight was but a sexy repeat of Monday's session with the same person – hey what can I say, sissy cross dressers love me.  Probably because my best friend is gay, all his friends are gay, and they all love me too so I really seem to identify with that type of a session.  That being said, writing about how I fucked his ass for 1 1/2 hours straight isn't terribly exciting stuff and since my fantastic sessions last weekend it's been a light week with not much to write about.
Ah, but relaxing downtime is fleeting isn't it?  🙂
Enter stage right Mr. 'I Wanna Be Face Fucked' for my session because 'i deserve it.'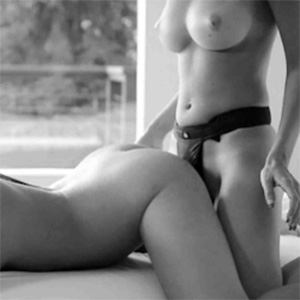 Oh I'm sorry, I've been remiss in my details.  Did I forget to tell you that I had already ass fucked my sissy boy for an hour on Monday night this week?  So, you'll understand why I walked home from Nana looking very much like I had to take a tremendous shit with every shaky step down soi 11 going back to my condo.  With just under 3 hours of pounding ass action under my belt – and when I say pound I do mean I like to pound – my legs, in particular my thighs and hips were seizing up on me making me feel so light headed that I felt higher than giraffe pussy.
I decided to stop into Starbucks on my soi for no other reason than to just be able to sit down for a few minutes and chill out.  As I collapsed into my chair and my feet sprung up horizontal my phone popped out of my pocket just as it started to ring.  It was kind of comical, I thought somehow my wooden legs popping up had caused it to ring, but glancing at the number I recognized it as the Face Fucking guy's digits.  For 10 minutes he did more begging than a soi dog begs for food asking me to please fuck his mouth with my dildo.  No teasing, no ass fucking, he just wanted me to drill for oil in the back of his throat for an hour.
I called my ladyboy friend, thinking to pass the session to her but she was already in a session of her own so I reluctantly agreed since I had promised to see him even though my hips were tighter than spandex on a fat woman.  Anyways I've got elective surgery scheduled for next week and a second session today would pay for it in one shot which had been weighing on my mind as well.
Now in the almost 3 years I've been doing this, at first with the original Mistress Jaa and this year solo, I've yet to use fatboy – the biggest of my dildos, nobody's been brave enough.  The last dick I saw that was as thick was a short thing though and he asked me if it was 'sufficient.'  I said well you may never hit oil but you'll sure bang the fuck out of the sides going in.  Anyways I bring that up because it was in that session the nana ladyboy tried to give him a blowjob and got a sore jawbone for her troubles.  I kind of wanted a quick session so I threw fatboy onto the stove and boiled him up getting him ready for a good old Texas 'go big or go home' type of late night.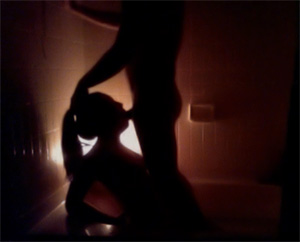 Ever played air hockey against somebody who has no idea how to play – like me.  Play me in air hockey and I'll just move my hand back and forth in front of my goal as fast as I can trying to deflect everything you hit at me to the side.  This guy plays with dicks the way I play air hockey.  Like I said at the beginning, if I'm putting a rubber dick the size of a coke bottle balls deep into a mouth and I don't get some serious reaction and retraction then I know the guy is playing tongue hockey defending his throat from the final inch.
You know what remedies that?  Gravity.
By hanging his head over the end of my sofa he can defend his tonsils as much as he wants but when i squat my legs down onto his chin its pretty simple math: rubber & gravity > tongue with the added fun being that with his neck at full extension he can't get my dildo out of his throat so easily so he has to gag it out.  Kind of important, because …
Twenty minutes into squatting onto his face my legs cramped up so suddenly and so tightly that I couldn't move.  It wasn't so much my legs as it was the side of my hips because the only motion I could do was to fall forward onto his chest which took the pressure off my legs and let me collapse onto his face like I was wind surfing on his body … my rudder being the dick a good 10 inches down into his throat.
Except this rudder was stuck in the ocean and while the ocean might be fine with that he was thrashing like a fish in a boat.  I had handcuffed his hands behind his back earlier and my weight pushing his shoulders over the couch i guess it looked like I was face fucking Gumby however he wasn't gonna be able to stretch his throat free of my dildo.
I rolled off him to the back of the sofa and it was like popping a cork out of a champagne bottle, sound included.  The "pop" sound of the rubber dick first stretching his cheek out so far that he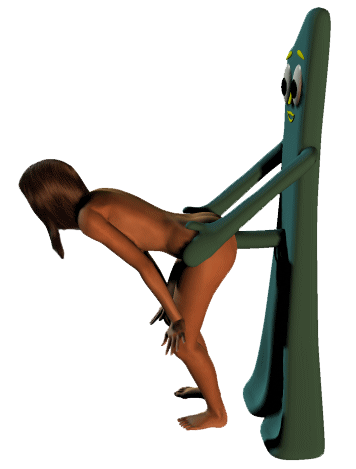 looked deformed for a second and then flicking out of his mouth followed by what I wish was champagne.
Politely he took off to my bathroom where the better part of his dinner lunch and breakfast came up into the toilet thankfully while I karate chopped some life back into my legs and did some of what was probably the worlds first Strap On Yoga stretching.
He came out of the washroom a minute later asking for something to drink so I literally shuffled to the fridge and opened my only bottle of green tea, grabbed the mop hiding beside the washing machine and intended to go back and mop up the oil on the living room floor when unexpectedly he coughed the tea back up onto the floor of my kitchen behind me.  I looked at him with my most cross 'you have to be kidding me' stare.
"I can't swallow." he said bent over at the waist, his blonde hair dangling dangerously close to the mess on the floor he had just spat up.
"Why?" I asked, completely perplexed.
"My throat won't close" he said while bringing his right hand to his throat and in a crab claw shape he started trying to squeeze his throat as if he as self-choking himself, "it's forced open" he continued.
"What do you need?"
"A Tracheotomy maybe."
I had to laugh when I heard him say that.  I handed him the mop and pointed to both his two messy puddles on the floor shaking my head smiling as I did so.  "A cesarean for your throat – yup, makes sense"
"How so?" he asked back.
I undid my strap on, placed fatboy in his hands and after poking my cheek with my tongue a few times i said "Because it looks like you did get a little bit pregnant after all."
jaa xx