Dick Rating Service | The Rules
I'm offering a Dick Rating Service this week on my https://onlyfans.com/mistressjaa   blog this week ,  just for shits 'n giggles.
What pray tell  is a dick rating service you may ask?
In my Dick Rating Service  …  I'm going to rate your dick on a scale of 1-10 in 5 different categories, with a maximum possible score of 51.  The Dick Rating Service winner will be announced not this Sunday but the next one … over on my onlyfans blog via a mention in next Sunday's blog post here.
Men are impressed by their sword , so  much so  that I  think most would consider it  a work  of art  ,  worthy  of  a  space in the Louvre museum.
If you're so impressed by your own manhood,  how about submitting it for a competition?   Is your dick truly the cock of the walk baby?
Dick Rating Service | Criteria
a) Chastity.   Straight off the bat,  if you can produce a photo of your dick locked in a chastity –  with a note on top saying Mistress Jaa's Pet – you instantly get a full mark, so you're starting off at 1/50 , and its only up from there right?
b) Length and Angle of Attack at full mast.  Unheld by your hand – I want to be impressed not only by its length but equally by how vertical your dick can get – so if you can get  your cock head to touch your belly button or extend beyond it (wow) …  full marks baby.
c) Thickness.  I'm partial to guys who "never hit bottom but bang the fuck out of the walls on its way in and out."  So if you've got girth –  you've got a shot to win.
d) Cumshot volume.   I want a photo of your mess on a dark coloured floor so I can determine volume.
e) Prettiness.  If your dick looks like it belongs in the store front window of a Dildos-R-Us Sex Toy shop , then damn I want to see your model dick in a photo.
f) Pubic hair.   I'm not telling you my criteria  on this,  you'll  just  have to guess.  I suggest you don't use the same photo as your hard on photo ,  your dick might block your pubes if you're able to get it vertical.   Two separate photos in that case would suffice.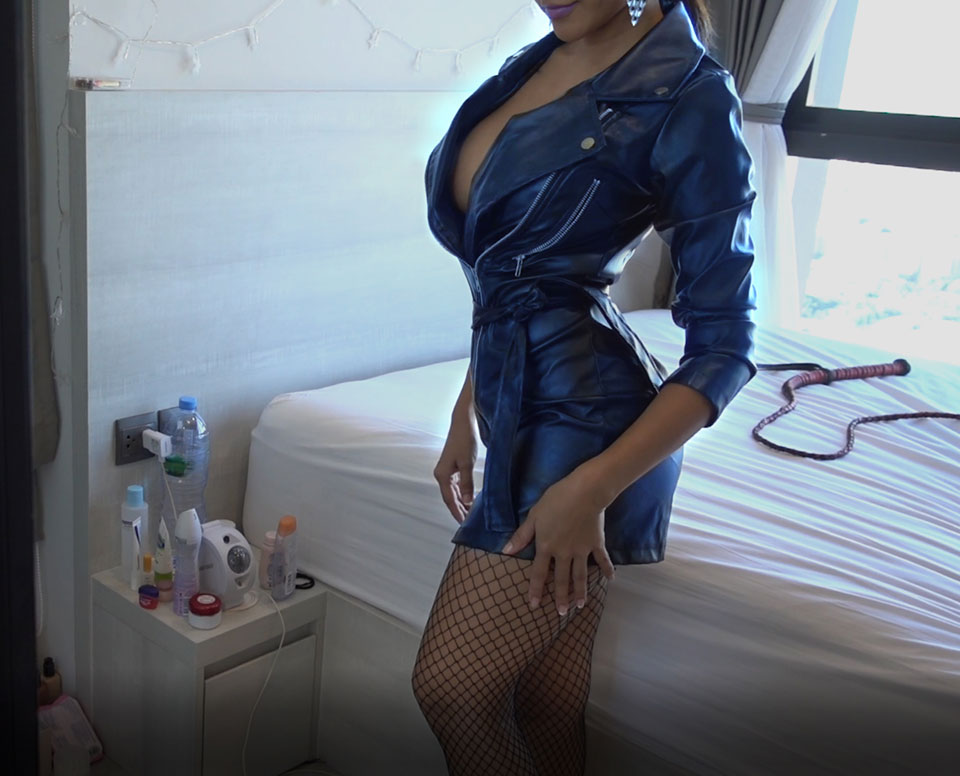 Each category will be graded on a scale of 1-10.
With a bonus point if you can produce the chastity and note as mentioned in a) above.
Submit 1 or 2 photos via text message on our onlyfans chat dialogue.
The winner's cock will be the one I look at on my phone while pushing my silver bullet vibrator into my clit.  I'll also do an online domination session with the winner where you'll be instructed how to pump that beautiful dick of yours  🙂
Punishment
If in my dick rating service | competition …  your cock scores less than 20 your punishment will be as follows:
a) If you are  the  owner  of  a  chastity device, you'll be locked up for a  period  of no less than 14 days and will have to apologize in writing and beg for your ugly duckling  to be set free.
b) Those without chastity will upon their next session be required to withstand 1 love tap by way of kicks to your balls … for EVERY point you finish away from 50.  ie:  If  you score a lowly 10, you're getting 50-10 =  40 love tap kicks that you'll need to count out loud to.
jaa4u Readers
You're welcome to participate in the dick rating service | competition  if you're not over on my onlyfans blog  … but you should be because I'm posting all day, 24/7 , photos , videos and stories  … and I'm online to chat with you around midnight Bangkok time.
But say you can't  , you're married and she checks your phone bill (#whippedhusband (whip-whoosh-03)) … email me the required photo but note that your final  score will have 10 full marks deducted … which could put you into the Punishment category above!
Dem's da rules boys.   May the best dick win  !!
xx
Book A Session
Looking to book a session?  You can either email us :
Mistress Jaa : [email protected]
Mistress Wael : [email protected]
Or fill out the form below.  Don't forget to check out my Loyalfans femdom blog , or Mistress Wael's Loyalfans blog its a great way to get to know more about us through our photos , videos and daily stories.