It took 23 emails back and forth with tech support and 7 stressful days but finally the Session Request forms are working again.
More importantly, my replies to your session requests are once again landing in your inbox rather than your spam folder which was an even bigger issue.
For those interested – the initial problem was born from the fact that jaa4u.com didn't have a mail server and so your forms were being sent directly to my gmail account which was ok in the past, but google began demanding forms get sent this website's mail provider first else they were just not getting sent to me at all.   Part of their spam protection algorithms being updated and refined.
It took an irate fan of mine to send me a curt email saying "Hey Mistress, how come you're not answering any of the forms I'm sending you, I've sent you 3 this month so now I'm emailing you directly" to set off the alarm bells.
You know, you'd think I'd clue in on why session requests went from 50 per month to 0 in March pretty easily right?
Nah, I thought it was because I've been coasting through 2023 so far, like you can see I haven't written a story for my blog here since December of 2022.
It just got so easy to write 3-5 times daily for my Loyalfans blog that once done I didn't feel the need to come over here and write something different.
Pair that with the fact that I had scaled back from doing 10 sessions per week to only 3 at most and ya, I thought I had hit a self-induced lull right in the middle of one of what is historically the busiest month of the year.
Not so.
Look, I've been doing this job for 10 years, I have a decade of goodwill built up with thousand's of submissive slaves who have been and still are thoroughly smitten by me.  Case in point: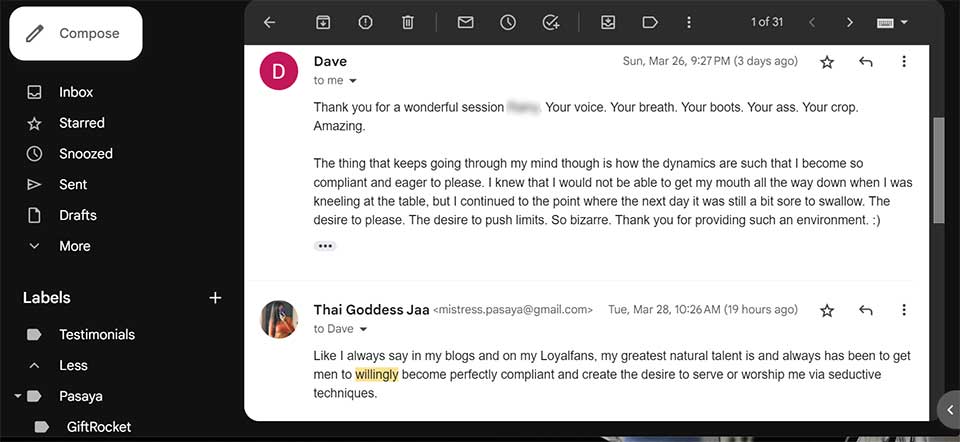 Even my predecessor still gets session requests and she's been retired for over a decade now, so it was foolish of me to think that sessions would just disappear altogether.
So I got on the horn to my hosting service's tech support and began what I thought was going to be a snap insta-fix , oh how wrong I was.
Apparently adding an email address to jaa4u.com ( [email protected]) and having my forms sent to that address and forwarded to my gmail account – via my CloudFlare account required a team of 12 people to work through all the hiccups.
But it got done and as of yesterday, right on cue, the session requests started flooding in to my inbox once again, and my replies were getting answered so I know that they are landing in your inbox.
All is happy in femdom land once again.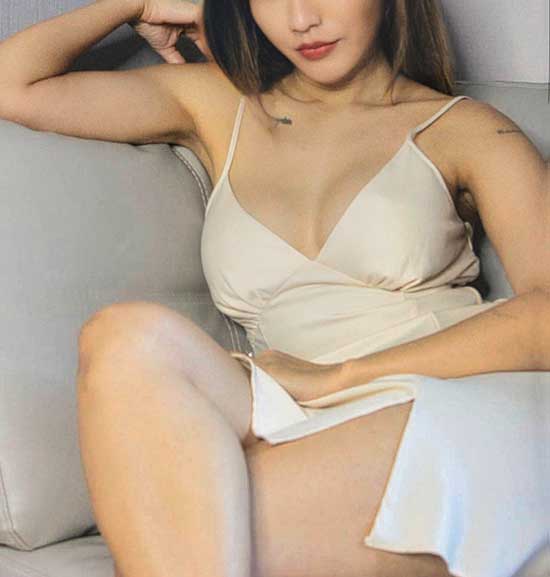 So now that that's settled, let's talk about what's been happening with me lately.
I've gotten far too comfortable with sharing all my stories and feelings via 3-5 posts per day on my Loyalfans femdom blog, which limits me to a mere 2000 words per post.
It's an annoying way to write.  Anything I want to say – I have to condense it like I have to do on each Twitter post.  Not only that, but I've become way too proficient at naturally writing around all the restricted words and phrases.
What the fuck am I doing?  Fuck, I could practically recite you George Orwell's 1984 word for word at this point, and yet I'm allowing myself to have my free speech controlled instead of writing here – freely.
K, that's gonna change.
Still though, if you want to be humored by my constant micro thoughts each and every day – please do hop over to my Loyalfans regardless of whether you subscribe or not because you can always read the text that I'm writing with each post.
For instance, yesterday you could have read about how I went down the lobby panty-less to get my slave and made his jaw drop by doing so.
You'd have read about how my fish named Ruby is changing to a white Zombie fish.
Could have been humored by how I made the first slave of the night leave me his shirt and endured being sent home shirtless just so I could wear that same shirt down to the lobby to pick up the slave for my 10pm session!
And finally you'd have read about how I can quite possibly see myself as an 80 year old "cat lady" in the future.
Meanwhile, my next post here is going to be a 10,000 word diatribe on the difference between a University diploma in 2023 vs when I got mine in 2010.
Anyways, fill out the form if you want to see just how deep the rabbit hole is once I've spun my web around you.
Or send an email.  Doesn't really matter to me.  Either way, you're going to have your head messed with in ways you never thought possible 🙂
Mistress Jaa
Book A Session
Looking to book a session?   Fill out the form or send one of us an email and in it be very descriptive about what you would like for a session, where you're from, what your name is, and when you would like to meet.
If you decide to fill out the form, double check that you've typed in your email address properly cuz guess what?  If you fuck that up, I can't get back to you, end of story.  It's shocking how many guys can't spell their own email address.
Mistress Wael is available from 1pm until 10pm every day, while I am available at either 7pm or 10pm Monday – Thursday and 4pm on Friday's.
1 hour sessions are 5k baht while 2 hours are 7k.
Human Toilet Training with Mistress Wael is 15k and with me it's 20k.
With Mistress Wael sessions are outcalls at your hotel, house or condo and with me they are held here at my condo.
Check out our Fees & Bookings page for all the information you need to know for booking your session with us.
Mistress Jaa : [email protected]
Mistress Wael : [email protected]